Los Angeles Kings (46-28-7) vs Anaheim Ducks (52-20-8)
Saturday, April 12, 2014, 7:30 p.m. PT
Staples Center, Los Angeles, CA
Referees: Chris Lee #28, Francois St. Laurent #38
Linesmen: Shane Heyer #55, Jonny Murray #95
Prime Ticket, KEIB 1150 AM
Los Angeles Projected Starting Goaltender – Jonathan Quick
2013-14 Season: 48 GP (48 GS) / 27-17-3 record / 2.05 GAA / .916 Sv% / 6 SHO
Career vs Anaheim: 24 (24) / 13-7-2 / 2.39 / .906 / 1
Last Game vs Anaheim: 1/25/14 / 59 MP / 18-20 shots / 0-3 L
12013-14, Home: 29 (29) / 9-3-0 / 2.36 / .911 / 4
Anaheim Projected Starting Goaltender – Frederik Andersen
2013-14 Season: 27 GP (23 GS) / 19-5-0 record / 2.27 GAA / .924 Sv% / 0 SHO
Career vs Los Angeles: 2 (2) / 2-0-0 / 1.00 / .971 / 0
Last Game vs Los Angeles: 3/15/14 / 60 MP / 37-38 shots / 2-1 W
2013-14, Away: 13 (12) / 3-1-0 / 2.90 / .916 / 0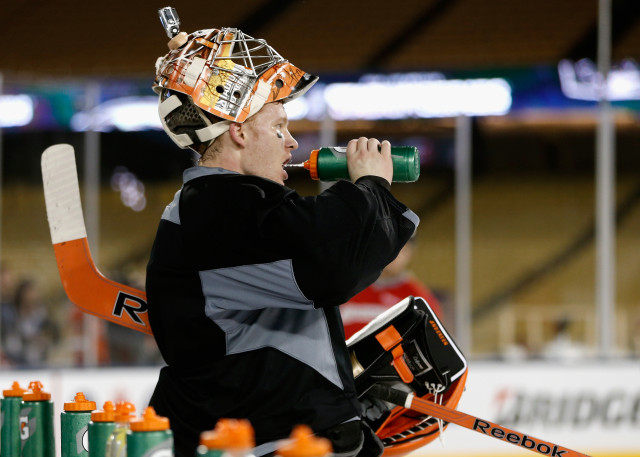 2013-14 Los Angeles Leaders
Total Points: Anze Kopitar (27-41=68)
Goals: Jeff Carter (27-23=50), Anze Kopitar (27-41=68)
Assists: Anze Kopitar (27-41=68)
Plus/Minus: Anze Kopitar (+33; 27-41=68)
Penalty Minutes: Kyle Clifford (81; 3-5=8)
Time On Ice: Drew Doughty (25:42; 10-27=37)
2013-14 Anaheim Leaders
Total Points: Ryan Getzlaf (31-56=87)
Goals: Corey Perry (43-39=82)
Assists: Ryan Getzlaf (31-56=87)
Plus/Minus: Corey Perry (+32; 43-39=82)
Penalty Minutes: Patrick Maroon (101; 10-18=28)
Time On Ice: Cam Fowler (23:51; 6-30=36)
Rankings and Statistics
Goals/Game: LAK – 25 / 2.41; ANA – 1 / 3.21
Goals Against/Game: LAK – 1 / 2.04; ANA – t-8 / 2.48
Power Play: LAK – t-25 / 15.4%; ANA – 22 / 16.4%
Penalty Kill: LAK – t-11 / 82.9%; ANA – t-17 / 81.9%
Shots/Game: LAK – 7 / 31.7; ANA – 8 / 31.4
Shots Against/Game: LAK – 2 / 26.2; ANA – 8 / 28.6
Faceoffs: LAK – t-1 / 52.8%; ANA – 20 / 49.1%
Save Percentage: LAK – 2 / .922; ANA – t-11 / .914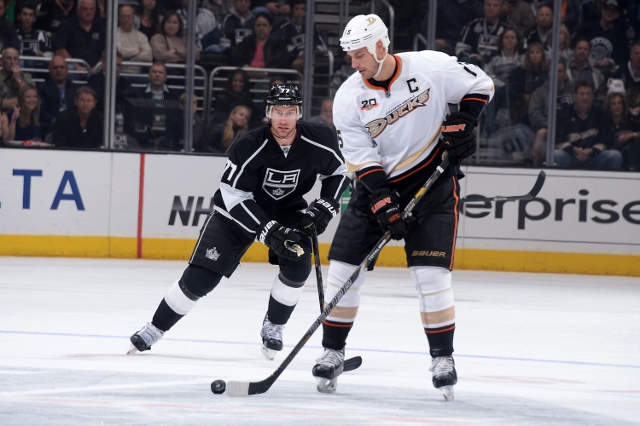 Los Angeles Projected Lines
Marian Gaborik – Anze Kopitar – Justin Williams
Jordan Nolan – Mike Richards – Jeff Carter
Dwight King – Jarret Stoll – Dustin Brown
Kyle Clifford – Trevor Lewis – Tyler Toffoli
Robyn Regehr – Slava Voynov
Jake Muzzin – Matt Greene
Willie Mitchell – Alec Martinez
Jonathan Quick
Martin Jones
Level of confidence in projected lines: B. For more notes, see today's earlier post on the projected lineup.
Notes and Milestones: Los Angeles is 53-43-20 all-time against Anaheim, a record that includes a home mark of 32-17-9. Los Angeles is 5-4-1 in their last 10 meetings against Anaheim and 6-3-1 in their last 10 meeting at Staples Center. … With a game winning goal on Thursday in Edmonton, Anze Kopitar is now tied with Marcel Dionne and Charlie Simmer with nine game winning goals in a season. … If Los Angeles can claim a single point tonight, it will hit the 100-point plateau for the fourth time in club history. … Los Angeles and Boston are competing for the Jennings Trophy, awarded to any goaltender who plays a minimum of 25 games on the team that allows the fewest goals in the league. With one game remaining, Los Angeles has allowed 170 goals through 81 games. The Bruins have allowed 174 with one game remaining tomorrow against New Jersey. … Excluding shootout goals, the Kings have allowed 165 goals this season. The franchise record for fewest goals allowed in a season (excluding shootout goals) is 170, set in 2011-12. … Los Angeles is 2-2-1 in a six-game stretch in which they will face all Pacific Division opponents once to close the season (W vs PHX, L @ SJS, L @ VAN, SOL @ CGY, W @ EDM, vs ANA). … The Kings are 16-10-2 against the Pacific Division. … Anze Kopitar has 200 career goals. He has 25 points (11-14=25) in the last 24 games. By playing his 604th career game tonight, he will move into a tie for 10th place on the club's all-time games played list with Jay Wells. … Marian Gaborik has 11 points (3-8=11) in the last nine games. Mike Richards has gone 21 games without recording an assist and has been held scoreless in the last eight games.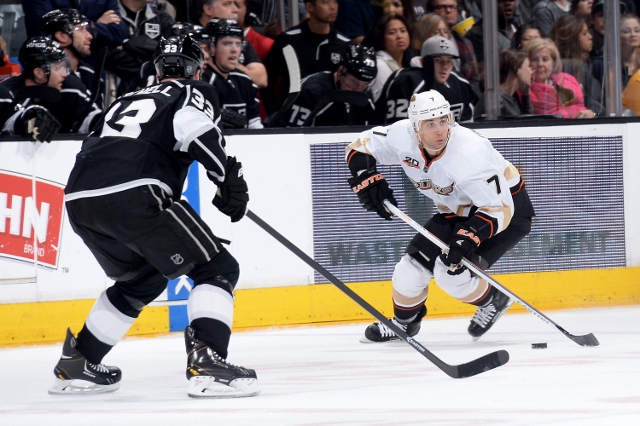 Anaheim Projected Lines
Matt Beleskey – Ryan Getzlaf – Corey Perry
Jakob Silfverberg – Rickard Rakell – Andrew Cogliano
Daniel Winnik – Nick Bonino – Kyle Palmieri
Patrick Maroon – Mathieu Perreault – Devante Smith-Pelly
Hampus Lindholm – Francois Beauchemin
Cam Fowler – Ben Lovejoy
Bryan Allen – Stephane Robidas
Frederik Andersen
John Gibson
Notes and Milestones: Anaheim lines via NHL.com correspondent Curtis Zupke … Anaheim is expected to scratch Teemu Selanne, Saku Koivu, Luca Sbisa and Sami Vatanen. Mark Fistric (lower body), Tim Jackman (hand) and Sheldon Souray (wrist) are out with injuries. … Anaheim is 3-0-1 against Los Angeles this season. … Ryan Getzlaf has six points (3-3=6) in his last eight games against the Kings, dating back to March 16, 2012. … Corey Perry has four points (2-2=4) against Los Angeles this season. … Patrick Maroon has two goals (2-0=2) in four games against Los Angeles this season. … Anaheim clinched the Pacific Division title with a 5-2 win over San Jose on April 9th. They are 21-4-3 against the Pacific Division.