Several abbreviated notes from Wednesday's shootout loss to the Calgary Flames:
Two years ago, Darryl Sutter made an observation about an overtime loss to the New York Islanders. "Nobody died, and it's a hard-working point for our team," he said. It was the highest ranked quote in Rich Hammond's The Quotable Darryl Sutter, 2012. Though the Kings didn't earn the "hard-working" aspect of the road point until late in the second period last night, the spirit of the quote applies. Los Angeles turned a 3-0 deficit into a road point, and as unsatisfying as that may sound against a non-playoff team, no players were lost to injury, no controversy ensued, and another game prior to the postseason was checked off the calendar for a team that has nothing to gain in the NHL standings. Park and ride.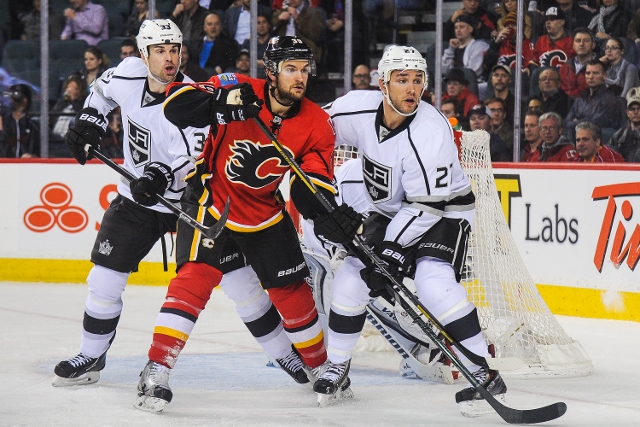 There was little to speak highly of in the first 35 minutes of the game. Though the Kings were padding their shots on goal totals, the shots they generated weren't of the highest quality, and the Flames had the majority of the odd-man rushes. The poor start to the game changed late in the period when Los Angeles found better success in driving to the net and getting bodies in areas where goals are scored; the two goals off deflections were a reflection of their success in getting to the dirty areas. There was also Anze Kopitar's beauty, which represented terrific patience and good use of some slick hands around the Calgary net.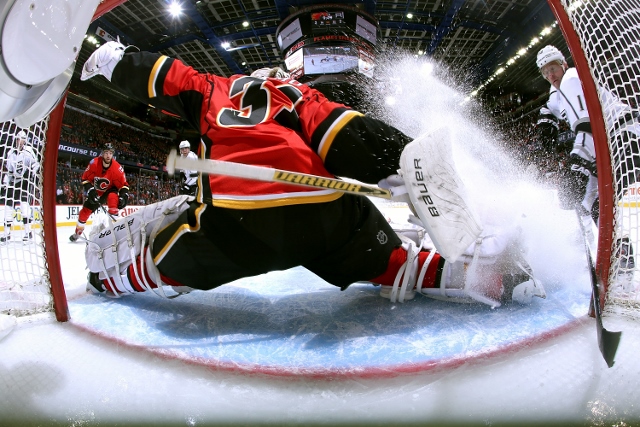 It won't cause any major impact come playoff time, and in a perfect world Drew Doughty and Robyn Regehr would be in the lineup, but in this late-season stretch, it's interesting to watch Jake Muzzin and Slava Voynov receive heavy minutes in all situations. Muzzin is a more complete player than he was a year ago at this time, and Voynov, who was five seconds shy of cracking the 27-minute barrier for the second time in his career, has established himself as a versatile defender, even if his offensive credentials surpass the improvement he has made in his own end. The Flames were held to 18 shots on goal, and the three goals scored in regulation appeared to occur as the result of mistakes made by the forwards more than any breakdowns from defensemen. That both players were able to play top two-type minutes while continuing to orchestrate Los Angeles' possession game is a reflection of the team's strong play on the back end in the absence of two key defenders.