Los Angeles Kings (45-27-6) at Vancouver Canucks (34-32-11)
Saturday, April 5, 2014, 7:00 p.m. PT
Rogers Arena, Vancouver, British Columbia
Referees: #14 Dennis LaRue, #33 Kevin Pollock
Linesmen: #79 Kiel Murchison, #57 Jay Sharrers
Prime Ticket, CBC, KEIB 1150 AM
Los Angeles Projected Starting Goaltender – Jonathan Quick
2013-14 Season: 46 GP (46 GS) / 27-16-2 record / 2.03 GAA / .916 Sv% / 6 SHO
Career vs Vancouver: 20 (20) / 9-10-1 / 1.84 / .931 / 1
Last Game vs Vancouver: 1/13/14 / 60 MP / 28-28 shots / 1-0 W
12013-14, Away: 17 (17) / 10-5-0 / 1.96 / .925 / 2
Vancouver Projected Starting Goaltender – Eddie Lack
2013-14 Season: 39 GP (35 GS) / 15-16-5 record / 2.43 GAA / .911 Sv% / 4 SHO
Career vs Los Angeles: 2 (1) / 0-1-0 / 1.39 / .941 / 0
Last Game vs Los Angeles: 1/13/14 / 58 MP / 19-20 shots / 0-1 L
2013-14, Home: 15 (14) / 7-5-3 / 2.29 / .914 / 3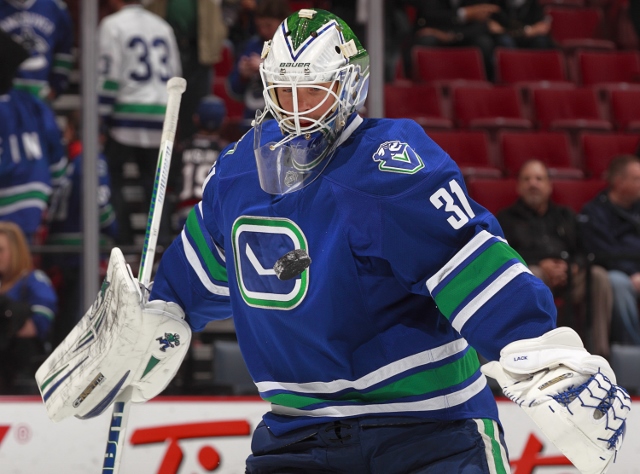 2013-14 Los Angeles Leaders
Total Points: Anze Kopitar (25-40=65)
Goals: Jeff Carter (27-22=49)
Assists: Anze Kopitar (25-40=65)
Plus/Minus: Anze Kopitar (+29; 25-40=65)
Penalty Minutes: Kyle Clifford (81; 3-5=8)
Time On Ice: Drew Doughty (25:42; 10-27=37)
2013-14 Vancouver Leaders
Total Points: Henrik Sedin (10-36=46)
Goals: Ryan Kesler (24-18=42)
Assists: Henrik Sedin (10-36=46)
Plus/Minus: Dan Hamhuis (+13; 5-15=20)
Penalty Minutes: Tom Sestito (203; 5-4=9)
Time On Ice: Dan Hamhuis (24:04; 5-15=20)
Rankings and Statistics
Goals/Game: LAK – 26 / 2.41; VAN – 28 / 2.34
Goals Against/Game: LAK – 1 / 2.05; VAN – 13 / 2.62
Power Play: LAK – 25 / 15.3%; VAN – 27 / 14.9%
Penalty Kill: LAK – 12 / 82.9%; VAN – 9 / 83.5%
Shots/Game: LAK – t-7 / 31.4; VAN – 11 / 30.7
Shots Against/Game: LAK – t-2 / 26.3; VAN – 8 / 28.6
Faceoffs: LAK – t-2 / 52.8%; VAN – t-10 / 51.2%
Save Percentage: LAK – 2 / .922; VAN – t-19 / .908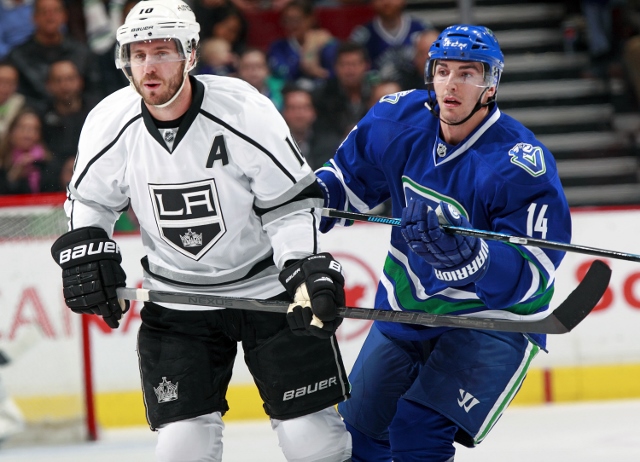 Los Angeles Projected Lineup
Marian Gaborik – Anze Kopitar – Justin Williams
Tanner Pearson – Jeff Carter – Tyler Toffoli
Jordan Nolan – Jarret Stoll – Dustin Brown
Kyle Clifford – Mike Richards – Trevor Lewis
Willie Mitchell – Slava Voynov
Alec Martinez – Matt Greene
Jake Muzzin – Andrew Campbell
Jonathan Quick
Martin Jones
Level of confidence in morning skate: C-. Today's skate was optional. Drew Doughty did not participate. Dwight King, who participated in a full day of practice yesterday, did. Though King is available, I'm still leaning towards the team giving him an extra day in advance of three consecutive non-game days. The forward pairings above are likely more accurate than the defensive pairings. Jonathan Quick did not participate in the morning skate.
Notes and milestones: Los Angeles is 100-96-35 all-time against Vancouver, a record that includes an away mark of 38-58-17. The Kings are 4-0-0 against the Canucks this season. The only time they have swept a season series from Vancouver was 1980-81 (4-0-0). … Los Angeles is 1-1-0 in a six-game stretch in which they will face all Pacific Division opponents once to close the season (W vs PHX, L @ SJS, @ VAN, @ CGY, @ EDM, vs ANA). … The Kings are 15-9-1 against the Pacific Division. … Alec Martinez has 15 points (7-8=15) in the last 17 games. He has a three-game point streak (1-3=4) and is expected to play in his 200th career game tonight. … Drew Doughty's streak of 199 consecutive games played is in jeopardy of being snapped tonight. … The Kings have qualified the playoffs for the fifth consecutive season. The last time the Los Angeles made the playoffs five years in a row was from 1987-1993, when they qualified for seven consecutive seasons. … With 31 career shutouts, Jonathan Quick is one shutout behind Rogie Vachon for the club's all-time record. … With 698 career points (345-353=698), Marian Gaborik is two points shy of 700 in his career. … Tyler Toffoli has four points (2-2=4) in four career games against Vancouver. …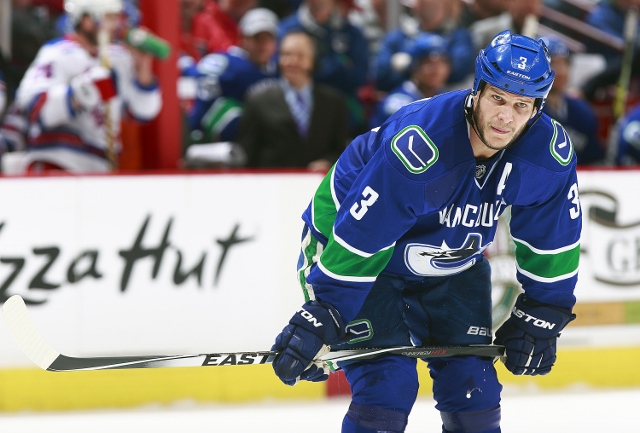 Vancouver Projected Lineup
Daniel Sedin – Ryan Kesler – Alexandre Burrows
Chris Higgins – Henrik Sedin – Nicklas Jensen
David Booth – Brad Richardson – Zack Kassian
Tom Sestito – Shawn Matthias – Jannik Hansen
Dan Hamhuis – Jason Garrison
Alexander Edler – Kevin Bieksa
Ryan Stanton – Frank Corrado
Eddie Lack
Jacob Markstrom
Notes and milestones: Vancouver lines via NHL.com correspondent Kevin Woodley … Henrik Sedin has registered the most points in franchise history (192-646=838) and is one of 10 active players to record 800 points with one team, joining Daniel Alfredsson (OTT), Jarome Iginla (CGY), Jaromir Jagr (PIT), Teemu Selanne (ANA), Patrik Elias (NJD), Martin St. Louis (TBL), Vincent Lecavalier (TBL), Patrick Marleau (SJS) and Shane Doan (PHX). … John Tortorella ranks first amongst United States-born coaches with 931 all-time wins. … Vancouver is 10-11-4 against the Pacific Division. … The Canucks have been outscored 74-56 in third periods this season. … Vancouver's home power play ranks 29th in the league with a 13.6% success rate. … The Canucks are in danger of missing the playoffs for the first time since 2007-08.
Zack Kassian, on facing the Kings: