Los Angeles Kings (44-25-6) vs Minnesota Wild (38-26-11)
Monday, March 31, 2014, 7:00 p.m. PT
Staples Center, Los Angeles, CA
Referees: #23 Brad Watson, #3 Mike Leggo
Linesmen: #66 Darren Gibbs, #84 Tony Sericolo
NBCSN, KEIB 1150 AM
Los Angeles Projected Starting Goaltender – Jonathan Quick
2013-14 Season: 44 GP (44 GS) / 26-15-2 record / 2.06 GAA / .916 Sv% / 5 SHO
Career vs Minnesota: 14 (14) / 8-3-3 / 2.44 / .898 / 0
Last Game vs Minnesota: 1/7/14 / 65 MP / 16-17 + 3/4 shots / 1-2 SOL
2013-14, Home: 27 (27) / 16-10-1 / 2.12 / .909 / 3
Minnesota Projected Starting Goaltender – Ilya Bryzgalov
2013-14 Season: 26 GP (24 GS) / 8-8-7 record / 2.83 GAA / .909 Sv% / 2 SHO
Career vs Los Angeles: 26 (26) / 14-7-4 / 2.32 / .919 / 2
Last Game vs Los Angeles: 12/17/13 / 57 MP / 37-39 shots / 0-3 L*
2013-14, Away: 16 (16) / 6-5-4 / 2.60 / .921 / 2
*with Edmonton Oilers
2013-14 Los Angeles Leaders
Total Points: Anze Kopitar (24-38=62)
Goals: Jeff Carter (26-21=47)
Assists: Anze Kopitar (24-38=62)
Plus/Minus: Anze Kopitar (+28; 24-38=62)
Penalty Minutes: Kyle Clifford (81; 3-4=7)
Time On Ice: Drew Doughty (25:59; 9-27=36)
2013-14 Minnesota Leaders
Total Points: Jason Pominville (27-25=52)
Goals: Jason Pominville (27-25=52); Zach Parise (27-22=49)
Assists: Mikko Koivu (9-38=47)
Plus/Minus: Ryan Suter (+11; 2-9=11); Jared Spurgeon (+11; 5-19=24)
Penalty Minutes: Clayton Stoner (82; 1-4=5)
Time On Ice: Ryan Suter (29:43; 2-9=11)
Rankings and Statistics
Goals/Game: LAK – 24 / 2.41; MIN – 27 / 2.39
Goals Against/Game: LAK – 2 / 2.07; MIN – 6 / 2.43
Power Play: LAK – 26 / 15.2%; MIN – 16 / 17.9%
Penalty Kill: LAK – 12 / 83.3%; MIN – 27 / 79.0%
Shots/Game: LAK – t-7 / 31.6; MIN – 28 / 27.0
Shots Against/Game: LAK – 3 / 26.6; MIN – t-5 / 27.7
Faceoffs: LAK – t-2 / 52.8%; MIN – t-12 / 50.9%
Save Percentage: LAK – 2 / .922; MIN – t-13 / .913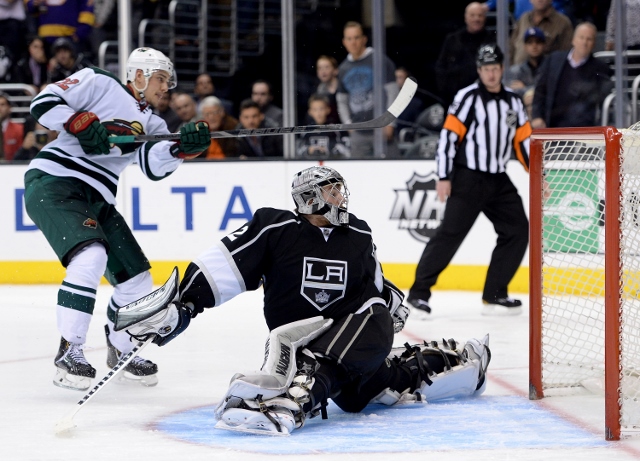 Los Angeles Projected Lines
Marian Gaborik – Anze Kopitar – Justin Williams
Tanner Pearson – Jeff Carter – Tyler Toffoli
Jordan Nolan – Jarret Stoll – Dustin Brown
Kyle Clifford – Mike Richards – Trevor Lewis
Jake Muzzin – Drew Doughty
Robyn Regehr – Slava Voynov
Willie Mitchell – Alec Martinez
Jonathan Quick
Martin Jones
Level of confidence in projected lines: B. Dwight King didn't skate this morning, and Darryl Sutter declined to elaborate on his absence. Jordan Nolan skated opposite Dustin Brown on Jarret Stoll's line. No players remained on for extra work at the conclusion of the morning skate. Jonathan Quick was the first goaltender to leave the ice.
Notes and milestones: Los Angeles is 22-14-13 all-time against Minnesota, a record that includes a home mark of 11-7-6. Four of the last six games between the teams have gone to shootouts, including both games this season. … The Kings' magic number to clinch a playoff spot and the third seed in the Pacific Division is five (over Phoenix). … Los Angeles has won 1,499 games in franchise history. With 44 wins in 2013-14, they are on pace to break the all-time single season wins record of 46, accomplished in 1990-91, 2009-10 and 2010-11. The 2012-13 Kings were on pace for 46 wins, having won 27 games in 48 days. … The Kings have won six straight games, outscoring their opponents 19-11 (excluding shootout goals). They are 14-3-0 since February 6. … Since January 16, the top four Kings goal scorers have been Anze Kopitar (11), Jeff Carter (10) Trevor Lewis (6) and Alec Martinez (6). … Los Angeles has killed 45-of-51 penalties, dating back to the third period at Colorado on February 26. … With 162 assists, Drew Doughty is one assist behind Marty McSorley for fifth place on the franchise's all-time defensemen assist list. … The Kings are 39-5-6 when allowing two or fewer goals. … Anze Kopitar has 19 points (8-11=19) in the last 18 games. … Tyler Toffoli has points in four straight games (1-3=4). … Marian Gaborik has points in three straight games (1-3=4). … Alec Martinez has 11 points (6-5=11) in the last 14 games. … Marian Gaborik played 502 games with Minnesota from 2000-09 and is the Wild's all-time franchise leader in goals (219), plus-minus (+54), power play goals (59), game-winning goals (43) and shots (1,694) and ranks second in points (437). In four career games against Minnesota, he has one goal and two points. … Willie Mitchell played 288 games with Minnesota from 2000-06 and totaled 57 points (9-49=57).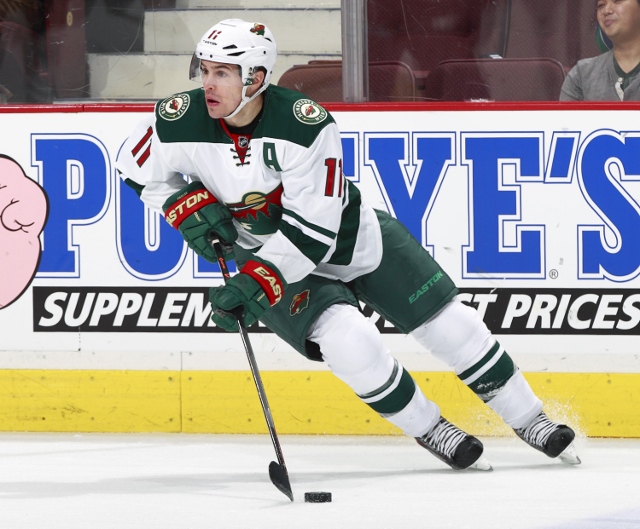 Minnesota Projected Lines
Zach Parise – Mikko Koivu – Charlie Coyle
Matt Moulson – Mikael Granlund – Jason Pominville
Matt Cooke – Kyle Brodziak – Justin Fontaine
Stephane Veilleux – Erik Haula – Nino Niederreiter
Ryan Suter – Jared Spurgeon
Jonas Brodin – Nate Prosser
Marco Scandella – Jonathon Blum
Ilya Bryzgalov
Rob Laurie
Notes and milestones: Lines via Michael Russo of the Minneapolis Star-Tribune … Goaltender Darcy Kuemper was injured at the morning skate, so 43-year-old Rob Laurie signed a Professional Tryout Agreement and will back up Ilyz Bryzgalov. … Keith Ballard is questionable, while Dany Heatley is expected to be a healthy scratch for the second time in his career. Darcy Kuemper (upper-body), Clayton Stoner (lower body), Jason Zucker (knee), Josh Harding (illness) and Niklas Backstrom (lower body) are out. … The Wild are 9-5-3 in their last 17 road games. … Matt Moulson played 29 games with Los Angeles between 2007-09, totaling 10 points (6-4=10). In 13 games with Minnesota, he has eight points (4-4=8). … Long Beach native Jonathon Blum, the first California-born-and-raised player to be drafted in the first round of the NHL Draft (Nashville / 23rd overall / 2007), is scheduled to play in his 100th career game. … Zach Parise scored his 238th and 239th NHL goals on Saturday to tie and pass his father, J.P. Parise, in career NHL goals. … In six games with Minnesota, Ilya Bryzgalov is 3-0-2 with a 1.94 goals-against average and .921 save percentage. … Ryan Suter has logged at least 30:00 of ice time in 35 games and leads the NHL with 29:43 average time on ice, which is 2:28 more than any other player. … 22-year-old Mikael Granlund has 20 points (5-15=20) in the last 23 games.