Los Angeles Kings (43-25-6) vs Winnipeg Jets (33-32-9)
Saturday, March 29, 2014, 7:00 p.m. PT
Staples Center, Los Angeles, CA
Referees: #13 Dan O'Halloran, #22 Ghislain Hebert
Linesmen: #84 Tony Sericolo, #96 David Brisebois
Fox Sports West, CBC, KEIB AM 1150
Los Angeles Projected Starting Goaltender – Jonathan Quick
2013-14 Season: 43 GP (43 GS) / 25-15-2 record / 2.06 GAA / .916 Sv% / 5 SHO
Career vs Winnipeg: 5 (5) / 2-2-0 / 3.48 / .878 / 0
Last Game vs Winnipeg: 3/6/14 / 60 MP / 17-18 shots / 3-1 W
2013-14, Home: 26 (26) / 15-10-1 / 2.12 / .909 / 3
Winnipeg Projected Starting Goaltender – Ondej Pavelec
2013-14 Season: 52 GP (52 GS) / 20-24-6 record / 2.98 GAA / .902 Sv% / 1 SHO
Career vs Los Angeles: 3 (3) / 2-1-0 / 2.56 / .919 / 0
Last Game vs Los Angeles: 3/6/14 / 58 MP / 38-41 shots / 1-3 L
2013-14, Away: 21 (21) / 9-11-1 / 2.47 / .909 / 0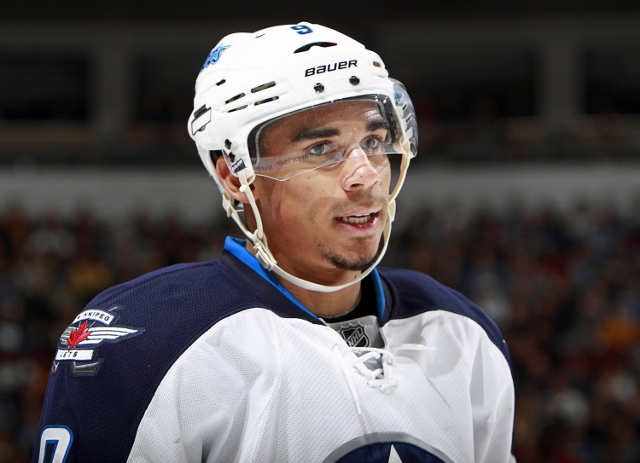 2013-14 Los Angeles Leaders
Total Points: Anze Kopitar (22-38=60)
Goals: Jeff Carter (26-21=47)
Assists: Anze Kopitar (22-38=60)
Plus/Minus: Anze Kopitar (+26; 22-38=60)
Penalty Minutes: Kyle Clifford (81; 3-4=7)
Time On Ice: Drew Doughty (25:59; 9-27=36)
2013-14 Winnipeg Leaders
Total Points: Blake Wheeler (25-37=62)
Goals: Blake Wheeler (25-37=62)
Assists: Blake Wheeler (25-37=62); Bryan Little (22-37=59)
Plus/Minus: Mark Stuart (+10; 2-9=11)
Penalty Minutes: Mark Stuart (87; 2-9=11)
Time On Ice: Tobias Enstrom (23:56; 9-19=28)
Rankings and Statistics
Goals/Game: LAK – 26 / 2.39; WPG – 16 / 2.70
Goals Against/Game: LAK – 2 / 2.07; WPG – 21 / 2.84
Power Play: LAK – 26 / 15.3%; WPG – 25 / 15.4%
Penalty Kill: LAK – 11 / 83.4%; WPG – 10 / 83.6%
Shots/Game: LAK – t-7 / 31.6; WPG – 10 / 30.9
Shots Against/Game: LAK – 3 / 26.6; WPG – 17 / 30.3
Faceoffs: LAK – t-2 / 52.8%; WPG – t-28 / 46.6%
Save Percentage: LAK – 2 / .922; WPG – t-23 / .906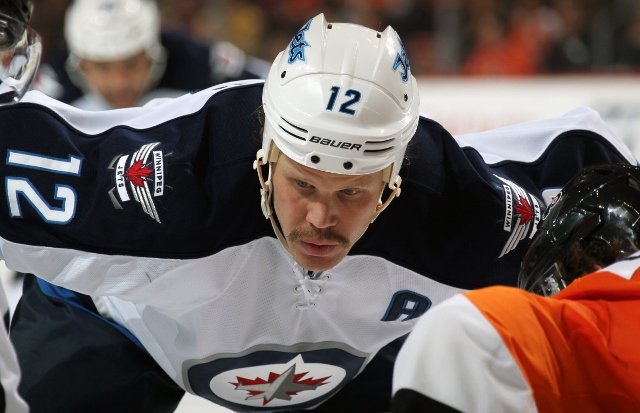 Los Angeles Projected Lineup
Marian Gaborik – Anze Kopitar – Justin Williams
Tanner Pearson – Jeff Carter – Tyler Toffoli
Dwight King – Jarret Stoll – Dustin Brown
Kyle Clifford – Mike Richards – Trevor Lewis
Jake Muzzin – Drew Doughty
Robyn Regehr – Slava Voynov
Willie Mitchell – Alec Martinez
Jonathan Quick
Martin Jones
Level of confidence in projected lines: A. Jonathan Quick left the ice first at the morning skate, so he's tonight's projected starter. Jordan Nolan and Matt Greene remained on the ice for extra work, so they're likely out tonight. Dwight King rejoined the team after a one-game leave due to personal reasons.
Notes and milestones: Los Angeles is 9-3-4 all-time against the Winnipeg franchise, which includes a home record of 5-0-2. The last time the Winnipeg/Atlanta franchise played at Staples Center was October 12, 2010, a 3-1 Kings win over the Thrashers in L.A.'s home opener. The last time the Winnipeg Jets visited Los Angeles was on January 3, 1996. Deron Quint scored twice, and Darren Turcotte, Alexei Zhamnov and Shane Doan also scored to lead the visitors to a 5-4 win over the Kings, who relied on goals from Vitali Yachmenev, Eric Lacroix, Tony Granato and Wayne Gretzky. Tim Cheveldae earned the win, while Kelly Hrudey took the loss at The Forum. … The Kings have won 1,498 games in franchise history. … Los Angeles has won five straight games, outscoring their opponents 15-9 (excluding shootout goals). The Kings are 13-3-0 since February 6. … The record for most wins in a Los Angeles season is 46, accomplished in 1990-91, 2009-10 and 2010-11. The 2012-13 Kings were on pace for 46 wins in the lockout-shortened season. … Los Angeles has killed 21 of the last 23 power plays. … The Kings are 10-for-45 (22.2 %) on the power play in the last 13 games. … Anze Kopitar has 17 points (6-11=17) in the last 17 games. … Alec Martinez has 11 points (7-4=11) in the last 13 games. With six goals, he is tied with Ryan McDonagh of the New York Rangers for the most goals scored by a defenseman in March. … Willie Mitchell is scheduled to play his 200th game as a King. … With 195 career goals, Anze Kopitar and Dustin Brown are tied for eighth place on the team's all-time goal scoring list. … With 162 career assists, Drew Doughty is one assist behind Marty McSorley for fifth place amongst defensemen on the team's all-time list. … Marian Gaborik has 22 points (10-12=22) in 21 career games against Winnipeg.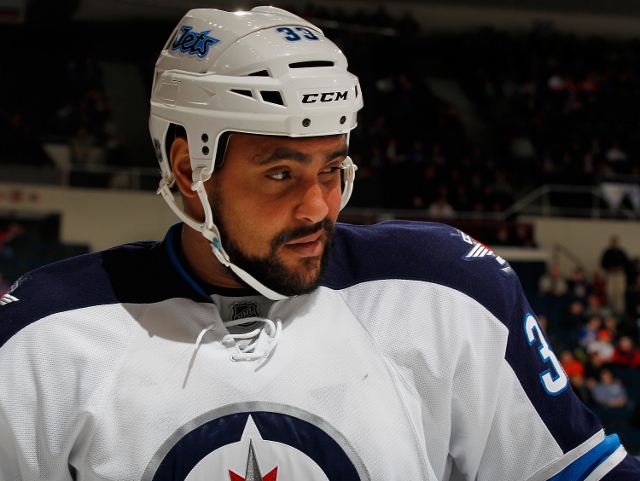 Winnipeg Projected Lines
Andrew Ladd – Bryan Little – Michael Frolik
Evander Kane – Eric O'Dell – Matt Halischuk
Dustin Byfuglien – Olli Jokinen – Blake Wheeler
Eric Tangradi – Jim Slater – Anthony Peluso
Mark Stuart – Jacob Trouba
Tobias Enstrom – Keaton Ellerby
Adam Pardy – Paul Postma
Ondrej Pavelec
Al Montoya
Notes and milestones: Lines via NHL.com correspondent Curtis Zupke … Ondrej Pavelec is scheduled to appear in a game for the first time since March 14, when he suffered a lower-body injury in a 4-2 home loss to the New York Rangers. … The Jets are on pace to miss the postseason for the seventh consecutive season. … Winnipeg has not won consecutive games in March. The team's last outing was a 4-3 win at San Jose on March 27. … The Jets' road penalty killing ranks second in the league at 85.7%, though they have allowed five goals in their last 11 road shorthanded situations. … Winnipeg has not allowed a 5-on-3 power play goal over 10:43 of total penalty killing time. … Evander Kane has two goals in his last 17 games. His 4.0 shots per game ranks second in the league to Alex Ovechkin's 5.2 shots per game. Of his 17 goals, 14 have come at even strength, two have come while shorthanded, and one has come on the power play. In five previous games against Los Angeles he has eight points (4-4=8). … Dustin Byfuglien has one goal in 15 career games against Los Angeles. … Olli Jokinen was drafted third overall by Los Angeles in 1997. In 74 games with Los Angeles between 1997 and 1999, he totaled 21 points (9-12=21). … In 35 games with Los Angeles in 2012-13, Keaton Ellerby recorded three assists and a plus-5 rating. … Staples Center will be the final arena that the Jets have visited since relocating from Atlanta.