From The Situation Room Blog on NHL.com:
At 9:41 of the the third period in the Los Angeles Kings/Pittsburgh Penguins game, the Situation Room initiated video review after the puck entered the Los Angeles net. The referee informed the Situation Room that after a huddle, the officials' group decision was that Pittsburgh's Brandon Sutter pushed Los Angeles goaltender Martin Jones' pad and the puck into the net, impeding Jones' ability to play his position. According to Rule 78.5 (ix) "Apparent goals shall be disallowed by the Referee when a goaltender has been pushed into the net together with the puck after making a save." This is not a reviewable play therefore the referee's call on the ice stands – no penalty and no goal Pittsburgh.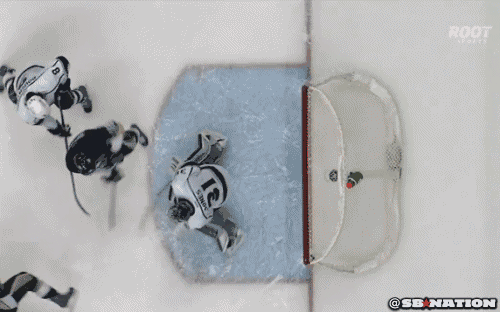 Seriously, that call has made Consol more lively than it has been, arguably, since pre-Olympics

— Chris Adamski (@C_AdamskiTrib) March 28, 2014
Sid pragmatic on no-goal: "That one doesn't go in but we have 6 other power plays… You can't really look specifically at that."

— Chris Adamski (@C_AdamskiTrib) March 28, 2014
Sutter on his close call: "I was pretty surprised… I definitely got pushed into the net… I have no idea how they didn't call it a goal."

— Pittsburgh Penguins (@penguins) March 28, 2014
Coach Bylsma on if goaltender interference should be reviewed: "I'm a huge advocate of it being reviewed."

— Pittsburgh Penguins (@penguins) March 28, 2014
Drew Doughty:
It was clear interference. He pushed Joner's pad right into the net. Yeah, I gave him a few shots from behind, but he still – that had nothing to do with his stick and pushing Joner's pad into the net. So it's a great call by the refs and the people in Toronto or New York, wherever it is.
Martin Jones:
It was just a mad scramble in front. I wasn't fully aware of what happened, but I felt like I got pushed in a little bit. I don't know what happened, but obviously the refs made a judgment call. [Reporter: Did the referees say anything to you?] He didn't signal a goal on the play, so I knew that that had to be conclusive to be a goal. Fortunate to get the call there and then come away with two points.