Los Angeles Kings (39-25-6) vs Florida Panthers (26-36-8)
Saturday, March 22, 2014, 1:00 p.m. PT
Staples Center, Los Angeles, CA
Referees: #14 Dennis LaRue, #33 Kevin Pollock
Linesmen: #55 Shane Heyer, #65 Pierre Racicot
Fox Sports West, KEIB 1150 AM
Los Angeles Projected Starting Goaltender – Jonathan Quick
2013-14 Season: 40 GP (40 GS) / 22-15-2 record / 2.07 GAA / .915 Sv% / 4 SHO
Career vs Florida: 4 (4) / 3-1-0 / 2.14 / .926 / 0
Last Game vs Florida: 12/1/11 / 60 MP / 41-42 shots / 2-1 W
2013-14, Home: 25 (25) / 14-10-1 / 2.21 / .906 / 2
Florida Projected Starting Goaltender – Roberto Luongo
2013-14 Season: 49 GP (49 GS) / 22-19-7 record / 2.39 GAA / .919 Sv% / 4 SHO
Career vs Los Angeles: 30 (30) / 14-11-5 / 2.32 / .919 / 3
Last Game vs Los Angeles: 1/4/14 / 60 MP / 46-48 shots / 1-3 L
2013-14, Away: 21 (21) / 9-9-3 / 2.62 / .915 / 1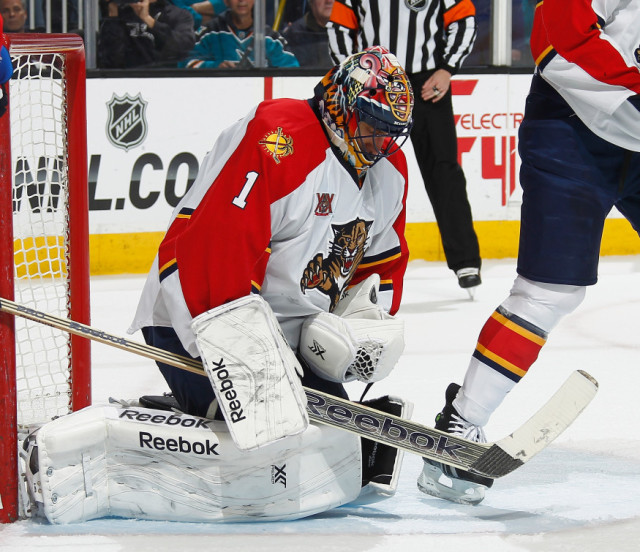 2013-14 Los Angeles Leaders
Total Points: Anze Kopitar (22-36=58)
Goals: Jeff Carter (24-20=44)
Assists: Anze Kopitar (22-36=58)
Plus/Minus: Anze Kopitar (+25; 22-36=58)
Penalty Minutes: Kyle Clifford (77; 3-3=6)
Time On Ice: Drew Doughty (25:59; 8-26=34)
2013-14 Florida Leaders
Total Points: Scottie Upshall (14-20=34)
Goals: Brad Boyes (18-14=32)
Assists: Brian Campbell (7-25=32), Tom Gilbert (3-25=28)
Plus/Minus: Brandon Pirri (+8; 9-9=18)
Penalty Minutes: Erik Gudbranson (93; 2-5=7)
Time On Ice: Brian Campbell (27:21; 7-25=32)
Rankings and Statistics
Goals/Game: LAK – 28 / 2.33; FLA – 27 / 2.37
Goals Against/Game: LAK – 1 / 2.07; FLA – 27 / 3.13
Power Play: LAK – 25 / 14.9%; FLA – 30 / 10.5%
Penalty Kill: LAK – 12 / 83.1%; FLA – 30 / 75.0%
Shots/Game: LAK – t-7 / 31.4; FLA – 19 / 29.6
Shots Against/Game: LAK – 3 / 26.4; FLA – 23 / 31.0
Faceoffs: LAK – t-1 / 53.0%; FLA – t-24 / 48.1%
Save Percentage: LAK – 2 / .921; FLA – t-27 / .899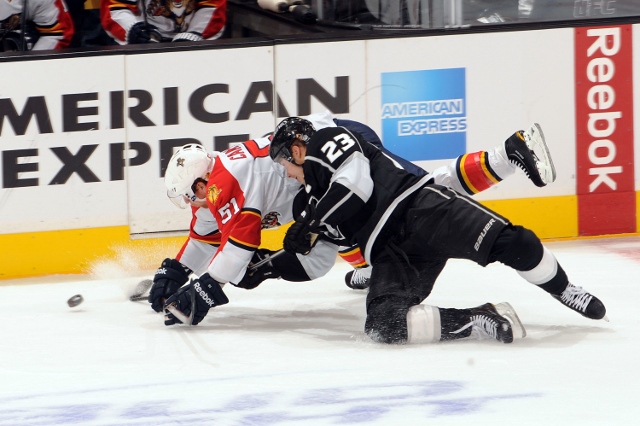 Los Angeles Projected Lineup
Marian Gaborik – Anze Kopitar – Justin Williams
Tanner Pearson – Jeff Carter – Tyler Toffoli
Dwight King – Jarret Stoll – Dustin Brown
Kyle Clifford – Mike Richards – Trevor Lewis
Jake Muzzin – Drew Doughty
Robyn Regehr – Slava Voynov
Willie Mitchell – Alec Martinez
Jonathan Quick
Martin Jones
Level of confidence in projected lines: B. The Kings do not hold morning skates prior to afternoon games, so the above alignment is a reflection of yesterday's practice lines. Martin Jones left the ice shortly after Jonathan Quick, though Matt Greene and Jordan Nolan remained on for extra work, which is often an indication that they won't play. The biggest adjustment above is obviously Mike Richards dropping to play with Kyle Clifford and Trevor Lewis, and rookies Tanner Pearson and Tyler Toffoli flanking Jeff Carter. Keep in mind that practice lines are not definitive alignments and have in the past been used to send "messages" to players. As Carter is interchangeable between center and right wing, expect Richards to see some time in a scoring role in addition to any potential shifts alongside Clifford and Lewis.
Notes and milestones: Los Angeles is 13-9-3 all-time against Florida, a record that includes a home mark of 9-4-0. The Kings have won eight of the last nine games against the Panthers, daring back to November 5, 2003. These teams have not met at Staples Center since December 1, 2011, a 2-1 Los Angeles win. … Jonathan Quick has 171 career wins, which ties him with Rogie Vachon for the most wins as a Kings goaltender in franchise history. In 326 career games, Quick is 171-115-31 with 29 shutouts, a 2.29 goals-against average and a .915 save percentage. 35 of his 171 career wins have come via the shootout. … Darryl Sutter has 500 career regular season wins as a head coach, which ties him with Toe Blake for 17th place on the NHL's all-time list. He trails Pat Burns (501) by one win. By coaching his 1,028th game today, whe will tie his brother Brian Sutter for 17th place on the NHL's all-time regular season games coached list. Sutter is 500-374-153 overall in his career and 91-54-22 with the Kings. … Los Angeles is 28-for-31 on the penalty kill, dating back to the third period in Colorado on February 26. … Anze Kopitar has 15 points (6-9=15) in the last 13 games. He has seven points (1-6=7) in seven career games against Florida. … The Kings are 35-5-6 when allowing two or fewer goals. … Marian Gaborik has four points (2-2=4) in the last four games. … With 39 wins, Los Angeles will attempt to win 40 games for the fourth straight season. The Kings won exactly 40 games in their 2011-12 Stanley Cup season. … Jeff Carter has five shots on goal over the last three games. Though he has 10 points (4-6=10) in his last 13 games, he has four goals in the last 19 games. … Mike Richards has been held scoreless in six straight games and has seven points (2-5=7) in his last 21 games. … With 193 career goals, Dustin Brown is one goal behind Mike Murphy for ninth place overall on the Kings' all-time scoring list.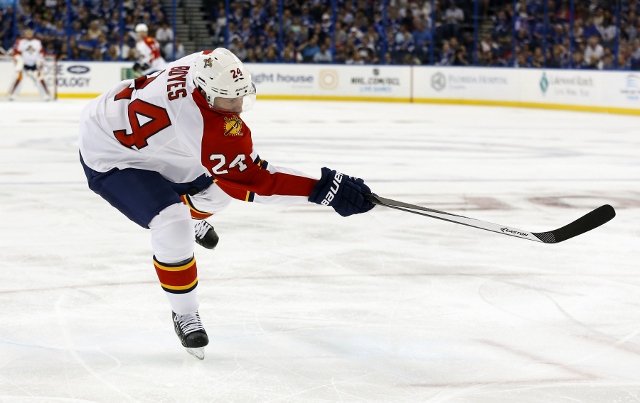 Florida Projected Lines
Scottie Upshall – Nick Bjugstad – Brad Boyes
Joey Crabb – Vincent Trocheck – Tomas Fleischmann
Quinton Howden – Brandon Pirri – Jimmy Hayes
Krys Barch – Scott Gomez – Garrett Wilson
Brian Campbell – Tom Gilbert
Dmitry Kulikov – Ed Jovanovski
Dylan Olsen – Colby Robak
Roberto Luongo
Dan Ellis
Notes and milestones: Florida will be without Tomas Kopecky (upper-body), Aleksander Barkov (lower-body) and Jesse Winchester (lower-body). Players that are day-to-day include Sean Bergenheim (lower-body), Alex Petrovic (upper-body), Erik Gudbranson (lower-body) and Jonathan Huberdeau (upper-body). … The Panthers will miss the playoffs for the 12th time in the last 13 seasons. … Florida is 23-27-4 under Peter Horachek, who replaced Kevin Dineen on November 8. … The Panthers are 1-1-0 on a four-game road trip, which concludes on Sunday in Anaheim. … In 37 road games, Florida has scored nine power play goals while allowing 31. … Brian Campbell ranks second in the NHL in ice time, averaging 27:21 per game. … Quinton Howden has three goals and four points in five games since his March 12 recall. He was selected 25th overall when Los Angeles hosted the draft in 2010. … Brad Boyes is tied with Zach Parise for the most shootout goals in NHL history with 37. His 37 goals have come on 80 attempts (46.3%). … Brandon Pirri has seven points (3-4=7) in his last six games. … Nick Bjugstad ranks seventh amongst NHL rookies with 32 points (14-18=32). His 14 goals are tied for seventh amongst league rookies. … 37-year-old defenseman Ed Jovanovski, the seventh captain in Panthers history, has 39 points (7-32=39) and a plus-15 rating in 56 career games against the Kings.