Los Angeles Kings (38-25-6) vs Washington Capitals (33-27-10)
Thursday, March 20, 2014, 7:30 p.m. PT
Staples Center, Los Angeles, CA
Referees: #33 Kevin Pollock, #5 Chris Rooney
Linesmen: #76 Michel Cormier, #57 Jay Sharrers
Fox Sports West, KEIB 1150 AM
Kings Weekly to follow tonight's game
Los Angeles Projected Starting Goaltender – Jonathan Quick
2013-14 Season: 39 GP (39 GS) / 21-15-2 record / 2.10 GAA / .914 Sv% / 4 SHO
Career vs Washington: 2 (2) / 2-0-0 / 2.50 / .931 / 0
Last Game vs Washington: 1/2/10 / 60 MP / 26-27 shots / 2-1 W
2013-14, Home: 24 (24) / 13-10-1 / 2.27 / .904 / 2
Washington Projected Starting Goaltender – Jaroslav Halak
2013-14 Season: 46 GP (44 GS) /28-11-4 record / 2.24 GAA / .919 Sv% / 4 SHO
Career vs Los Angeles: 12 (12) / 6-6-0 / 2.38 / .914 / 2
Last Game vs Los Angeles: 1/16/14 / 58 MP / 27-30 shots / 1-4 L
2013-14, Away: 21 (19) / 12-6-1 / 2.10 / .928 / 1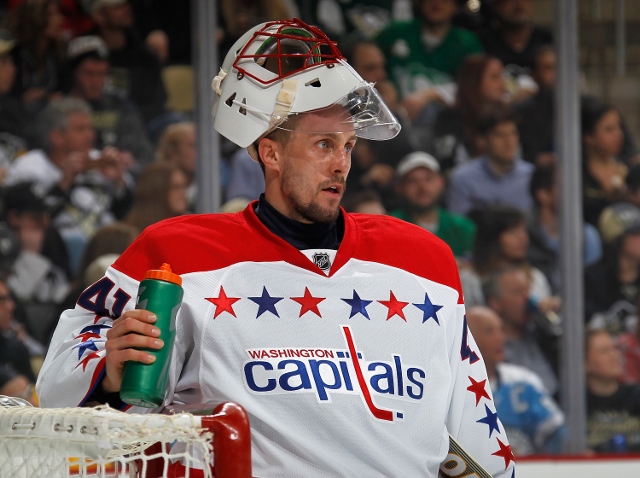 2013-14 Los Angeles Leaders
Total Points: Anze Kopitar (21-36=57)
Goals: Jeff Carter (24-20=44)
Assists: Anze Kopitar (21-36=57)
Plus/Minus: Anze Kopitar (+24; 21-36=57)
Penalty Minutes: Kyle Clifford (72; 3-3=6)
Time On Ice: Drew Doughty (25:58; 8-26=34)
2013-14 Washington Leaders
Total Points: Alex Ovechkin (46-23=69)
Goals: Alex Ovechkin (46-23=69)
Assists: Nicklas Backstrom (13-55=68)
Plus/Minus: Joel Ward (+4; 21-20=41)
Penalty Minutes: Tom Wilson (133; 3-6=9)
Time On Ice: John Carlson (24:32; 10-21=31)
Rankings and Statistics
Goals/Game: LAK – 27 / 2.35; WAS – t-13 / 2.80
Goals Against/Game: LAK – 1 / 2.09; WAS – 23 / 2.89
Power Play: LAK – 25 / 15.1%; WAS – 1 / 24.2%
Penalty Kill: LAK – 12 / 83.0%; WAS – 21 / 81.2%
Shots/Game: LAK – t-7 / 31.5; WAS – t-15 / 30.0
Shots Against/Game: LAK – 3 / 26.4; WAS – 27 / 33.5
Faceoffs: LAK – t-1 / 53.0%; WAS – t-20 / 49.0%
Save Percentage: LAK – 2 / .921; WAS – 12 / .914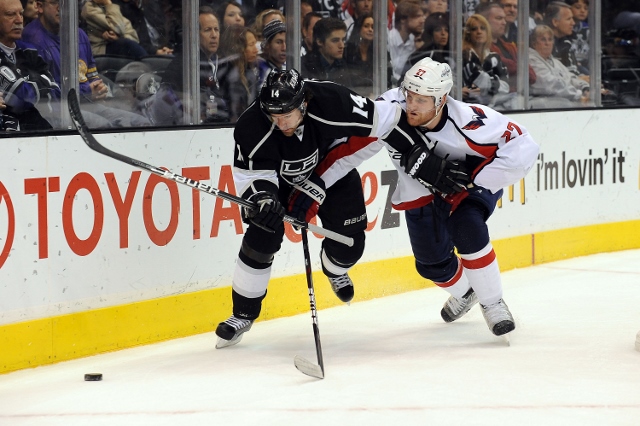 Los Angeles Projected Starting Lineup
Marian Gaborik – Anze Kopitar – Justin Williams
Tyler Toffoli – Mike Richards – Jeff Carter
Dwight King – Jarret Stoll – Dustin Brown
Kyle Clifford – Trevor Lewis – Jordan Nolan
Robyn Regehr – Drew Doughty
Willie Mitchell – Slava Voynov
Alec Martinez – Matt Greene
Jonathan Quick
Martin Jones
Level of confidence in projected lines: D. Jonathan Quick left the ice first after the morning skate, so he's likely to start. The team did not hold line rushes earlier today, and no players remained on the ice for extra work. I expect Dustin Brown to play, which would likely slot him opposite Dwight King on Jarret Stoll's line, which was what had been used during much of during the team's eight-game winning streak. This would potentially lift Tyler Toffoli back up alongside Mike Richards and Jeff Carter. These theoretical alignments could remove Tanner Pearson from the lineup. Keep in mind there's a reason why the level of confidence is a season-low "D". There are quite a few puzzle pieces at work here.
Notes and milestones: Los Angeles is 53-32-15 all-time against Washington, a record that includes a home mark of 30-14-7. The Kings have beaten the Capitals five straight times, dating back to November 20, 2008. The last time Washington beat Los Angeles was a 3-2 Capitals win at Staples Center on December 14, 2005. Brooks Laich, Alex Ovechkin and Dustin Brown are the only players to have remained with their teams since that game. These teams haven't met since January 9, 2012, a 5-2 Kings win backed by goals from Kyle Clifford, Anze Kopitar, Jack Johnson, Jarret Stoll and Justin Williams. Los Angeles and Washington will close out the season series on Tuesday, March 25 at the Verizon Center. … With 170 career wins, Jonathan Quick is one win behind Rogie Vachon's club record 171 wins in a Kings uniform. … Darryl Sutter has amassed 499 career wins, tying Terry Murray for 18th place on the NHL's all-time list. He trails Toe Blake (500) by one win and Pat Burns (501) by two wins. With 1,026 games coached, he trails his brother Brian Sutter (1,028) by two games for 17th place on the NHL's all-time regular season games coached list. … Los Angeles is 8-for-32 on the power play over the last 10 games and 25-for-28 on the penalty kill, dating back to the third period in Colorado on February 26. … The Kings have 232 shots on goal in the last six games (38.7 shots per game average). Their record when they outshoot their opponents by at least 10 shots is 10-8-3. … Anze Kopitar has 14 points (5-9=14) in the last 12 games and nine ponts (6-3=9) in six career games against Washington. … Alec Martinez has seven points (4-3=7) in the last eight games. … Matt Greene is scheduled to play his 500th career game tonight. … Justin Williams is scheduled to become the 15th King to appear in 200 consecutive games tonight. The club record for consecutive games played is held by Anze Kopitar, who appeared in 330 straight games between March 21, 2007 and March 26, 2011. … Marian Gaborik is scheduled to play his 798th game tonight.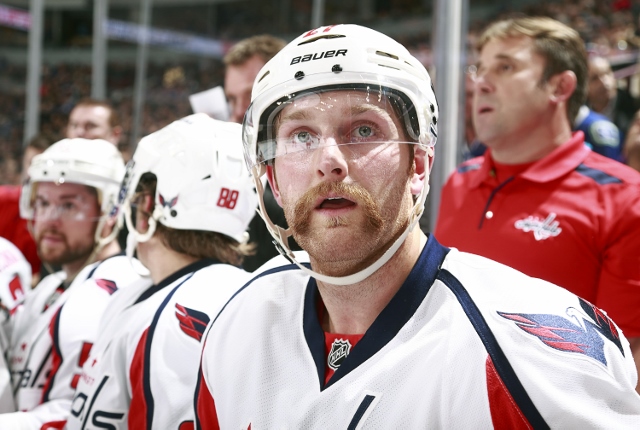 Washington Projected Lineups
Marcus Johansson – Jay Beagle – Alex Ovechkin
Evgeny Kuznetsov – Nicklas Backstrom – Troy Brouwer
Jason Chimera – Eric Fehr – Joel Ward
Dustin Penner – Chris Brown – Tom Wilson
Karl Alzner – John Calrson
Jack Hillen – Mike Green
Dmitry Orlov – Patrick Wey
Jaroslav Halak
Braden Holtby
Notes and milestones: Lines via Chuck Gormley of CSNWashington.com … Seven of Washington's final 12 games are against Western Conference teams. The Capitals (76 points), who would be the first Eastern team out were the playoffs to start today, don't have any games remaining against the Maple Leafs (80) points, Flyers (79 points), Rangers (78 points), Blue Jackets (76 points) or Red Wings (75 points). … Washington has killed off 14 consecutive power plays over the last four games, while their power play is 10-for-21 over the last eight games. After leading the NHL in power play percentage a season ago, the Capitals have the league's best power play rate with 11 games to play. … Washington has seven wins when trailing after two periods. … Alex Ovechkin leads the league in power play goals (20), game winning goals (9) and shots (343). His last five goals have all come on the power play. He has six points (2-4=6) in seven games against Los Angeles; Staples Center and the Scottrade Center in St. Louis are the only current NHL buildings he has never scored in. … Nicklas Backstrom has assisted on 25 of Ovechkin's goals this season. … Dustin Penner, who totaled 37 points (11-26=37) in 117 games with the Kings between 2010 and 2013, has one assist in his first eight games in Washington. He leads all current Capitals with 19 career points (10-9=19) against the Kings. … Jaroslav Halak, who is 4-2-0 with a 2.35 goals-against average since joining Washington, has lost four straight games to Los Angeles and six of his last seven.