Drew Doughty is much closer with Ryan Getzlaf and Corey Perry than many Kings or Ducks fans might feel entirely comfortable with. Though separated by 30 miles of Interstate 5, the National Hockey League rivals grew closer representing Team Canada while at the Vancouver and Sochi Winter Olympics, and Doughty and Perry go back "since I was like 15 years old," the Kings defenseman said of the fellow London, Ontario resident.
"We're decent buddies."
"Actually, these are two of the guys I probably hung out with the most," Doughty said of his Olympic down time. "I've known Perry for a long time. We both live in the same city in the summer and hang out quite a bit throughout the summer. And then Getzy – they're both awesome guys off the ice. They're a lot of fun to play with. Getzlaf is probably my favorite player to watch over there. Just watching the way he passes the puck and some of the things he does, it's unbelievable. But tonight's a new night. It's Kings against Ducks. We need to win. We haven't beaten these guys in regulation yet this year, and we need to get two points at our home rink before the buzzer sounds."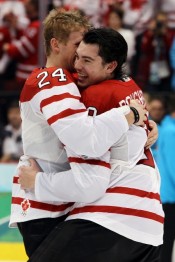 That Doughty shared some admiration for a pair of high profile divisional rivals is actually some good timing. Earlier this week, LAKings.com writer Deborah Lew spoke with Jarret Stoll about playing against close friends. Frenemies is a recommended read.
Doughty, on the challenges presented by Anaheim:
We've got to shut down that top line with Perry and Getzlaf, obviously. They're kind of the two guys that lead that team in the right direction, and they're the two guys that continually score for them. So if we can keep them off the board and keep them off the power play, too, that would be huge. Their power play is pretty good, so staying out of the box will be big, and getting some goals early on them and shutting them down from there.
Doughty, on seeing Perry during the off-season:
Well, we live in the same city, so we golf together quite a bit. We'll grab some drinks once in a while together as well. We're always at the same golf tournaments and charity tournaments. I'll do his charity tournament, he does mine.