-The final shot on goal discrepancy last night favored Los Angeles, 41-29. The Kings attempted 83 shots to the Maple Leafs' 43 attempts. This was due largely in part to a strong final 30 minutes of the game, at least when shots on goals and scoring opportunities are considered. For the first 30 minutes, however, the game was more of a demonstration of Los Angeles being opportunistic than executing its rock solid possession game, and it's interesting that if the full 120 minutes of action between these teams this season are considered, it was Toronto that probably owned a slight edge in possession and scoring opportunities, thanks largely to a quality Leafs performance during an L.A. win earlier in the year. To be fair, the Kings' game at the Air Canada Centre in December came on the second night of a back-to-back set. But the Kings, the league's top possession team, experienced mostly a wash in possession in the season series against one of the league's least proficient possession teams. The Maple Leafs' -8.7 shot on goal differential is the NHL's worst. Of course, this is basically window dressing. It was a tied game in the third period, the Kings were on the power play with an opportunity to regain the lead, and this column would have taken a vastly different approach had the Kings not lost track of the puck following a spectacular James Reimer save on Anze Kopitar that led to Mason Raymond's shorthanded right circle blast past Jonathan Quick. Credit James Reimer for entering the game well prepared to play, and Toronto for a quality showing against Los Angeles this season. The Maple Leafs are a better team than what many of their underlying statistics indicate.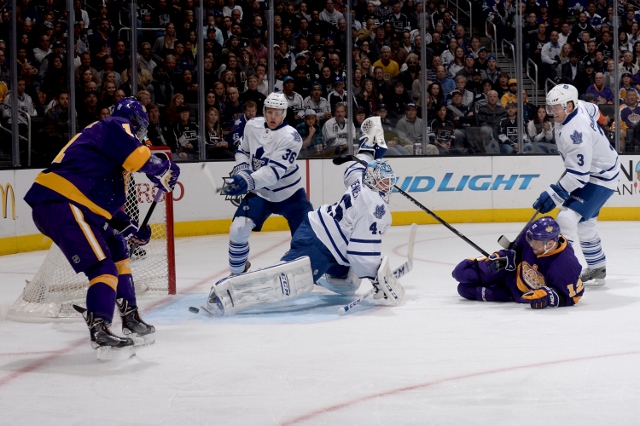 -After acquitting himself quite well in the first five post-Olympic games, Dustin Brown didn't really distinguish himself against Edmonton, Calgary and Toronto, and his 10:12 of ice time last night represented his lowest total since 2005-06 in any game he was available for the full 60 minutes. His ice time has dropped in part because of a lack of special teams opportunities. Dating back to the Stadium Series game against Anaheim, he has received a total of 22 seconds of shorthanded time over 14 games. Hits are a stupid stat affected by a team's time of possession – and several of the Kings' best possession games of the season came on the recent road trip – so any reference to his "lack of hits" over the last three games is a weak argument. But since the win over the Jets, the King-Stoll-Brown line hasn't really stood out consistently, and it's not a good thing that Darryl Sutter referenced the line as being "tired" last night. "Tired" is the adjective he used to explain why he scratched Dustin Penner for a game last season. It will be interesting to see if Sutter stays with this line on Saturday and gives it an opportunity to rebound from several indistinguishable performances, or if he looks to change things up, perhaps by giving Tanner Pearson an opportunity on the left wing.
-Thursday clearly marked the best performance of the season by the alignment of Marian Gaborik, Anze Kopitar and Justin Williams. Gaborik is gaining the chemistry with his teammates and has shown through four games a knack of using speed and force in driving to the net, and Kopitar could have had a hat trick if it wasn't for a collection of saves on Grade-A opportunities by Jonathan Bernier and Reimer. Really, much of the analysis above is moot. If the Kings hadn't been facing one of the top goaltending tandems in the league – Bernier and Reimer have combined for a .918 save percentage, tied for fourth in the league – and a duo that made a handful of spectacular saves on Thursday, they could have put three or four goals on the scoreboard, which would have won them the game.