Los Angeles Kings (38-22-6) vs Toronto Maple Leafs (35-24-8)
Thursday, March 13, 2014, 7:30 p.m. PT
Staples Center, Los Angeles, CA
Referees: #40 Steve Kozari, #12 Justin St. Pierre
Linesmen: #91 Don Henderson, #57 Jay Sharrers
Fox Sports West, KEIB 1150 AM
Kings Weekly to follow tonight's game
Los Angeles Projected Starting Goaltender – Jonathan Quick
2013-14 Season: 37 GP (37 GS) / 21-13-2 record / 2.02 GAA / .917 Sv% / 4 SHO
Career vs Toronto: 3 (3) / 2-1-0 / 2.62 / .910 / 0
Last Game vs Toronto: 12/19/11 / 65 MP / 31-33 + 3/3 shots / 3-2 SOW
2013-14, Home: 22 (22) / 13-8-1 / 2.15 / .907 / 2
Toronto Projected Starting Goaltender – Jonathan Bernier
2013-14 Season: 49 GP (43 GS) /25-16-7 record / 2.59 GAA / .926 Sv% / 1 SHO
Career vs Los Angeles: 1 (1) / 0-1-0 / 3.07 / .870 / 0
Last Game vs Los Angeles: 12/11/13 / 59 MP / 20-23 shots / 1-3 L
2013-14, Home: 3 (3) / 2-1-0 / 2.02 / .926 / 0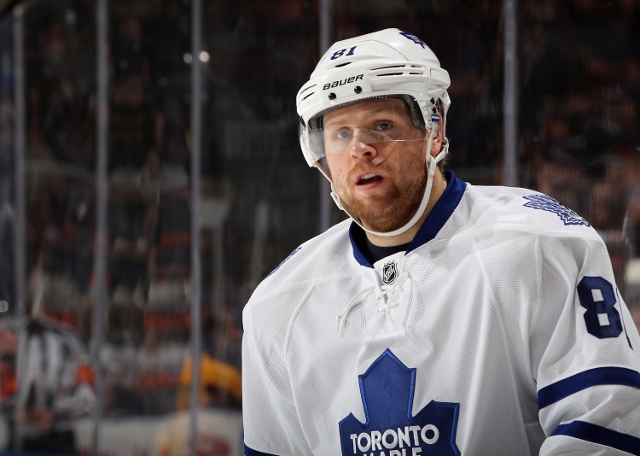 2013-14 Los Angeles Leaders
Total Points: Anze Kopitar (20-35=55)
Goals: Jeff Carter (24-19=43)
Assists: Anze Kopitar (20-35=55)
Plus/Minus: Anze Kopitar (+27; 20-35=55)
Penalty Minutes: Kyle Clifford (70; 3-3=6)
Time On Ice: Drew Doughty (25:56; 8-24=32)
2013-14 Toronto Leaders
Total Points: Phil Kessel (34-39=73)
Goals: Phil Kessel (34-39=73)
Assists: Phil Kessel (34-39=73)
Plus/Minus: Dion Phaneuf (+15; 6-20=26), Carl Gunnarson (+15; 1-12=13)
Penalty Minutes: Dion Phaneuf (107; 6-20=26)
Time On Ice: Dion Phaneuf (24:06; 6-20=26)
Rankings and Statistics
Goals/Game: LAK – 26 / 2.36; TOR – 10 / 2.82
Goals Against/Game: LAK – 1 / 2.04; TOR – 26 / 3.00
Power Play: LAK – 25 / 14.5%; TOR – t-5 / 20.8%
Penalty Kill: LAK – 12 / 83.1%; TOR – 28 / 78.9%
Shots/Game: LAK – 10 / 31.1; TOR – 25 / 27.6
Shots Against/Game: LAK – 3 / 26.5; TOR – 30 / 36.3
Faceoffs: LAK – 3 / 52.9%; TOR – 25 / 48.2%
Save Percentage: LAK – 2 / .923; TOR – 5 / .917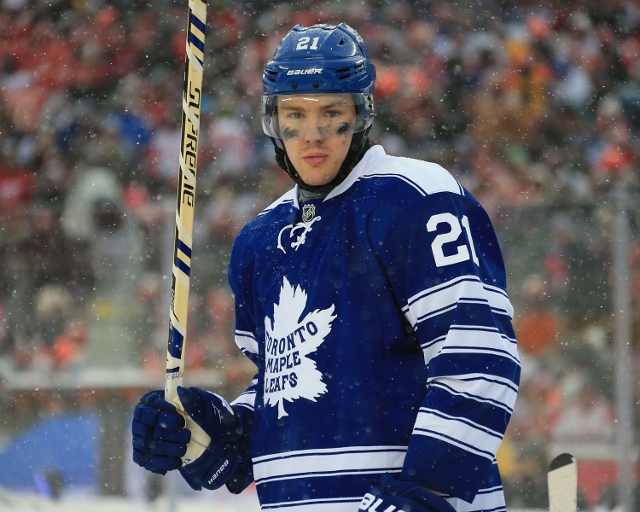 Los Angeles Projected Lines
Marian Gaborik – Anze Kopitar – Justin Williams
Tyler Toffoli – Mike Richards – Jeff Carter
Dwight King – Jarret Stoll – Dustin Brown
Kyle Clifford – Trevor Lewis – Jordan Nolan
Jake Muzzin – Drew Doughty
Robyn Regehr – Slava Voynov
Willie Mitchell – Alec Martinez
Jonathan Quick
Martin Jones
Level of confidence in projected lines: A-. Matt Greene and Tanner Pearson remained on the ice for extra work, so they're tonight's projected scratches. Jonathan Quick was the first goaltender to leave the ice, so he's the projected starter. The team did not participate in line rushes, so the alignments reflect those from Thursday's game in Winnipeg and Sunday's game in Edmonton.
Notes and milestones: Los Angeles is 61-57-22 all-time against Toronto, a record that includes a 35-23-10 mark at home. The Kings have won five of the last seven meetings against the Maple Leafs, dating back to December 6, 2005. Toronto has not visited Staples Center since January 10, 2011. The last Kings home win over the Maple Leafs came on January 10, 2008. … Los Angeles has won eight straight games, outscoring their opponents 25-12 over the streak. Only seven of the 12 goals allowed have come at even strength. The longest streak in club history is nine games, set between January 21 and February 6, 2010. … In 21 games since returning from injury, Jonathan Quick is 11-8-2 with a 1.76 goals-against average, .926 save percentage and three shutouts (1224:13 minutes, 36 goals against, 451-487 shots). With 170 career wins, he is one win behind Rogie Vachon's club record 171 wins in a Kings uniform. … Both the Kings and their opponents are 5-for-27 (18.5%) during the winning streak. … Darryl Sutter has amassed 499 career wins, tying Terry Murray for 18th place on the NHL's all-time list. He trails Toe Blake (500) by one win and Pat Burns (501) by two wins. With 1,023 games coached, he trails his brother Brian Sutter (1,028) by five games for 17th place on the NHL's all-time regular season games coached list. … The Kings are 21-0-0 when leading after two periods in 2013-14 and 126-1-11 when leading after two periods, dating back to April 4, 2009. … Alec Martinez has a career-high five-game point streak (3-2=5). … Anze Kopitar has 12 points (4-8=12) in his last nine games. He and Dustin Brown are tied for ninth place on the team's goal scoring list with 193 career goals and trail Mike Murphy by one goal for eighth place. … With 62 power play goals, Kopitar is one power play goal behind Wayne Gretzky for eighth place on the club's power play goal list. … Drew Doughty has scored only twice since scoring in the first period against Toronto on December 11. … Marian Gaborik has 21 points (12-9=21) in 18 career games against Toronto. … Dustin Brown has eight points (5-3=8) in eight career games against Toronto.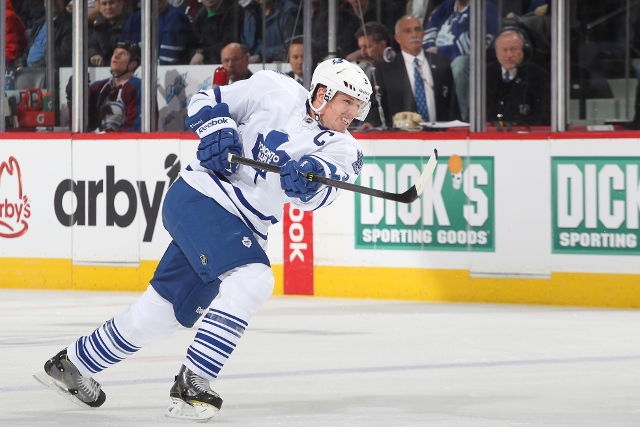 Toronto Projected Lines
James van Riemsdyk – Tyler Bozak – Phil Kessel
David Clarkson – Nazem Kadri – Joffrey Lupul
Mason Raymond – Nikolai Kulemin – Troy Bodie
Carter Ashton – Jay McClement – Colton Orr
Dion Phaneuf – Carl Gunnarsson
Cody Franson – Jake Gardiner
Tim Gleason – Morgan Rielly
Jonathan Bernier
James Reimer
Notes and milestones: Lines via NHL.com correspondent Curtis Zupke … This is only Toronto's fourth visit to Los Angeles since 1998. The Maple Leafs have won the teams' last two games at Staples Center. … Toronto has allowed at least 30 shots in 56 of 67 games in 2013-14. They have allowed at least 40 shots in 19 games, including the last two. … The Maple Leafs have killed 12 straight penalties over the last five games, though the power play is 1-for-22 in the last 10 games. … Since January 1, Phil Kessel has posted 36 points to lead the National Hockey League. Sidney Crosby ranks second with 29 points. He ranks second in NHL scoring with 73 points (34-39=73). The last Maple Leaf to finish as high as second for the Art Ross Trophy was Gaye Stewart in 1945-46. … Jonathan Bernier is 5-0-2 in his last seven starts, facing at least 30 shots over that span. He leads the league with 19 wins in games in which he makes at least 30 saves. In 62 games with the Kings between 2007 and 2013, Bernier was 29-20-6 with a 2.36 goals-against average and six shutouts. … Dion Phaneuf has taken 41 minor penalties, eight more than any other player in the league. … Tim Gleason played 125 games with Los Angeles in 2003-04 and 2005-06, registering 28 points (2-26=28) and 98 penalty minutes. … Jay McClement leads all Toronto players in career games played (28), goals (tied-5), assists (9) and points (14) against Los Angeles. Joffrey Lupul and Mason Raymond have also registered five career goals against Los Angeles.