Los Angeles Kings (36-22-6) at Edmonton Oilers (22-34-8)
Sunday, March 9, 2014, 5:00 p.m. PT
Rexall Place, Edmonton, AB
Referees: #14 Dennis LaRue, #29 Ian Walsh
Linesmen: #56 Mark Wheler, #78 Brian Mach
Fox Sports West, KEIB AM 1150
Los Angeles Projected Starting Goaltender – Jonathan Quick
2013-14 Season: 36 GP (36 GS) / 20-13-2 record / 2.02 GAA / .917 Sv% / 4 SHO
Career vs Edmonton: 15 (15) / 10-1-4 / 1.50 / .941 / 1
Last Game vs Edmonton: 10/27/13 / 64 MP / 17-18 shots / 2-1 SOW
2013-14,Away: 14 (14) / 7-5-1 / 1.82 / .930 / 2
Edmonton Projected Starting Goaltender – Ben Scrivens
2013-14 Season: 28 GP (24 GS) /12-9-4 record / 2.02 GAA / .935 Sv% / 4 SHO
Career vs Los Angeles: First appearance
Last Game vs Los Angeles: First appearance
2013-14, Home: 11 (11) / 6-3-2 / 1.71 / .942 / 1
Scrivens, on facing his former teammates:

2013-14 Los Angeles Leaders
Total Points: Anze Kopitar (19-33=52)
Goals: Jeff Carter (22-18=40)
Assists: Anze Kopitar (19-33=52)
Plus/Minus: Anze Kopitar (+25; 19-33=52)
Penalty Minutes: Kyle Clifford (70; 3-2=5)
Time On Ice: Drew Doughty (25:55; 8-23=31)
2013-14 Edmonton Leaders
Total Points: Taylor Hall (21-38=59)
Goals: David Perron (23-21=44)
Assists: Taylor Hall (21-38=59)
Plus/Minus: Martin Marincin (+4; 0-2=2)
Penalty Minutes: Luke Gazdic (93; 2-2=4)
Time On Ice: Justin Schultz (23:39; 8-16=24)
Rankings and Statistics
Goals/Game: LAK – 27 / 2.33; EDM – 22 / 2.47
Goals Against/Game: LAK – 1 / 2.05; EDM – 29 / 3.22
Power Play: LAK – 26 / 14.4%; EDM – 19 / 16.9%
Penalty Kill: LAK – 11 / 83.1%; EDM – 14 / 82.2%
Shots/Game: LAK – 10 / 31.0; EDM – 26 / 27.0
Shots Against/Game: LAK – 3 / 26.5; EDM – 25 / 32.3
Faceoffs: LAK – 2 / 52.9%; EDM – t-17/ 49.6%
Save Percentage: LAK – 2 / .923; EDM – t-26 / .900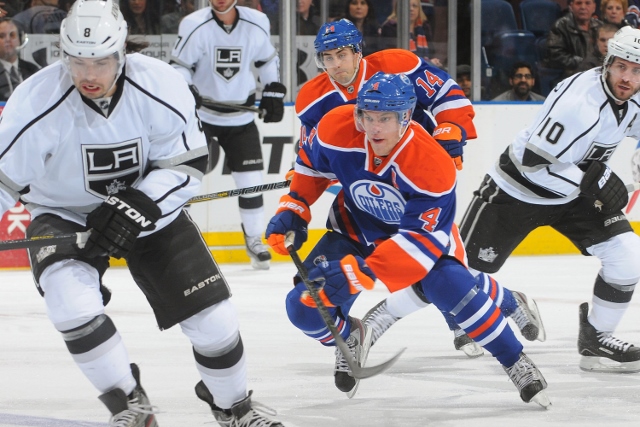 Los Angeles Projected Lines
Marian Gaborik – Anze Kopitar – Justin Williams
Tyler Toffoli – Mike Richards – Jeff Carter
Dwight King – Jarret Stoll – Dustin Brown
Kyle Clifford – Trevor Lewis – Jordan Nolan
Jake Muzzin – Drew Doughty
Robyn Regehr – Slava Voynov
Willie Mitchell – Alec Martinez
Jonathan Quick
Martin Jones
Level of confidence of projected lines: A. Matt Greene and Tanner Pearson remained on the ice for extra work with Martin Jones, so they're not in tonight's lineup.
Notes and milestones: Los Angeles is 70-79-38 all-time against Edmonton, a record that includes a road mark of 33-43-17. The Kings are 13-1-4 in the last 18 games against the Oilers and 8-0-2 in their last 10 games at Rexall Place. L.A. hasn't lost in regulation at Edmonton since February 28, 2008. The two teams will conclude the season series in the 81st game of the season for both teams on April 10, 2014 at Rexall Place. … Los Angeles has won six straight games, outscoring their opponents 18-8. … Darryl Sutter is tied with Glen Sather for 19th place on the NHL's all-time coaching list with 497 career victories. He trails Terry Murray (499) by two wins, Toe Blake (500) by three wins, and Pat Burns (501) by four wins. With 1,021 games coached, he trails his brother Brian Sutter (1,028) by seven games for 17th place on the NHL's all-time regular season games coached list. On Thursday he won the 497th game of his career and his 88th game with the Kings. … In his 20 games since returning from injury, Jonathan Quick is 10-8-2 with a 1.75 goals-against average, .926 save percentage and three shutouts (1164:13 minutes, 34 goals against, 428-462 shots). With 169 career wins, he is two wins behind Rogie Vachon's club record 171 wins in a Kings uniform. … The Kings' power play has goals in three consecutive games for the first time since scoring with the man advantage in wins at Montreal, Toronto and Ottawa on December 10, 11 and 14. … Los Angeles has killed off 12 consecutive penalties. The last opponent to score a power play goal against the Kings was Colorado's Andre Benoit, who scored during the second period of L.A.'s 6-4 win at the Pepsi Center on February 26. … Los Angeles is 19-0-0 when leading after two periods and 124-1-11 when leading after two periods, dating back to April 4, 2009. … Dustin Brown has five points in the last five games (2-3=5). With 193 career goals, he is one goal behind Mike Murphy for eighth place overall on the team's goal scoring list. … With 192 career goals, Anze Kopitar is one goal behind Dustin Brown for ninth place overall on the team's goal scoring list. With 62 power play goals, he is one power play goal behind Wayne Gretzky for eighth place on the club's power play goal list. … Justin Williams has five points (2-3=5) in the last five games. … Marian Gaborik has 45 points (21-24=45) and a plus-6 rating in 47 career games against Edmonton. … Jeff Carter has 10 points (7-3=10) and a plus-5 rating in 10 games against Edmonton.
Edmonton Projected Lines
Taylor Hall – Sam Gagner – Nail Yakupov
David Perron – Ryan Nugent-Hopkins – Jordan Eberle
Matt Hendricks – Boyd Gordon – Jesse Joensuu
Luke Gazdic – Ryan Smyth – Ryan Jones
Andrew Ference – Justin Schultz
Martin Marincin – Jeff Petry
Mark Fraser – Philip Larsen
Ben Scrivens
Viktor Fasth
Notes and milestones: Anton Belov is out with an oblique injury. … The Oilers are 7-2-2 in their last 11 games and are looking to post their third three-game winning streak of the season. Over the first 53 games, Edmonton allowed 3.53 goals per game. Over the last 11 games, they have allowed 1.90 goals per game. … The Oilers have killed off 19 consecutive power plays. … Ben Scrivens leads the league with a .935 save percentage. … Edmonton has three 20-goal scorers in David Perron (23), Taylor Hall (21) and Jordan Eberle (20). Only Chicago and Colorado have four 20-goal scorers. … Hall has scored 20 goals three times in his four year career. 17 of his 21 goals this season have been at even strength. … With 126 power play goals as an Oiler, Ryan Smyth is tied with Glenn Anderson for the most power play goals in club history. … Jordan Eberle has points in three straight games (1-2=3). … Other than Ryan Smyth (25-24=49; +10 in 56 career games), no current Oiler has scored more than two career goals against the Kings.