Ben Scrivens did not crack the 1,000-minute plateau with the Kings, finishing between Mark Fitzpatrick and Marco Baron with 975 minutes logged as the 36th most used franchise goaltender. Sean Burke logged 335 more minutes in a Los Angeles uniform than Scrivens.
But the goaltender known colloquially as The Professor made a mark on the 2013-14 Kings season in a vastly positive way, smoothing the expanse between November 12 and January 4 with enormously proficient goaltending as Jonathan Quick rehabilitated and recovered from a Grade 2 groin strain.
After being acquired from Toronto as a somewhat unknown entity as part of the Jonathan Bernier trade, Scrivens beat out Mathieu Garon for the backup goaltending spot in training camp and posted a 7-5-4 record with a 1.97 goals-against average and .931 save percentage with Los Angeles, numbers that were actually shaved off by four consecutive losses to end his Kings tenure. His three shutouts count amongst the team's 10 shutouts this season.
He was then traded to the Edmonton on January 15 as Los Angeles was able to land a third round draft pick from the Oilers and recall Martin Jones, who was 8-3-0 with a 1.41 goals-against average and .950 save percentage at the time of the trade. At Rexall Place on Sunday night, it's likely that Scrivens will start against the Kings for the first time in his career.
"I'm sure The Professor's going to be fired up, and so will we, so it's going to be fun," Anze Kopitar said.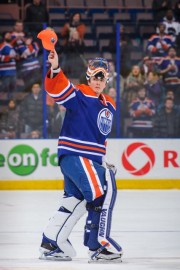 Since joining the Oilers, Scrivens has found a good deal of success backstopping a team that doesn't have the defensive consistency that the Kings operate with. He's 5-4-0 with a 2.11 goals-against average and .940 save percentage, numbers that represent a significant improvement from the goaltending consortium of Devan Dubnyk, Ilya Bryzgalov, Jason LaBarbera and Richard Bachman; Edmonton also acquired Viktor Fasth from Anaheim at the trading deadline. The Oilers are 7-2-2 in their last 11 games, having beaten the Rangers on the road and earning a 3-0 home win over San Jose on January 29 when Scrivens posted an NHL record 59-save shutout. The Edmonton native signed a two-year, 4.6 million dollar extension earlier this week.
"He's a great goalie. Obviously we saw it when he came in and played with us," Jonathan Quick said. "We saw it firsthand how well he played. He goes to Edmonton, a team that maybe doesn't have as much defensive structure as we do, that kind of relies a little more on their offensive weapons. He's getting a lot more quality chances against every night, and he's done really well for them. Obviously he got rewarded the other day with the nice little two-year contract. So it was good to see that. It's good to see guys that you know, you know they put in the effort and they work hard, and they're good teammates. So you like to see them get rewarded."
Though Drew Doughty discussed how eager he was to score on Jonathan Quick at the Olympics, he was asked if he's also looking forward to getting one past his former teammate.
"Of course," Doughty answered. "Scrivvy's a good goalie. It's going to be tough to get it by him. We've seen what he's done this year. He had that record or whatever it was. It's going to be tough to get it by him, so we've got to do the same things we do every night – screens, tips, rebounds. It seems like we say the same things over and over, but that's what we've got to do. I'm looking forward to hopefully beating him."
The Kings are 2-0 against the Oilers, having beaten their Pacific Division rivals 2-1 in a shootout behind Jonathan Quick on October 27 and 3-0 on a 24-save Martin Jones shutout on December 17. Both games were at home. Due to the unbalanced schedule, Los Angeles faces Edmonton only four times, and all other divisional teams five times. The teams will conclude the season series on April 10 at Rexall Place, both clubs' 81st regular season game.