At the midpoint of the first period, the Kings were trailing the Jets in shots, 7-4, and play was mostly even on both sides, with several B-type chances marking the game's opening stretches, though Jarret Stoll should be credited with a key defensive stop with a stick lift on Matt Halischuk during a prime Winnipeg opportunity from close range. Over the remaining two and a half periods, Los Angeles outshot Winnipeg 37-11, turning in a performance that demonstrated that the best defense is a good offense. The Kings thoroughly dominated zone time, shots, scoring opportunities and were able to out-draw the Jets in power plays four to one by out-competing their opponents and relying on superior skill. L.A. also hit two posts in a game that would have been decided by a wider margin had Ondrej Pavelec not turned in his second consecutive outstanding appearance against the Kings this season. It's hard to compare games in March to games in other months of the year given the circumstances, health of the team, and variables that aren't always constant. But last night's win was certainly among the best performances that the team has turned in in 2013-14, and they forged it on the road against a team that entered the game 11-3-2 in its last 16 games. It also means little heading into a brief break in the schedule in advance of Sunday's game in Edmonton. Park and ride.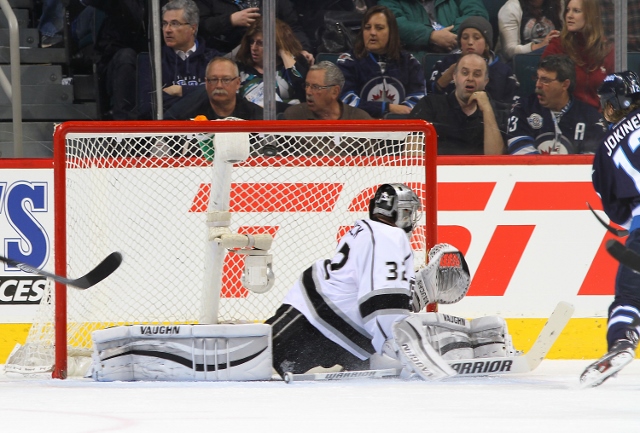 Marian Gaborik's debut was about about as good as one could reasonably predict in his first game with the team. He gradually developed a comfort level as the game developed, and though he was a minus-one, the goal against was a result of a botched defensive read on a two-on-two and did not appear to be linked to the forwards. He flashed his speed in a second period drive to the net on a rush with Anze Kopitar, and very nearly redirected the centering pass past Pavelec. In the third period, he also had a slick redirect of a Kopitar pass towards the goalmouth in what turned out to be a near-miss. Justin Williams turned in a Williams-esque performance by enhancing the team's possession ability in the offensive zone, and one can see the trio developing good chemistry together.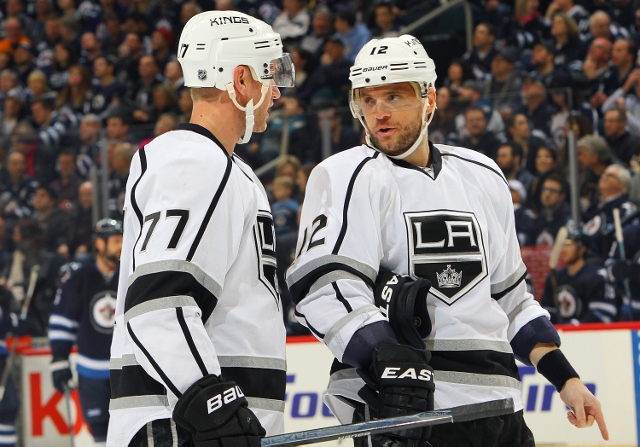 Just as importantly, Gaborik's presence balanced out the team's top six and created match-up issues for the opposition. Though the Kopitar line didn't score, the Richards line turned in an outstanding performance that was notable as much for the jam that they operated with as their ability to create offense. Strong forechecking allowed Mike Richards to intercept a Tobias Enstrom pass, and his top shelf blast impressively came on a rolling puck. Jeff Carter very nearly had a goal when he wristed the puck off the inside of the post, and contributed with an awfully thorough game. His hustle and work in perimeter battles was noticeable, and his defensive play was well represented in denying Winnipeg a developing opportunity in the second period when he closed a gap quickly on Dustin Byfuglien, denying the versatile Jets forward any time or space to make a play.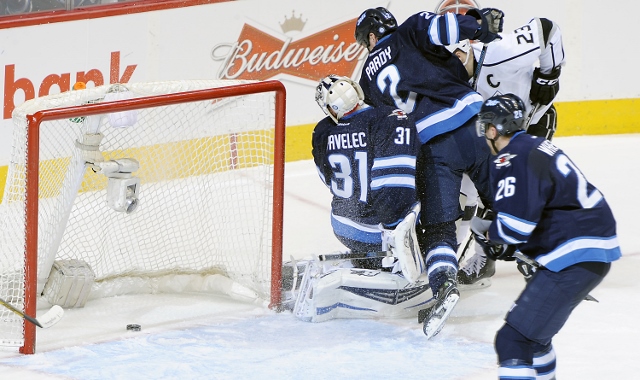 Alec Martinez appears to be taking advantage of his opportunity, and with a skilled third period power play goal, he increased his points streak to three games while matching his career high in goals with six. By spinning around Evander Kane, bringing the puck quickly from the perimeter of the offensive zone to the inside of the top of the right circle and beating Ondrej Pavelec stick side with a shot that rang off the far post and deflected in, he scored a back-breaking insurance goal that increased the team's streak of scoring with the man advantage to three games. To repeat what has been said on this blog (and on Kings Live last night), it's not about how many power play goals are scored, it's when they're scored, and in the last three games, there have been two power play game-winners and one important power play insurance marker.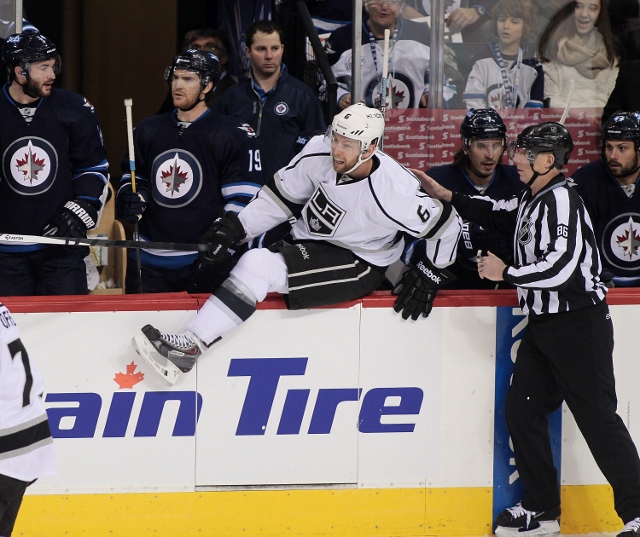 In regards to Dustin Brown's strong run of post-Olympic play, and Mike Richards scoring in two of the team's last three games, this uptick in production shouldn't come as much of a surprise.
Shooting percentages regressing is a marvelous thing

— Andrew Lifland (@andrewlifland) March 7, 2014