Los Angeles Kings (35-22-6) at Winnipeg Jets (30-26-7)
Thursday, March 6, 2014, 4:00 p.m. PT
MTS Centre, Winnipeg, MB
Referees: #8 Dave Jackson, #34 Brad Meier
Linesmen: #86 Brad Lazarowich, #70 Derek Nansen
Fox Sports West, KEIB 1150 AM
Kings Weekly to follow tonight's game
Los Angeles Projected Starting Goaltender – Jonathan Quick
2013-14 Season: 35 GP (35 GS) / 19-13-2 record / 2.05 GAA / .916 Sv% / 4 SHO
Career vs Winnipeg: 4 (4) / 1-2-0 / 4.49 / .863 / 0
Last Game vs Winnipeg: 10/4/13 / 45 MP / 23-27 shots / 3-5 L
2013-14, Away: 13 (13) / 6-5-1 / 1.89 / .929 / 2
Winnipeg Projected Starting Goaltender – Ondrej Pavelec
2013-14 Season: 48 GP (48 GS) /20-22-5 record / 2.90 GAA / .904 Sv% / 1 SHO
Career vs Los Angeles: 2 (2) / 2-0-0 / 1.50 / .960 / 1
Last Game vs Los Angeles: 10/4/13 / 60 MP / 33-36 shots / 5-3 W
2013-14, Home: 27 (27) / 11-11-4 / 3.18 / .890 / 1
2013-14 Los Angeles Leaders
Total Points: Anze Kopitar (19-33=52)
Goals: Jeff Carter (22-18=40)
Assists: Anze Kopitar (19-33=52)
Plus/Minus: Anze Kopitar (+26; 19-33=52)
Penalty Minutes: Kyle Clifford (70; 3-2=5)
Time On Ice: Drew Doughty (25:56; 8-23=31)
2013-14 Winnipeg Leaders
Total Points: Blake Wheeler (23-27=50)
Goals: Blake Wheeler (23-27=50)
Assists: Dustin Byfuglien (13-31=44)
Plus/Minus: Mark Scheifele (+9; 13-21=34), Mark Stuart (+9; 2-7=9)
Penalty Minutes: Mark Stuart (81; 2-7=9)
Time On Ice: Tobias Enstrom (24:03; 6-13=19)
Rankings and Statistics
Goals/Game: LAK – 27 / 2.32; WPG – 15 / 2.70
Goals Against/Game: LAK – 1 / 2.06; WPG – 19 / 2.79
Power Play: LAK – t-26 / 14.2%; WPG – t-26 / 14.2%
Penalty Kill: LAK – 12 / 83.0%; WPG – 6 / 84.6%
Shots/Game: LAK – t-11 / 30.8; WPG – t-11 / 30.8
Shots Against/Game: LAK – 3 / 26.6; WPG – t-18 / 30.4
Faceoffs: LAK – 2 / 53.0%; WPG – 30 / 45.8%
Save Percentage: LAK – 2 / .922; WPG – 21 / .908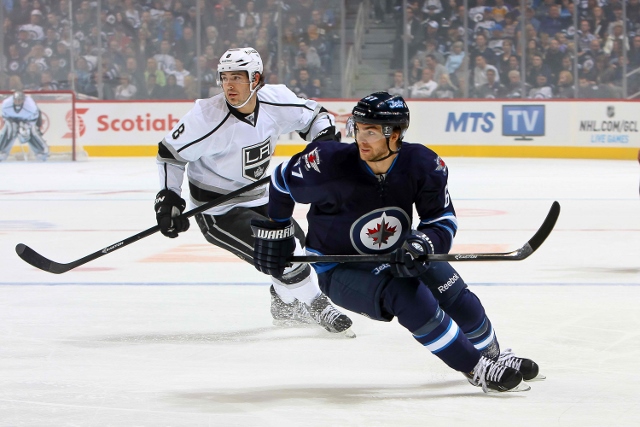 Los Angeles Projected Lines
Marian Gaborik – Anze Kopitar – Justin Williams
Dustin Brown – Mike Richards – Jeff Carter
Dwight King – Jarret Stoll – Tyler Toffoli
Kyle Clifford – Trevor Lewis – Jordan Nolan
Jake Muzzin – Drew Doughty
Robyn Regehr – Slava Voynov
Willie Mitchell – Alec Martinez
Jonathan Quick
Martin Jones
Level of confidence in projected lines: B. Jeff Carter didn't skate this morning and remained back at the hotel. I was unable to get Darryl Sutter to expand on that, but the highest probability is that the forward is under the weather. Until more is learned when the team takes the ice for warm-ups, there does appear to be a question as to whether he'll play this evening against Winnipeg. There are several lineup scenarios if Carter is unable to play. Dustin Brown could flip back to right wing, moving King up a line, Clifford up a line, and bringing Tanner Pearson into the lineup. The team could also use three centers and seven defensemen by moving Tyler Toffoli up a line, Jordan Nolan up a line, and bringing Matt Greene into the lineup. They could do neither of these two scenarios. Sutter's refrain of "Wait for the song" applies here.
Notes and milestones: Los Angeles is 8-3-4 all-time against the Winnipeg/Atlanta franchise, numbers that include a road record of 3-3-2. The Kings are 0-1-1 at the MTS Centre since the team's relocation. The teams will conclude the season series on Saturday, March 29 at Staples Center, a building the Jets have never visited. … Los Angeles has won five straight games, outscoring their opponents 15-7. … Jonathan Quick has a 1.79 GAA, .926 spct and three shutouts in his 19 games since returning from injury and has stopped 90 of the last 93 shots he has faced. With 168 career wins, he is three wins behind Rogie Vachon's club record 171 wins in a Kings uniform. … Los Angeles is tied with Minnesota for the league lead with 11 wins when scoring two goals or less. … The Kings' power play has goals in two consecutive games. The last time Los Angeles had a power play goal in three straight games was December 10 (Montreal), 11 (Toronto) and 14 (Ottawa). … Los Angeles has killed off 11 consecutive penalties. … Anze Kopitar has nine points in the last six games (3-6=9) and 17 points in the last 19 games (6-11=17). … Jeff Carter has six points in the last six games (2-4=6). … Dustin Brown has four points in the last four games (1-3=4). … Justin Williams has five points in the last four games (2-3=5). … Robyn Regehr is a plus-7 in the last five games. … Los Angeles is 18-0-0 when leading after two periods and 123-1-11, dating back to April 4, 2009. … Marian Gaborik has 22 points (10-12=22) in 20 career games against Winnipeg/Atlanta.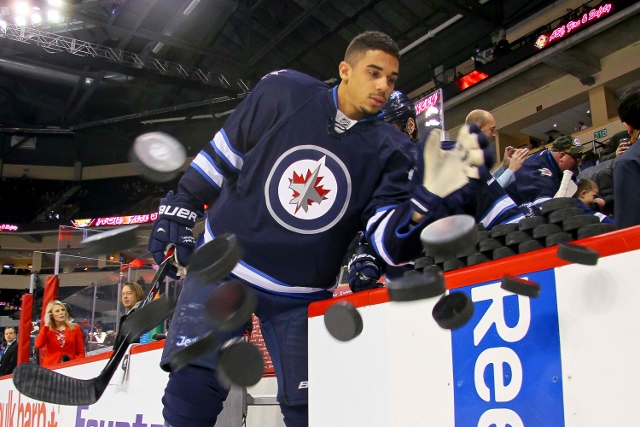 Winnipeg Projected Lines
Andrew Ladd – Bryan Little – Blake Wheeler
Evander Kane – Olli Jokinen – Dustin Byfuglien
Devin Setoguchi – Michael Frolik – Matt Halischuk
Eric Tangradi – Jim Slater – Anthony Peluso
Zach Bogosian – Tobias Enstrom
Mark Stuart – Jacob Trouba
Adam Pardy – Keaton Ellerby
Ondrej Pavelec
Al Montoya
Notes and milestones: Lines via NHL.com correspondent Patrick Williams … Forward Mark Scheifele is out with a knee injury suffered in Tuesday's overtime loss to the New York Islanders. Scheifele had 24 points in his last 30 games. … Winnipeg is 11-3-2 under Head Coach Paul Maurice, who replaced Claude Noel on January 12. Since then, the Jets are averaging 3.00 goals per game, 2.25 goals against per game, and are killing penalties at an 88.3% rate. The power play is working at 11.8% under Maurice and is 2-for-20 over the last 10 games. … In the last 11 games, captain Andrew Ladd has 12 points (6-6=12). … Leading scorer Blake Wheeler's 23 goals are a career high. His longest pointless streak of the season is three games; his longest pointless streak of the season is three games. … Jake Trouba leads all first year players with an average ice time of 22:08. He has averaged 24:23 of ice time over his last seven games. He turned 20 years old last week. … Ondrej Pavelec, whose 22 losses places him in a tie with Ryan Miller for the league lead, is 4-1-1 in his last six starts. … The Jets signed defenseman Mark Stuart to a four-year, 10.5-million dollar extension on Wednesday. … Jets defenseman Keaton Ellerby appeared in 35 games with the Kings last season, totaling three assists and a plus-5 rating. Selected 10th overall in 2007, Ellerby has two goals, five points and a plus-four rating in 39 games this season. He is scheduled to appear in his 200th NHL game tonight.