Los Angeles Kings (34-22-6) vs Montreal Canadiens (34-21-7)
Monday, March 3, 2014, 7:30 p.m. PT
STAPLES Center, Los Angeles, CA
Referees: #4 Wes McCauley, #13 Dan O'Halloran
Linesmen: #66 Darren Gibbs, #65 Pierre Racicot
Fox Sports West, KEIB 1150 AM
Los Angeles Projected Starting Goaltender – Jonathan Quick
2013-14 Season: 34 GP (34 GS) / 18-13-2 record / 2.08 GAA / .915 Sv% / 4 SHO
Career vs Montreal: 2 (2) / 0-2-0 / 3.52 / .860 / 0
Last Game vs Montreal: 3/6/10 / 59 MP / 21-24 shots / 4-2 L
2013-14,Home: 21 (21) / 12-8-1 / 2.20 / .906 / 2
Montreal Projected Starting Goaltender – Peter Budaj
2013-14 Season: 17 GP (14 GS) /8-4-2 record / 2.21 GAA / .918 Sv% / 1 SHO
Career vs Los Angeles: 12 (10) / 6-2-1 / 2.90 / .894 / 1
Last Game vs Los Angeles: 12/10/13 / 34 MP / 12-14 shots / 6-0 L
2013-14, Away: 12 (11) / 8-4-2 / 2.14 / .923 / 1
2013-14 Los Angeles Leaders
Total Points: Anze Kopitar (19-32=51)
Goals: Jeff Carter (21-18=39)
Assists: Anze Kopitar (19-32=51)
Plus/Minus: Anze Kopitar (+25; 19-32=51)
Penalty Minutes: Kyle Clifford (65; 3-2=5)
Time On Ice: Drew Doughty (25:54; 8-23=31)
2013-14 Montreal Leaders
Total Points: Max Pacioretty (29-12=41), P.K. Subban (9-32=41)
Goals: Max Pacioretty (29-12=41)
Assists: P.K. Subban (9-32=41)
Plus/Minus: Tomas Plekanec (+9; 17-17=34)
Penalty Minutes: Brandon Prust (105; 5-6=11)
Time On Ice: Andrei Markov (25:10; 5-31=36)
Rankings and Statistics
Goals/Game: LAK – 28 / 2.32; MTL – 20 / 2.50
Goals Against/Game: LAK – 1 / 2.08; MTL – 8 / 2.40
Power Play: LAK – 26 / 14.0%; MTL – 12 / 20.0%
Penalty Kill: LAK – 12 / 82.8%; MTL – 4 / 85.2%
Shots/Game: LAK – 11 / 31.0; MTL – 24 / 28.3
Shots Against/Game: LAK – 3 / 26.8; MTL – 20 / 30.5
Faceoffs: LAK – 2 / 53.2%; MTL – 20/ 49.4%
Save Percentage: LAK – 2 / .922; MTL – 3 / .921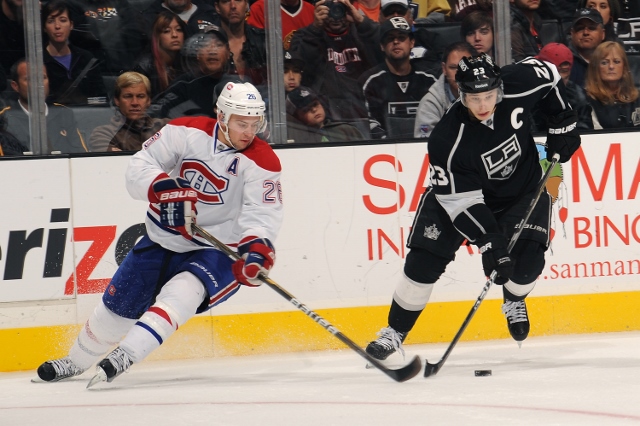 Los Angeles Projected Lines
Tyler Toffoli – Anze Kopitar – Justin Williams
Tanner Pearson – Mike Richards – Jeff Carter
Dwight King – Jarret Stoll – Dustin Brown
Kyle Clifford – Trevor Lewis – Jordan Nolan
Jake Muzzin – Drew Doughty
Robyn Regehr – Slava Voynov
Willie Mitchell – Alec Martinez
Jonathan Quick
Martin Jones
Level of confidence in projected lines: C-. The Kings were Up 'n Atom for the morning skate earlier today. When I arrived at 10:00, line rushes were over and done with. Matt Frattin remained on the ice with Martin Jones for extra work, so they're out tonight. Other than that, my somewhat educated projection adds size after the Kings used it so effectively in the 6-0 win at Montreal on December 10 – a game that featured goals by both Kyle Clifford and Jordan Nolan.
Notes and milestones: Los Angeles is 28-88-20 all-time against Montreal, a record that includes a home mark of 19-40-9. The Kings have lost four straight home games to the Canadiens, dating back to a 2-1 home win on March 8, 2003 in which Ryan Flinn and Eric Belanger scored for L.A. and Jamie Storr earned the win. … The Kings have won four straight games, outscoring their opponents 13-6 over the span. A win tonight would give Los Angeles its second longest winning streak of the season. … Jonathan Quick has stopped 73 of the last 75 shots he has faced, spanning his last three games. He has a 1.84 goals-against average, .925 save percentage and three shutouts in his last 18 games. … With 31 points this season, Drew Doughty has now posted four 30-point seasons with the Kings. Rob Blake registered 11 30-point seasons in Los Angeles, while Steve Duchesne and Mark Hardy hit the 30-point milestone five times. … Jeff Carter has only one goal in his last 11 games. … Mike Richards has one shot on goal – a goal in Saturday's win over Carolina – over his last three games. … Anze Kopitar has eight points (3-5=8) in the last five games. … Jeff Carter has five points (1-4=5) in the last five games. … Dustin Brown has points in all three games since returning from the Olympic break, posting four total points (1-3=4). … Justin Williams has four points (2-2=4) in the last three games. … Robin Regehr has three points (1-2=3) in his last four games and has 11 on the season, the most he's had since registering 17 with Calgary in 2010-11. … Jarret Stoll is scheduled to play in his 700th career game tonight. … Including playoffs, the Kings are expected to play in front of a sold out Staples Center for the 99th consecutive game tonight. … Justin Williams has 27 points (7-20=27) and a plus-8 rating in 29 career games against Montreal. … Alec Martinez has three points (2-1=3) in two career games against the Canadiens. He scored his first career goal in a 4-1 loss at Montreal on November 24, 2010.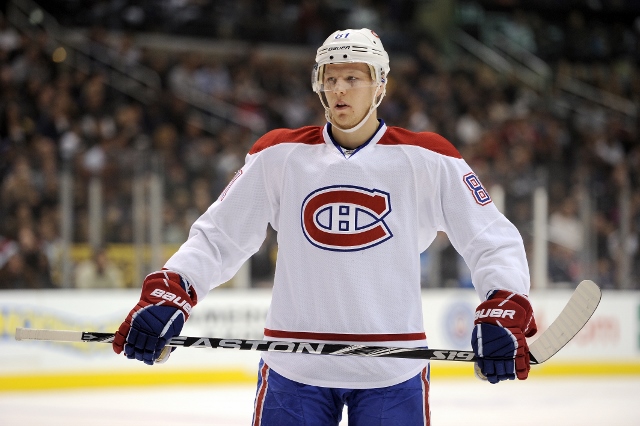 Montreal Projected Lines
Alex Galchenyuk – Tomas Plekanec – Brian Gionta
Max Pacioretty – David Desharnais – Brendan Gallagher
Rene Bourque – Lars Eller – Daniel Briere
Travis Moen – Ryan White – Dale Weise
Josh Gorges – P.K. Subban
Andrei Markov – Alexei Emelin
Douglas Murray – Jarred Tinordi
Peter Budaj
Dustin Tokarski
Notes and milestones: Lines via NHL.com correspondent Curtis Zupke … Goaltender Carey Price was placed on injured reserve today with a lower-body injury. … Montreal is 7-1-2 in its last 10 games, having won three straight road games. … The Canadiens are 4-fo-9 on the power play over the last two games, having scored nine total goals in regulation and overtime. … Montreal leads the league in blocked shots, averaging 18.8 per game. Josh Gorges ranks second in the league with 170 blocked shots. … Max Pacioretty ranks second in the league with eight game-winning goals, one behind Anaheim's Corey Perry. Pacioretty, who has 29 goals on the season, will play in his 300th game tonight. … Andrei Markov has a five game point streak (0-7=7). Of the seven assists, four came on the power play. … Daniel Briere has 25 points (9-16=25) in 23 career games against Los Angeles. … George Parros appeared in 55 games with the Kings in 2005-06, recording five points (2-3=5) and 138 penalty minutes. Selected in the eighth round of the 1999 NHL Draft by Los Angeles, he has never recorded a point in 33 career games against the Kings. Along with Dustin Brown, Mike Cammalleri, Tim Gleason, Mike Weaver, David Steckel, Tom Kostopolous and Mathieu Garon, he was a member of the 2004-05 Manchester Monarchs club that finished 51-21-0-8.