Several abbreviated thoughts from the Kings' 2-0 win over the Calgary Flames on Thursday:
-As much as the Kings may have been due for a 10-goal barnburner in Colorado, they were also due for a win in the style of Thursday's 2-0 shutout in Calgary. Whereas there had been a familiar trend in some Kings losses earlier in the season in which they outplayed, disproportionately out-shot and out-chanced their opponents but still lost, Thursday's win seemed to be the inverse of that script. Credit the well-rested Flames for an excellent effort and a triumph in the puck possession battle against one of the league's top puck possession teams. For two periods Calgary was probably the better team, though Los Angeles used another supreme effort in goal by Jonathan Quick to claim an important two points in the standings. It's nice to have that Lamborghini in the garage.
-Tip your cap to the Kings' third period effort after they found something extra in the gas tank. Los Angeles was excellent in both third periods on this road trip.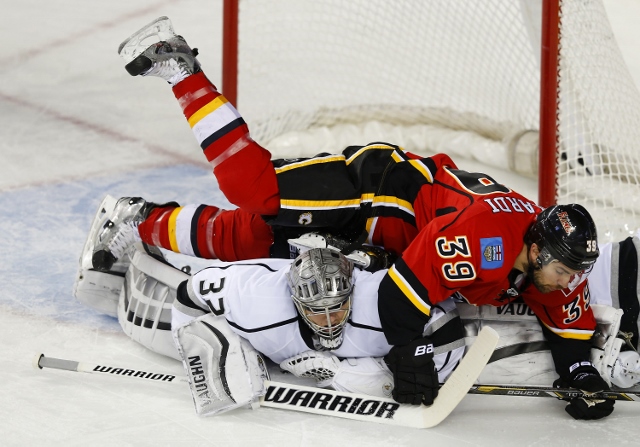 -Dustin Brown played his best game of the season, logging a goal, an assist, and leading the team's forechecking efforts. He gave little time and space to his opponents when the puck was on his side of the ice, and has returned from the Olympic break with a goal and two assists in two games after having totaled just one road point on the season prior to Wednesday. The Kings are likely to make a move or two in advance of the March 5 trading deadline, and the team is surely kicking the tires on some potential offensive pieces. If Dustin Brown gets going during the stretch run, it will be as if they've added another offensive option without subtracting anything. Considering his shooting percentage on the season is 7.3%, the second-lowest of his career, he's certainly capable of a late-season spike. This fine piece by Robert P. at Jewels from the Crown says that Brown should pot roughly five goals over the season's final 23 games (he has one goal in two games since the resumption of the schedule); if he can resuscitate his production on the power play, where he hasn't posted a point since October and hasn't scored since the fourth game of the season, he could beat that 15-goal projection by several goals. Don't be surprised to see Brown finish behind Anze Kopitar and Jeff Carter in team scoring during the remaining schedule.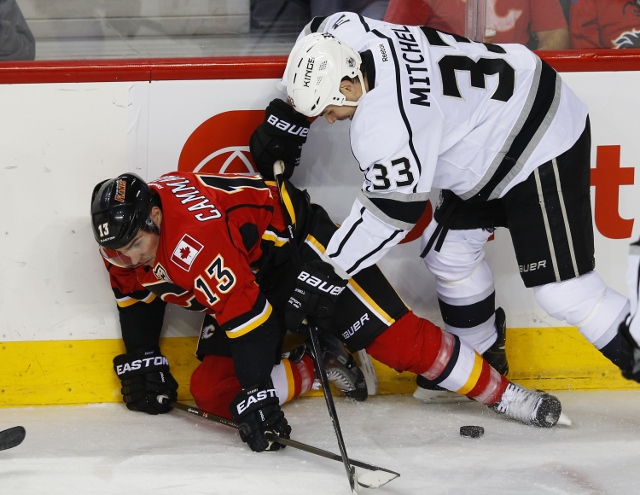 -Los Angeles is now 2-0 in its most compacted portion of an already truncated schedule, and face a dreaded Third Game In 66 Hours Against A Non-Rival On A Saturday Afternoon. Players aren't robots, even though they do require time to recharge. That time won't come until a recovery day early next week. Even though the Kings have been trending in the right direction following the Olympic break – and the Hurricanes have not – Saturday's game will be one in which L.A. will battle fatigue in addition to another team down a Staples Center corridor.