Los Angeles Kings (32-22-6) at Calgary Flames (22-29-7)
Thursday, February 27, 2014, 6:30 p.m. PT
Scotiabank Saddledome, Calgary, AB
Referees: #22 Ghislain Hebert, #32 Tom Kowal
Linesmen: #82 Ryan Galloway, #89 Steve Miller
FOX Sports West, KEIB 1150 AM
Kings Weekly to follow tonight's game
Los Angeles Projected Starting Goaltender – Jonathan Quick
2013-14 Season: 32 GP (32 GS) / 16-13-2 record / 2.18 GAA / .911 Sv% / 3 SHO
Career vs Calgary: 14 (14) / 8-5-1 / 1.62 / .935 / 1
Last Game vs Calgary: 10/21/13 / 60 MP / 22-25 / 2-3 L
2013-14, Away: 12 (12) / 5-5-1 / 2.05 / .923 / 1
Calgary Projected Starting Goaltender – Joni Ortio*
2013-14 Season: First appearance
Career vs Los Angeles: First appearance
Last Game vs Los Angeles: First appearance
2013-14, Home: First appearance
*Ortio is making his NHL debut tonight.
2013-14 Los Angeles Leaders
Total Points: Anze Kopitar (19-31=50)
Goals: Jeff Carter (21-18=39)
Assists: Anze Kopitar (19-31=50)
Plus/Minus: Anze Kopitar (+24; 19-31=50)
Penalty Minutes: Kyle Clifford (63; 3-2=5)
Time On Ice: Drew Doughty (25:56; 8-23=31)
2013-14 Calgary Leaders
Total Points: Jiri Hudler (14-29=43)
Goals: Sean Monahan (16-8=24)
Assists: Jiri Hudler (14-29=43)
Plus/Minus: Mark Giordano (+3; 9-19=28)
Penalty Minutes: Brian McGrattan (95; 1-2=3)
Time On Ice: Mark Giordano (25:22; 9-19=28)
Rankings and Statistics
Goals/Game: LAK – 26 / 2.32; CGY – t-27 / 2.29
Goals Against/Game: LAK – 1 / 2.13; CGY – 26 / 3.03
Power Play: LAK – t-27 / 13.9%; CGY – t-25 / 14.4%
Penalty Kill: LAK – t-12 / 82.2%; CGY – 21 / 80.7%
Shots/Game: LAK – t-9 / 31.1; CGY – 28 / 26.8
Shots Against/Game: LAK – t-2 / 26.8; CGY – 9 / 29.0
Faceoffs: LAK – t-2 / 53.2%; CGY – 28 / 46.4%
Save Percentage: LAK – 3 / .920; CGY – 29 / .895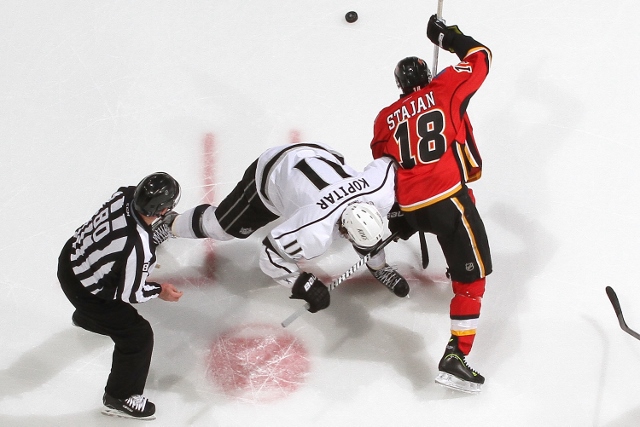 Los Angeles Projected Lines
Tyler Toffoli – Anze Kopitar – Justin Williams
Tanner Pearson – Mike Richards – Jeff Carter
Dwight King – Jarret Stoll – Dustin Brown
Kyle Clifford – Linden Vey – Trevor Lewis
Jake Muzzin – Drew Doughty
Robyn Regehr – Slava Voynov
Willie Mitchell – Matt Greene
Jonathan Quick
Martin Jones
Level of confidence in projected lines: C-. The Kings did not hold a morning skate today, so the above projections are based on Darryl Sutter's acknowledgement that Jonathan Quick will start, and that the team hadn't yet decided on any lineup changes. The team will be cautious towards assigning minutes with three games in three and a half days, so I inserted Kyle Clifford into the lineup for Jordan Nolan, who went hard into the boards in the second period but returned to the game. If Tanner Pearson doesn't play tonight, it's possible that Dustin Brown would slot alongside Anze Kopitar and Justin Williams, Tyler Toffoli would play alongside Mike Richards and Jeff Carter, and Matt Frattin would draw into the third right wing spot. If Linden Vey doesn't play tonight, Trevor Lewis could slot in as the fourth line center, and Frattin could enter the lineup as a right wing.
Notes and milestones: Los Angeles is 86-107-25 all-time against the Calgary franchise, which includes a road record of 32-62-15. The Kings are 0-2-0 against the Flames in 2013-14, having dropped a pair of one-goal decisions by allowing the game-winning goal with under a minute to play in both games. These teams will meet again in Calgary on March 10 and April 9. The Kings have won the last four games at the Scotiabank Saddledome, dating back to February 5, 2011. Prior to the four-game winning streak, Los Angeles lost 10 consecutive games in Calgary between March 29, 2006 and October 10, 2010. … The Kings are looking to win three consecutive games for the first time since defeating Edmonton, San Jose and Colorado on December 17, 19 and 21. … The Kings have allowed a power play goal in six consecutive games, killing off 14-of-23 power plays during the span. … Anze Kopitar has points in three straight games (3-4=7) and 15 points in the last 16 games (6-9=15). … Jeff Carter has points in three straight games (1-4=5) and 27 points in the last 29 games (14-13=27). … Drew Doughty has points in three straight games (1-2=3). … Robyn Regehr has goals in two straight games. … Matt Greene will play in his 499th career game tonight. … Regehr will return to the Scotiabank Saddledome for the first time since he was traded to the Buffalo Sabres during the 2011 off-season. He ranks second all-time in Flames franchise history with 826 career games.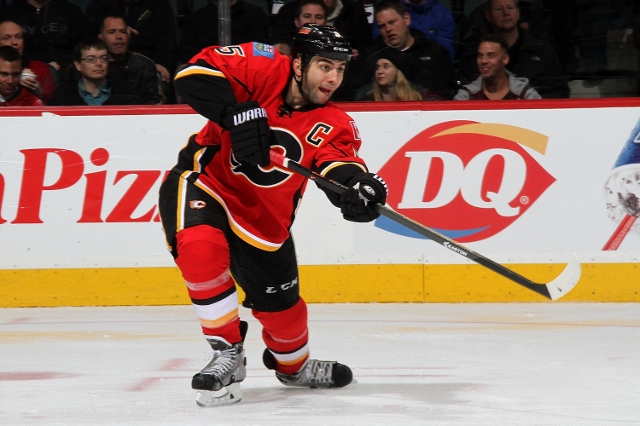 Calgary Projected Lines
Jiri Hudler – Mikael Backlund – TJ Galiardi
Michael Cammalleri – Sean Monahan – Joe Colborne
Lance Bouma – Matt Stajan – David Jones
Paul Byron – Markus Granlund – Kevin Westgarth
Mark Giordano – TJ Brodie
Kris Russell – Chris Butler
Ladislav Smid – Dennis Wideman
Joni Ortio
Reto Berra
Notes and milestones: Lineups via Wes Gilbertson of the Calgary Sun … Goaltender Joni Ortio and forward Markus Granlund will make their NHL debuts tonight. Ortio is 20-6-0 with a 2.22 goals-against average and .926 save percentage with AHL-Abbotsford. Grandlund, brother of Minnesota Wild and Team Finland forward Mikael Granlund, leads all AHL rookies with 23 goals in 50 games with AHL-Abbotsford. … Though the Flamers are 12-14-3 at home, they've won five straight games at the Scotiabank Saddledome, outscoring their opponents 21-14 over that span. The five-game winning streak immediately followed a seven-game home losing streak. … Of Calgary's 22 wins, 17 have been decided by one goal. Of Calgary's 17 one-goal wins, 10 were decided in overtime or a shootout. … Captain Mark Giordano ranks sixth amongst league defenseman with 0.70 points per game. His nine-game point streak earlier in the season was the longest point streak by an NHL defenseman this season. … The Flames rank second in the NHL in blocked shots, averaging 17.7 per game. Three players rank in the top 10 in blocked shots: Chris Butler (3rd / 154), Ladislav Smid (5th / 137) and Kris Russell (10th / 123). … Mikael Backlund, a first round draft pick in 2007, has 13 points (9-4=13) in his last 14 games and three goals in his last four games. His three shorthanded goals are tied for second in the NHL. Calgary's eight shorthanded goals rank second in the league, one behind Carolina's nine shorthanded goals. … The Flames were represented by Ladislav Smid (Czech Republic) and Reto Berra (Switzerland) at the Winter Olympics, while President of Hockey Operations and Acting General Manager Brian Burke served as the United States' Director of Player Personnel.