Los Angeles Kings (31-22-6) at Colorado Avalanche (37-16-5)
Wednesday, February 26, 2014, 7:00 p.m. PT
Pepsi Center, Denver, CO
Referees: #27 Eric Furlatt, #36 Dean Morton
Linesmen: #57 Jay Sharrers, #63 Trent Knorr
NBC Sports Network, KEIB 1150 AM
Los Angeles Projected Starting Goaltender – Martin Jones
2013-14 Season: 13 GP (12 GS) / 8-4-0 record / 1.71 GAA / .940 Sv% / 3 SHO
Career vs Colorado: 1 (1) / 1-0-0 / 1.85 / .920 / 0
Last Game vs Colorado: 12/21/13 / 65 MP / 23-25 + 3/3 shots / 3-2 SOW
2013-14, Away: 7 (7) / 4-3-0 / 1.98 / .940 / 1
Colorado Projected Starting Goaltender – Jean-Sebastian Giguere
2013-14 Season: 15 GP (15 GS) / 9-4-0 record / 2.44 GAA / .918 Sv% / 2 SHO
Career vs Los Angeles: 39 (35) / 18-11-4 / 2.72 / .908 / 2
Last Game vs Los Angeles: 4/11/13 / 15 MP / 12-12 + 1/2 shots / 2-3 SOL
2013-14, Home: 4 (3) / 2-1-0 / 2.24 / .921 / 0
2013-14 Los Angeles Leaders
Total Points: Anze Kopitar (17-30=47)
Goals: Jeff Carter (20-17=37)
Assists: Anze Kopitar (17-30=47)
Plus/Minus: Anze Kopitar (+22; 17-30=47)
Penalty Minutes: Kyle Clifford (63; 3-2=5)
Time On Ice: Drew Doughty (25:59; 8-22=30)
2013-14 Colorado Leaders
Total Points: Matt Duchene (19-31=50)
Goals: Nathan MacKinnon (22-22=44)
Assists: Matt Duchene (19-31=50)
Plus/Minus: Gabriel Landeskog (+16; 18-30=48)
Penalty Minutes: Cody McLeod (99; 2-7=9)
Time On Ice: Erik Johnson (22:48; 7-17=24)
Rankings and Statistics
Goals/Game: LAK – 29 / 2.25; COL – 6 / 2.95
Goals Against/Game: LAK – 1 / 2.10; COL – 14 / 2.59
Power Play: LAK – 29 / 13.6%; COL – t-13 / 19.0%
Penalty Kill: LAK – t-8 / 83.2%; COL – 16 / 81.6%
Shots/Game: LAK – t-9 / 31.1; COL – 21 / 29.4
Shots Against/Game: LAK – 3 / 26.8; COL – 25 / 32.3
Faceoffs: LAK – 1 / 53.3%; COL – 18/ 49.5%
Save Percentage: LAK – 3 / .922; COL – 4 / .920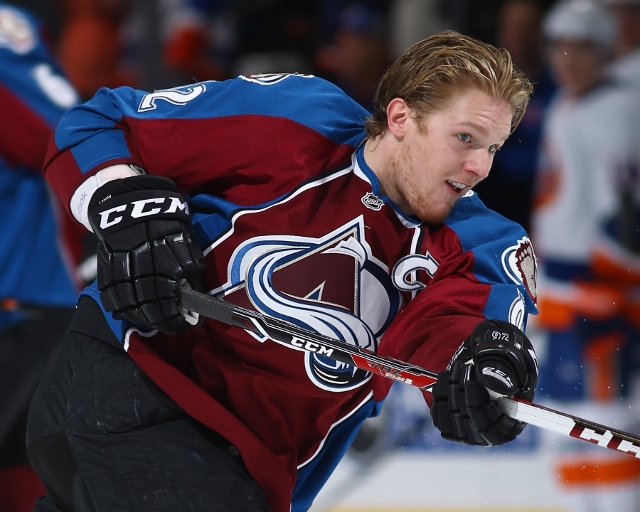 Los Angeles Projected Lines
Tyler Toffoli – Anze Kopitar – Justin Williams
Tanner Pearson – Mike Richards – Jeff Carter
Dwight King – Jarret Stoll – Dustin Brown
Jordan Nolan – Linden Vey – Trevor Lewis
Jake Muzzin – Drew Doughty
Robyn Regehr – Slava Voynov
Willie Mitchell – Matt Greene
Martin Jones
Jonathan Quick
Level of confidence in projected lines: A. Darryl Sutter previously acknowledged that Tyler Toffoli, Tanner Pearson and Linden Vey would be in the lineup. Players skating as extras at yesterday's practice – Kyle Clifford, Matt Frattin and Alec Martinez – were also extras at today's morning skate. Martin Jones left the ice first this morning, an indication that he'll start in net.
Notes and milestones: Los Angeles is 59-47-12 in the all-time series against the Colorado franchise, which includes a road record of 24-29-4. The Kings are 3-0-1 in the last four meetings between the teams, dating back to February 23, 2013. … Los Angeles has allowed two goals or fewer in 38 of 59 games this season, as well as 32 of the last 44 games. … The Kings have scored 15 goals in the last 11 games, going 2-8-1 in that span. … Los Angeles is 16-0-0 when leading after two periods. Over the last 133 regular season games, the only time the Kings have lost in regulation when leading after two periods was a 3-1 loss at Colorado on January 22, 2013. … Dustin Brown will play his 700th career game tonight. … With 199 career assists, Jeff Carter is one assist shy of 200 in his career. … With 190 career goals, Anze Kopitar is one goal behind Dustin Brown (191 goals) for ninth place in Kings history. … Matt Greene will play in his 498th career game tonight. … In 20 career games against Colorado, Drew Doughty has 14 points (5-9=14) and a plus-8 rating. … In 29 career games against Colorado, Anze Kopitar has 28 points (11-17=28) and an even rating.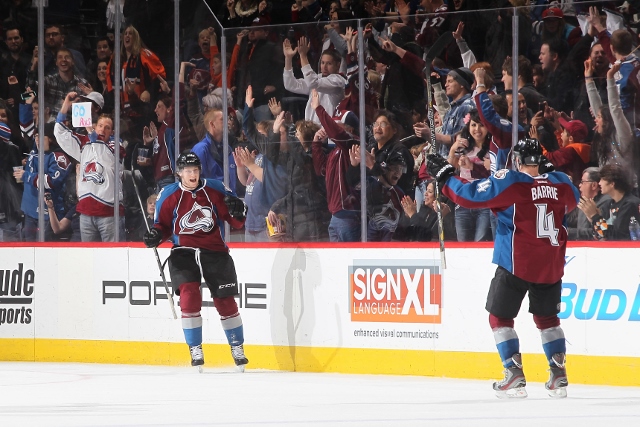 Colorado Projected Lines
Ryan O'Reilly – Matt Duchene – P.A. Parenteau
Gabriel Landeskog – Paul Stastny – Nathan MacKinnon
Maxime Talbot – John Mitchell – Jamie McGinn
Cody McLeod – Marc-André Cliche – Patrick Bordeleau
Nick Holden – Jan Hejda
Ryan Wilson – Tyson Barrie
André Benoit – Nate Guenin
Jean-Sebastien Giguere
Semyon Varlamov

Notes and milestones: Colorado lines via Adrian Dater of the Denver Post … Erik Johnson, who leads Avalanche defensemen with 24 points (7-17=24), will miss tonight's game as he serves the first game of a two-game suspension he received for slashing the Islanders' Frans Nielson on February 8. … Maxime Talbot may miss tonight's game to be with his pregnant fiancée, who is past her due date. If Talbot is unable to play, the Avalanche would likely insert Cory Sarich into the lineup, as reported by Mike Chambers of the Denver Post. … Colorado is 21-9-4 against the Western Conference and 7-4-2 against the Pacific Division. … The Avs have been outscored 56-48 in third periods this season. … The last three games between these teams have extended past regulation. Los Angeles has won twice in shootouts, while Colorado won one game in overtime. … The Avalanche's .711 points percentage since January 1 ranks second in the league behind the Penguins' .750 points percentage. … Colorado had four players participate in the 2014 Winter Olympics: Matt Duchene (Canada), Gabriel Landeskog (Sweden), Paul Stastny (United States) and Semyon Varlamov (Russia). … Landeskog carries a career-best nine-game point streak (4-8=12) into tonight's game. … Nathan MacKinnon carries a career-best eight-game point streak (5-6=11) into tonight's game. He leads all NHL rookies in points (44), goals (22), assists (22), power play goals (9), game winning goals (5-tied) and shots (169). … Paul Stastny has 29 points (11-18=29) and a plus-11 rating in 28 career games against Los Angeles.