CANADA 3, SWEDEN 0
-Re-watch the game here
BULLET POINTS: The class of the tournament and gold medal winners for the third time in the last four Olympic Games, Team Canada once again relied on disproportionate puck possession and a suffocating defensive performance in a 3-0 win over Sweden, the team's third shutout in six total games. Carey Price backstopped the team with a 24-save shutout two days after shutting out the United States and finished the tournament with a dominant 5-0-0 record with a 0.59 goals-against average and .972 save percentage. Jonathan Toews, Sidney Crosby and Chris Kunitz scored even strength goals in the first, second and third periods as Canada finished the tournament without having trailed its opponent at any point. Before the game, Sweden learned that its top center, Nicklas Backstrom, was ineligible to play after testing positive for a banned substance that turned out to be allergy medicine. Henrik Lundqvist stopped 33-of-36 shots in the loss.
DOUGHTY: Drew Doughty was held scoreless in the gold medal game while taking two shots on goal and registering a plus-1 rating over 20:37 of ice time. Finishing the tournament with a team-best four goals and tying Shea Weber with a team-best six points, the Sochi Games, much like the Vancouver Games, served as an effective platform for Doughty to illustrate his world class ability and growth within the sport.
CARTER: Jeff Carter helped to open the score at 12:55 of the first period when his centering feed was redirected by Jonathan Toews past Henrik Lundqvist for a goal that stood up as the game-winner. In his debut Olympic performance, Carter averaged one point for every 18:56 on the ice during the tournament, the best scoring rate on Team Canada.
THEIR WORDS: "It was a feeling of absolute trust that as soon as you jump over the boards, you're going out there to do the exact same thing that the line before you did, to keep that momentum," Jonathan Toews said, as reported by Eric Duhatschek of the Globe and Mail. "And even when we got up two goals, we never stopped. We just kept going at him, we were backchecking, we were forechecking, we didn't give them any space. It was fun to watch and it was fun to be a part of a team like that."
"When you talk about great defense sometimes we get confused," Mike Babcock said, as reported by Dan Rosen of NHL.com. "Great defense means you play defense fast and you have the puck all the time so you're always on offense. Don't get confused, we outchanced these teams big-time; we didn't score. We were a great offensive team. That's how we coached. That's what we expected. That's what we got. We didn't ask guys to back up.
"The interesting thing for me when I look at this whole scenario is does anybody know who won the scoring race? Does anybody care? Does anybody know who won the gold medal?
"We were just deeper than every team in the tournament," Matt Duchene said, as reported by Kevin Allen of USA Today. "You look at our top line, and our fourth line, and the guys who sat out they are starters for every other team in the tournament."
"They had a good game plan against us and they stuck to it," Erik Karlsson said, as reported by Arpon Basu of NHL.com. "We couldn't really break through a brick wall. It felt like we didn't really get any time in their zone or any type of scoring. We just had a few rush opportunities that weren't really that dangerous. Their breakouts were a little too easy for them; they got the puck out every time."
FINAL STANDINGS:
Gold – Canada
Silver – Sweden
Bronze – Finland
4 – United States
5 – Russia
6 – Czech Republic
7 – Slovenia
8 – Latvia
9 – Switzerland
10 – Austria
11 – Slovakia
12 – Norway
LAKings.com recap
IIHF game sheet
Photos of the game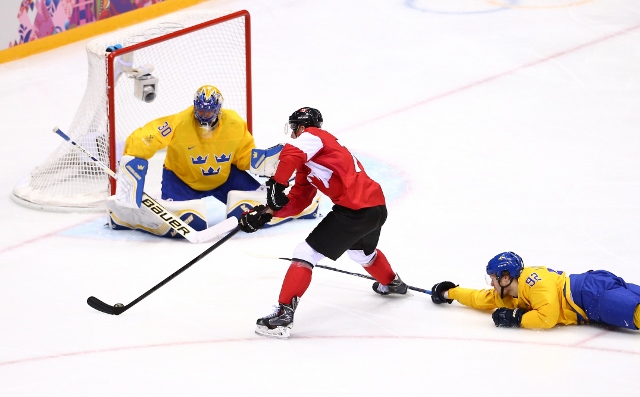 Greetings from the gold-medal game. #Sochi2014 pic.twitter.com/xdw7mV2NDe

— Chris Kuc (@ChrisKuc) February 23, 2014
The battle level from Jonathan Toews is something to behold. Reminds me of the way he played in Vancouver 4 years ago.

— Eric Duhatschek (@eduhatschek) February 23, 2014
Canada's second power-play unit has 5 guys who could all be in the Hockey Hall of Fame some day. The second unit.

— Cörey Masisak (@cmasisak22) February 23, 2014
Sweden's coach on Backstrom: "It sucks. It's like kindergarten. I can not ice the best team today."

— Greg Wyshynski (@wyshynski) February 23, 2014
there certainly is no doping in this instance, iihf lead doctor says

— Shawn Roarke (@sroarke_nhl) February 23, 2014
i was ready to play my biggest game oif my career and two and a half hours before i got pulled aside. — backstrom

— Shawn Roarke (@sroarke_nhl) February 23, 2014
"How many second chance opportunities do you think Sweden had?" "I would say less than one" – Carey Price

— Арпон Басу (@ArponBasu) February 23, 2014
Well that was impressive. How about everyone leaves Yzerman and Babcock alone now. Maybe, just maybe they know what they're doing.

— Dan Rosen (@drosennhl) February 23, 2014
Jeff Carter gets his medal pic.twitter.com/3F4u6lDpDi

— Helene Elliott (@helenenothelen) February 23, 2014