FINLAND 5, UNITED STATES 0
-Re-watch the game here*
BULLET POINTS: In a stunning reversal of pre-semifinal momentum, the United States, clearly stung from a 1-0 semifinal loss to Canada 24 hours earlier, failed to capitalize on early opportunities in the bronze medal game and allowed a 2-0 deficit to Finland after two periods widen to a 5-0 loss that kept them off the medal podium. All-time Olympic scoring leader Teemu Selanne scored twice in what was almost certainly his final international performance, and Tuukka Rask returned from a one-game absence due to the flu to post a 27-save shutout. Patrick Kane was denied on two penalty shots as the United States was shut out in back-to-back games after scoring 20 times against Slovakia, Russia, Slovenia and the Czech Republic.
QUICK: This was a game that got out of hand in the third period, and the lopsided score was more of a reflection of the team's game than any struggles Jonathan Quick had in net. The intangibles were not in Quick's favor, as he backstopped a United States team that had set its sights higher than a bronze medal and faced a Finland team renowned for its work ethic and catalyzed by Teemu Selanne in his farewell Olympic performance. Quick might not have been at his sharpest on Saturday, though it's silly to reference American goaltending when the team was held scoreless over its final two games of the tournament.
BROWN: Dan Bylsma did not lean on Dustin Brown as a preferred option over the final two games as the Kings captain drew 8:11 of ice time against Canada and only 4:48 against Finland. In one shift that spanned 26 seconds in the second period, Brown, along with Ryan Callahan, David Backes, Ryan Suter and Ryan McDonagh, allowed even strength goals to Teemu Selanne and Jussi Jokinen.
THEIR WORDS: Zach Parise, to Pierre McGuire of NBC Sports, on what let the game get away from the United States: "I don't know. I think it started yesterday. We didn't show up to play a tough team in Canada, and we lost that game, and then just today, I thought we had a pretty good start, and once we gave up that first goal, I just kind of deflated. They played like they had something to win, and we just kind of shut it down."
Parise, to McGuire, on whether this is the most disappointed he has ever been in hockey:
"Pretty close. It's kind of disappointing. [I'm] a little bit embarrassed of what happened, especially today. It wasn't a good effort by us."
FINAL STANDINGS: United States: Fourth place; Finland: Bronze medal
LAKings.com recap
IIHF game sheet
Photos of the game
*It's a beautiful Saturday. Do you really want to do that to yourself?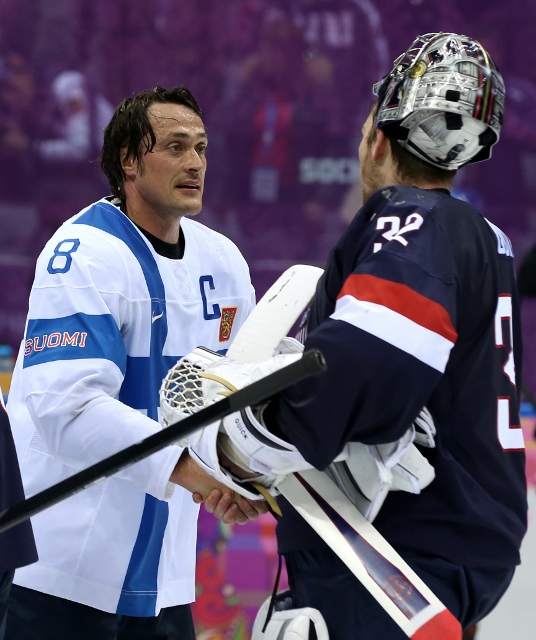 Brown on not playing much: "I'm not happy about it but it's the coach's job to figure out the best chance to win if that's what he thinks…

— Helene Elliott (@helenenothelen) February 22, 2014
I'm a player, he's a coach. That's how it works." end Brown quote

— Helene Elliott (@helenenothelen) February 22, 2014
Bylsma on Brown benching: We were going with players we thought could score a goal.

— Greg Wyshynski (@wyshynski) February 22, 2014
USA's Patrick Kane: "No excuses. I wasn't good enough to help the team win a medal. I was expected to do a lot more." #Blackhawks

— Chris Kuc (@ChrisKuc) February 22, 2014
Cam Fowler: 'I feel bad for Quickie. He really put us on his back all tournament. We didn't do a good enough job in front of him today.'

— Helene Elliott (@helenenothelen) February 22, 2014
Apparently at least Kimmo Timonen is crying on Finnish TV interview.

— Juha Hiitelä (@jhiitela) February 22, 2014
Presidential elections in Finland tomorrow? Teemu would win by a country mile.

— Juha Hiitelä (@jhiitela) February 22, 2014
Ryan Suter: "Yeah, we did collapse."

— Dan Rosen (@drosennhl) February 22, 2014
Olli Jokinen said Selanne spoke before the game about this being a once in a lifetime chance to win a medal. Sounds like it was emotional.

— Dan Rosen (@drosennhl) February 22, 2014
All the Finns do is win Olympic medals. Five in the past 6 Olympics.

— Dan Rosen (@drosennhl) February 22, 2014
29.9.2011. Urheilulehti. pic.twitter.com/Dvkx6Uhuhr

— Samuel Savolainen (@UL_Savolainen) February 22, 2014