Canada 1, United States 0
-Re-watch the game here
BULLET POINTS: Jamie Benn's tip in goal was the difference as Canada topped the United States 1-0 on Friday. Benn's goal came early in the second period when he deflected in a wide shot from the point by St. Louis Blues defenseman Jay Bouwmeester. Carey Price turned aside all 31 shots he faced in goal for Canada. Jonathan Quick stopped 36-of-37 shots between the pipes for the Americans. The United States plays Finland on Saturday for a chance at the bronze medal. Canada will face Sweden on Sunday in the gold medal game.
DOUGHTY: Drew Doughty finished the game with an even rating and two shots on goal in 20:33 of ice time over 28 shifts. The defenseman seemed to be very focused on the defensive end of the ice for the Canadians. He did have an early scoring opportunity in the slot, but Jonathan Quick made the save on the attempt.
CARTER: Jeff Carter had four shots on goal in the game and an even rating in 18:14 of ice time over 26 shifts. The forward was once again on a line with Patrick Marleau and Jonathan Toews. The line had some very good offensive opportunities and played a solid game against the Americans' top scoring line of Phil Kessel, Joe Pavelski and James van Reimsdyk.
BROWN: Dustin Brown did not record a shot on goal and a minus-one rating in 8:11 of ice time over 12 shifts. The winger started the game on the "meat line" with David Backes and Ryan Callahan before being replaced by Max Pacioretty in the third period. The Kings captain only recorded 1:05 of ice time in the final frame for the United States.
QUICK: Jonathan Quick made several stunning saves in net for the United States, stopping 36 shots. The acrobatic goaltender took away grade-A scoring opportunities from Sidney Crosby, Chris Kunitz, Jeff Carter and Jamie Benn throughout the game.
THEIR WORDS: Ryan Callahan of the United States spoke with NBC's Pierre McGuire about the game saying "It seems like we had a tough time sustaining any pressure in their end. They out-numbered us in their zone. Came up with it quick and as we expected, they were quick in transition."
"Well, we've been playing together the last couple and got to know each other a little bit better," said Canadian center Ryan Getzlaf about his line with Corey Perry and Jamie Benn to NBC's Pierre McGuire. "Obviously we're taking better care of the puck. Earlier in the tournament we were kind of getting rid of it too early and tonight we were able to hang onto it and make some plays."
"Just to try and play in their end" said Sidney Crosby about the game plan for Canada to NBC's Pierre McGuire. "We have a lot of speed and they do as well. So I think it was just trying to make sure with the big bodies that we have, that we found a way to create offense and sustain it and keep their fast forwards from getting a lot of momentum."
Canadian goalie Carey Price spoke with NBC's Pierre McGuire about his team's defensive play "Our relentlessness for sure. We backchecked real had tonight. We were on top of the puck. We were winning battles. We were on the right side of the puck. We were all over the place tonight and we were just fortunate to get that one goal that got us ahead."
NEXT GAMES: The United States plays Finland for the bronze medal on Saturday at 7:00 a.m. PT on NBCSN. Canada will face Sweden for the gold medal on Sunday at 4:00 a.m. PT on NBC.
LAKings.com recap
IIHF game sheet
Photos of the game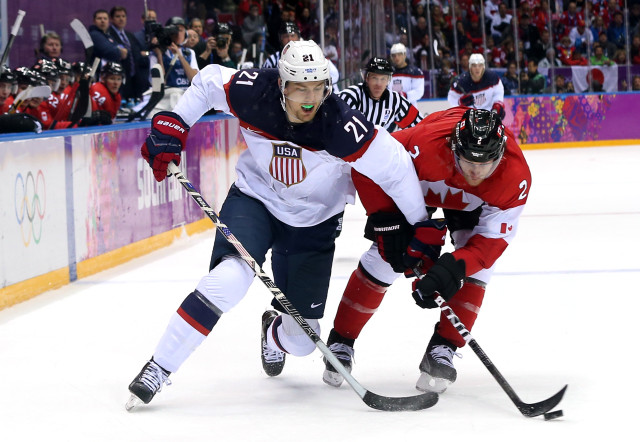 Warm-ups over. Matt Duchene last off for Cda as usual. PKane last one off the ice period, flipping pucks to fans as he goes.

— Eric Duhatschek (@eduhatschek) February 21, 2014
Lineups for US-Canada pic.twitter.com/4cV0Lm4bOf

— Helene Elliott (@helenenothelen) February 21, 2014
USA-Canada is underway. Buckle up.

— Dan Rosen (@drosennhl) February 21, 2014
USA-Canada is underway. JVR line starts for US, Carter-Toews-Marleau for Canada.

— Greg Beacham (@gregbeacham) February 21, 2014
Drew Doughty stickhandles about 150 feet and takes a shot, but Jonathan Quick stops it easily. Two things LA Kings fans have seen before.

— Greg Beacham (@gregbeacham) February 21, 2014
More action in first 7:22 of this game than we've seen all tournament. Two teams not afraid to, you know, play hockey.

— Eric Duhatschek (@eduhatschek) February 21, 2014
Jeff Carter drew that penalty to Suter. Carter has brought his A game tonight. Really noticeable early on

— Pierre LeBrun (@Real_ESPNLeBrun) February 21, 2014
Jonathan Quick in the zone for US today.

— Eric Duhatschek (@eduhatschek) February 21, 2014
After one period in #Sochi, United States and Canada are scoreless.

— Chris Kuc (@ChrisKuc) February 21, 2014
Canada up 1-0 at 1:41 of the 2nd. Jamie Benn off a great pass from Jay Bouwmeester.

— Dan Rosen (@drosennhl) February 21, 2014
Helluva save there by Quick on Benn. Canadians are just all over them, and pace is absurd.

— Cam Cole (@rcamcole) February 21, 2014
Canada leads the US 1-0 after 2 periods. Canada's quality came through, but still just one goal up. US power play is 0-for-3.

— Greg Beacham (@gregbeacham) February 21, 2014
After this penalty expires, the US will have just 8 minutes left to attempt to tie it. Canada leading 35-27 in shots.

— Greg Beacham (@gregbeacham) February 21, 2014
Canada wins it 1-0. Price 31 saves.

— Dan Rosen (@drosennhl) February 21, 2014
What a game by Team Canada. Almost perfect defensive effort. 2010 gold medal winners faces 2006 gold medal winners on Sunday.

— Pierre LeBrun (@Real_ESPNLeBrun) February 21, 2014