RUSSIA 4, NORWAY 0
-Re-watch the game here
BULLET POINTS: After an evenly played 20 minutes resulted in a scoreless game at the first intermission, Russia used two goals from Alexander Radulov, one from Ilya Kovalchuk and one from Alexei Tereshenko to outscore Norway 4-0 over the final two periods. Sergei Bobrovsky stopped all 22 shots to follow up Semyon Varlamov's shutout of Slovakia with one of his own. The Norwegians put up an admirable fight in their tournament finale as leading scorer and New York Rangers forward Mats Zuccarello missed the game due to a hand injury.
VOYNOV: Slava Voynov led all Russian skaters in ice time with a total of 20:43. He recorded a plus-2 rating and one shot on goal in a versatile performance. Though he is yet to record a point this tournament, his plus-3 rating is tied for second amongst Russian skaters. With three shots on goal in four games, he trails team leader Alexander Ovechkin by 18 shots on goal.
THEIR WORDS: "The most important thing right now is the team," Ovechkin said, as reported by NHL.com's Arpon Basu. "It's not about personal stats, it's not about the goal-scoring lead. We're here to win the gold. It's not about winning scoring titles and all that kind of stuff."
NEXT GAME: Quarterfinals: Russia-Finland, 4:30 a.m. PT, Wednesday, February 19, NBCSN; Norway eliminated
LAKings.com recap
IIHF game sheet
Photos of the game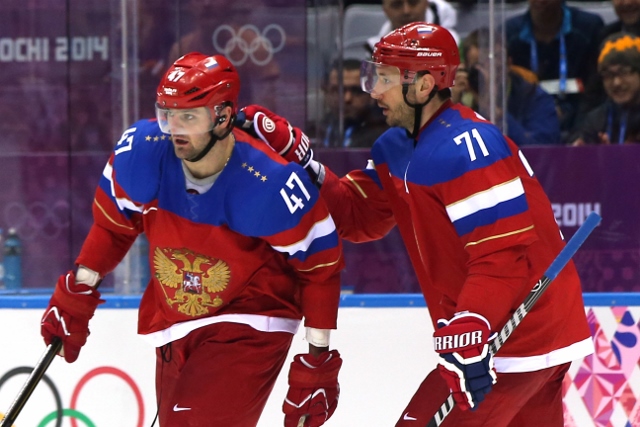 Good positional D by Slava Voynov to break up a big scoring chance for Norway's Patrick Thoresen. No score late 1st period.

— Greg Beacham (@gregbeacham) February 18, 2014
Well, Norway has scored on itself twice. When I say this was coach Bill's plan all along, I am not being the least bit sarcastic.

— Slava Malamud (@SlavaMalamud) February 18, 2014
Radulov has had a strong game. Blocked a shot and keyed the Russian transition game nicely earlier in the period. Did the Alonzo thing.

— Thomas Drance (@ThomasDrance) February 18, 2014
Kind of mind boggling to me that Valeri Nichushkin is not the net front guy on the Russian power play. He's had a great tournament.

— Арпон Басу (@ArponBasu) February 18, 2014
Russia's Pavel Datsyuk on the play of his line: "Forget about lines. We talk about our team." The play of your team? "We were OK."

— Cörey Masisak (@cmasisak22) February 18, 2014
Just realized: For the Russians to win gold, they'll have to destroy Scandinavia. (Norway, Finland, Sweden)

— Sarah Kwak (@SI_sarahkwak) February 18, 2014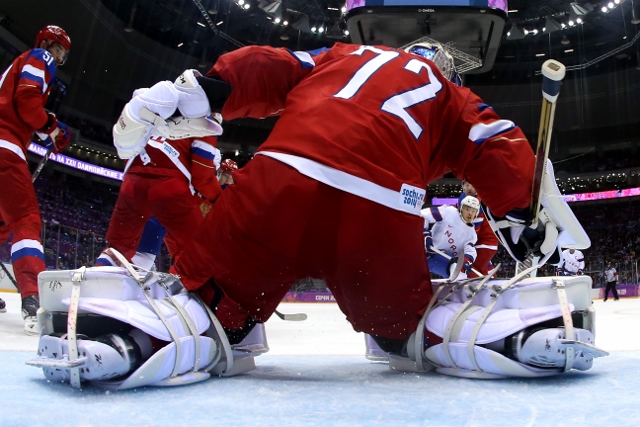 -photos courtesy Bruce Bennett / Getty Images Sport