For those who have been getting by on minimal sleep during the tournament, rejoice! Jonathan Quick, Dustin Brown and the United States, and Drew Doughty, Jeff Carter and Canada will draw the preferred 9:00 a.m. PT time slot when they continue their gold medal campaigns on Wednesday. Of course, you'll have to flip between the channels to witness both teams in action, but the dual mid-morning games are preferred over those that take place in the middle of the night. As you're already well aware, should both teams win their first knockout round games, they'll meet in the semifinals. The full brackets can be found here. Another schedule page can be accessed here.
Qualification Round – Tuesday, February 18
Slovenia vs Austria, 12:00 a.m., NBCSN
Russia vs Norway, 4:30 a.m., NBCSN
Switzerland vs Latvia, 9:00 a.m., MSNBC
Czech Republic vs Slovakia, 9:00 a.m., NBCSN
Quarterfinal Round – Wednesday, February 19
Sweden vs Slovenia-Austria winner, 12:00 a.m., NBCSN
Finland vs Russia-Norway winner, 4:30 a.m., NBCSN
Canada vs Switzerland-Latvia winner, 9:00 a.m., MSNBC
United States vs Czech Republic-Slovakia winner, 9:00 a.m., USA Network
Semifinal Round – Friday, February 21
Semifinal 1, 4:00 a.m., NBCSN
Semifinal 2, 9:00 a.m., NBCSN
Bronze Medal Game – Saturday, February 22, 7:00 a.m., NBCSN
Gold Medal Game – Sunday, February 23, 4:00 a.m., NBC
-all times listed are PT
Via Wikipedia: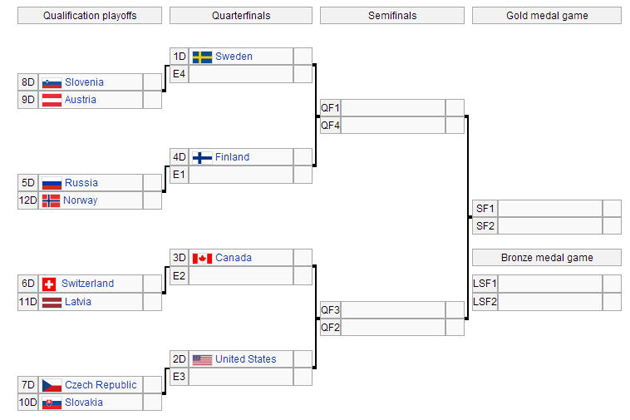 The United States-Canada Women's gold medal game will take place at 9:00 a.m. on Thursday, February 20. NBC will carry the game live across all time zones.