United States 5, Slovenia 1
-Re-watch the game here
BULLET POINTS: Phil Kessel's hat trick powered the United States to a 5-1 victory over Slovenia Sunday morning. Kessel recorded the first three goals for the Americans, with San Jose's Joe Pavelski assisting on each marker. Rangers defenseman Ryan McDonah and Blues forward David Backes each added a goal. Marcel Rodman scored Slovenia's lone goal with less than a minute left in the game. American goalie Ryan Miller turned aside 17-of-18 shots faced, as Jonathan Quick was not dressed for the game. The victory assured the United States' win of Group A in the preliminary round.
BROWN: Dustin Brown recorded an assist on David Backes' goal in the third period. The winger finished the game with a plus-one rating with 10:51 of ice time over 14 shifts. Brown started the game on a line with Patrick Kane and Ryan Kesler before he finished the game on a line with David Backes and Ryan Callahan.
KOPITAR: Anze Kopitar did not register a point in the game. He saw his ice time drastically decrease from 26:50 in Saturday's win over Slovakia, to just 11:31. It was noted that Kopitar was not on the bench for a significant amount of time in the third period. It is being reported by the NHL's Dan Rosen that he was suffering from a stomach flu (Read more about it here). The centerman won nine of his 13 faceoff attempts.
THEIR WORDS: Phil Kessel spoke about his hat trick with NBC's Pierre McGuire "The first one was just a pass to me wide. I made a little move and buried it five-hole. The second one, kind of like a two-on-one almost, a pass out front – great pass – and forced them to get it in. The third one was just a rebound." Kessel continued to speak about his line with Joe Pavelski and James van Riemsdyk "I thought we've had some chances every game and we got a couple goals each game. Tonight we were fortunate to get a couple more."
LAKings.com recap
IIHF game sheet
Photos of the game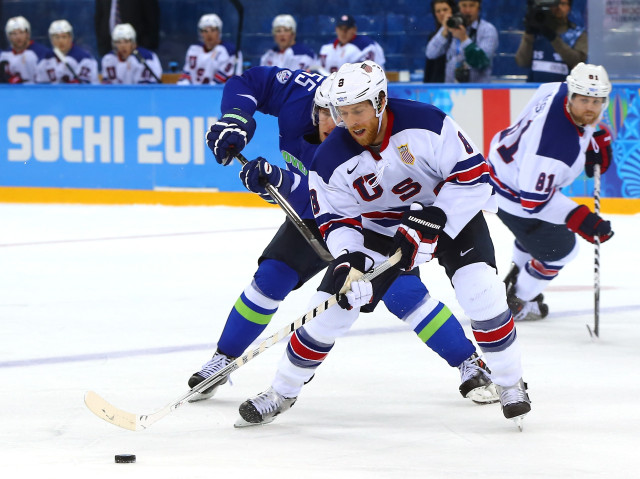 Tweets and Notes
Hat trick for Kessel. Scores on the rebound and the U.S. is up 3-0.

— Dan Rosen (@drosennhl) February 16, 2014
Anze Kopitar is not on Slovenia's bench with under five minutes to play.

— Dan Rosen (@drosennhl) February 16, 2014
It's good….Backes from Callahan and Brown at 3:26 of the third period. US 5, Slovenia 0

— Helene Elliott (@helenenothelen) February 16, 2014
Kopitar is going to clinic in the athlete's village to get checked out. He had the stomach flu when he got here. Seems like he still has it.

— Dan Rosen (@drosennhl) February 16, 2014
Matjaz Kopitar on Anze: "he just didn't feel good. Something with the stomach. He was without the power. Hopefully he's going to be better.'

— Helene Elliott (@helenenothelen) February 16, 2014