Canada 2, Finland 1 (OT)
-Re-watch the game here
BULLET POINTS: Drew Doughty's two goals propelled Canada to a 2-1 overtime win over Finland on Sunday. Doughty scored a power play goal in the first period. Shea Weber and Sidney Crosby assisted on the goal. Doughty tallied the game-winner in overtime with Jeff Carter recording the lone assist. Carey Price of the Montreal Canadiens stopped 14-of-15 shots in goal for Canada. Tuomo Ruutu scored on a re-direction for Finland's goal, while Boston Bruins goalie Tuuka Rask turned away 25-of-27 shots. The victory means Canada wins Group B in the preliminary round, one point in the standings ahead of Finland.
DOUHGTY: Drew Doughty recorded two goals on four shots in the game, while registering 19:38 of ice time on 27 shifts. Doughty's first period power play goal came when he took a pass from Shea Weber at the point and skated down to the top of the circle and beat Tuuka Rask near side. The Canadian blueliner leads his team in scoring with four goals and one assist for five points thus far in the tournament. His five points place him third overall behind the United States' Phil Kessel (4-3=7) and Austria's Michael Grabner (5-1=6).
CARTER: Jeff Carter recorded an assist on Drew Doughty's game-winning goal in overtime. Carter skated the puck out of the defensive zone and passed to Doughty in the neutral zone before the defenseman's wrist shot found the back of the net. Carter registered three shots on goal over 17:56 of ice time on 23 shifts. Carter skated on a line with Patrick Marleau and Jonathan Toews.
THEIR WORDS: Drew Doughty spoke to NBC's Pierre McGuire about his game-winning goal "It was just a good job by Webs, a play one-on-one, and then Carts did a great job wheeling the net and just feeding me the puck and driving the net. I just tried to get puck on goal for a tip or something like that and it went in. "
Carey Price also spoke with NBC's Pierre McGuire "That defensive crew in front of me is the best in the world, so it makes my job a lot easier… When it comes down to it, like I said, we have some of the best puck moving defenseman in the world. All I have to do is stop it behind the net and they can make the play from there. They'll be able to make a better play than I can."
NEXT GAME: Canada will play Wednesday against the winner of Tuesday's Switzerland vs. Latvia game. The time of the game is yet to be determined.
LAKings.com recap
IIHF game sheet
Photos of the game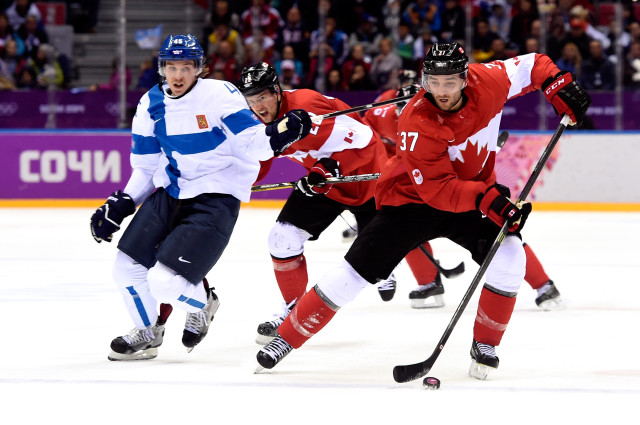 Tweets and Notes
Drew Doughty with a rocket of a shot gives Canada a 1-0 lead over Finland.

— Helene Elliott (@helenenothelen) February 16, 2014
Real nice re-direction there by Ruutu

— Pierre LeBrun (@Real_ESPNLeBrun) February 16, 2014
Here's a fun stat: Doughty and Jeff Carter, who play for goal-starved LA Kings in the NHL, now each has 3 goals apiece for Canada.

— Eric Duhatschek (@eduhatschek) February 16, 2014
Drew Doughty scores. What a tournament he is having. Canada gets the win with 2:28 left in OT.

— Dan Rosen (@drosennhl) February 16, 2014
Drew Doughty: "I don't know what's going on. I don't score like this in LA at all."

— Greg Beacham (@gregbeacham) February 16, 2014