United States 3, Russia 2 (so)
-Re-watch the game here

BULLET POINTS: T.J. Oshie provided the late heroics, scoring on four of his six shootout attempts to propel the United States to a 3-2 win over Russia. Cam Fowler and Joe Pavelski each netted a power play goal for the United States in regulation. The Detroit Red Wings' Pavel Datsyuk tallied both of Russia's goals. Fedor Tyutin had put the Russians ahead late in the third period, but the goal was disallowed due to the net coming off its moorings. Jonathan Quick stopped 29-of-31 shots for his second win of the tournament.
BROWN: Dustin Brown finished the game with one shot on goal in 9:42 of ice time over 14 shifts. When the United States held a 2-1, Brown was called for kneeing Vladimir Tarasneko of the St. Louis Blues with 7:34 remaining in regulation. The Russians tied the game on the ensuing power play forcing overtime and the shootout. Brown skated on a line with Patrick Kane of the Chicago Blackhawks and Ryan Kesler of the Vancouver Canucks.
VOYNOV: Slava Voynov was a plus-one, with one shot on goal in 15:53 of ice time. Voynov threw some early checks on Kings teammate Dustin Brown, knocking him to the ice. The blueliner played a solid game, jumping into the rush on a few occasions and playing well in the defensive zone with partner Andrei Markov of the Montreal Canadiens.
THEIR WORDS: "Just score goals, score as many goals as you can," said T.J. Oshie to NBC's Pierre McGuire about his six shootout attempts. "Keep the tender guessing, which I think I did a pretty good job of, and we don't get the win without Quickie shutting the door there. I kept looking back seeing if anyone else was going to go. I told some of the boys on the last couple that I'm running out of moves here. It was a little nerve racking, but I got through it."
"Well, after they called it a goal, I looked back and saw that the net was off a bit," said Jonathan Quick to NBC's Pierre McGuire regarding the Russians disallowed goal in the third period. "So, I didn't know if that happened before or after the puck went in and luckily if that was the reason they called it off – then luckily it happened before." Quick commented on his team, "The penalty kill, they're great blocking shots. They're doing that five-on-five and clearing out some rebounds. They play great in our end. Obviously, we got two big goals, so the power play got a big one there in the third period. They're playing great. I'm very lucky to be a part of this team and be able to play."
NEXT GAMES USA vs. Slovenia, Sunday, February 16, 4:30 a.m PT, NBCSN
Russia vs. Slovakia, Sunday, February 16, 4:30 a.m. PT, USA
LAKings.com recap
IIHF game sheet
Photos of the game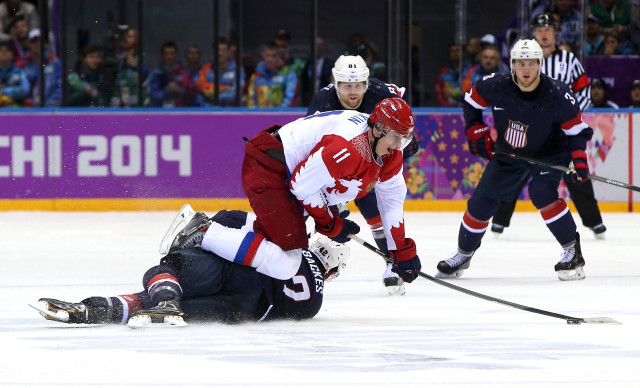 Tweets and Notes
Brownie and Slava mixing it up…awesome

— lisa dillman (@reallisa) February 15, 2014
Bylsma: I aged a couple of years in the shootout tonight

— Helene Elliott (@helenenothelen) February 15, 2014
Hard to tell what the ruling was. Some saying net dislodged. Some saying high stick. It wasn't a goal.

— Dan Rosen (@drosennhl) February 15, 2014
The net was off. And it had been off for some time before the goal. Yet no whistle.

— Dmitry Chesnokov (@dchesnokov) February 15, 2014