'Slovenia 3, Slovakia 1
-Re-watch the game here
BULLET POINTS: Rok Ticar scored early in the third period for Slovenia to snap a scoreless tie en route to the country's first Olympic victory. The game was chippy with plenty of checking and some shoving. Florida Panthers forward Tomas Kopecky of Slovakia left the game after being elbowed in the head on a check by Slovenian defenseman Sabahudin Kovacevic in the first period. Slovenia's captain, Tomaz Razingar, and alternate captain, Anze Kopitar, would each add a goal in the win. Tomas Jurco of the Detroit Red Wings recorded the lone tally for Slovakia with just 18 seconds remaining in the game.
KOPITAR: The lone NHL player on Slovenia's squad recorded his first goal of the tournament when he avoided a check on the half board and carried the puck through the slot, past multiple defenders, to the far circle where he beat Jarolsav Halak with a wrist shot. (gif = here.) The center was dominant in the faceoff dot, winning 15-of-20 draws. Kopitar posted a game-high ice time with 26:50 over 28 shifts.
THEIR WORDS: From Helene Elliott's LA Times story: "We were definitely star-struck in the first game, the first 10 minutes. Including myself," [Anze Kopitar] said. "Playing in the Olympic Games for the first time, I was pretty familiar with the guys we were facing but the venue was different, teammates were different. We got caught sleeping little bit but tonight we didn't do that. We came right out of the gate pretty strong, very disciplined. We played really solid hockey as a team."
From Helene St. James' Detroit Free Press story:"We have to believe in ourselves," [Tomas Tatar] said. "We can see those underdogs can play really well – Latvia, Switzerland, Slovenia beat us. Hopefully we will work on what we did wrong. We just have to be better."
LAKings.com recap
IIHF game sheet
Photos of the game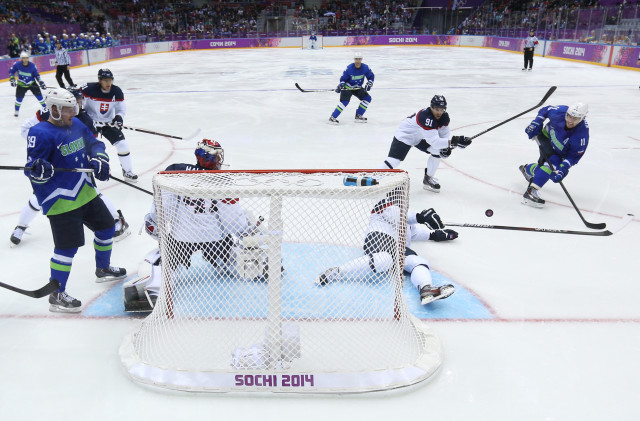 Tweets and Notes
Kopecky injured in collision. Had trouble skating back to bench. Very wobbly.

— Greg Wyshynski (@wyshynski) February 15, 2014
3-0 Slovenia. Kopitar scores. Amazing energy in here now.

— Greg Wyshynski (@wyshynski) February 15, 2014
Slovenia loses the shutout with 17.8 seconds left, but they finish off their 1st Olympic victory, 3-1 over mighty Slovakia.

— Greg Beacham (@gregbeacham) February 15, 2014
Anze Kopitar in the mixed zone. pic.twitter.com/J7hCaJR5gW

— Greg Beacham (@gregbeacham) February 15, 2014
Kopitar on impact of Slovenia win: 'I guess now that we have beaten Slovakia maybe they're not going to mix us up anymore.'

— Helene Elliott (@helenenothelen) February 15, 2014