Canada 6, Austria 0
-Re-watch the game here
BULLET POINTS: Canada got out to an early lead on Drew Doughty's goal 5:24 into the game and never looked back. Austria did have some scoring chances, but were turned away by Roberto Luongo. The Canadian goaltender made 23 saves en route to the shutout. Shea Weber added a first period goal before Jeff Carter would tally three goals in the second period. Ryan Getzlaf capped off Canada's scoring with a shorthanded goal late in the second period. The victory keeps Canada in the second spot in Group B on aggregate scoring as Finland has a plus-nine goal differential,  one goal better than Canada's plus-eight.
CARTER: Carter used five shots to score three goals during a 11:54 span in the second period. His first goal was scored as he exited the penalty box to join Sidney Crosby and Patrick Marleau on an odd-man rush. Marleau assisted on all three of Carter's goals. Carter posted a team-low 8:46 of ice time for Canada. Carter also backchecked well to deny a Michael Grabner opportunity in the first period.
DOUGHTY: Doughty recoded one goal on two shots in the game and has now scored in each of Canada's first two games. The Kings defenseman scored five-hold on a wristshot through traffic and ended the game with a plus-one rating and 13:41 of ice time over 21 shifts. Doughty was once again primarily paired with Marc-Edouard Vlasic.
THEIR WORDS: "It's a pretty good team," said defenseman Duncan Keith in an interview with Pierre McGuire of NBC. "Obviously a lot of great players and it's just a matter of everybody just keeping it simple and playing their own game. You know everybody is going to be so good out there. There is a lot of great teams and we have to come together as a team and play that good team game because I think whoever wins this tournament is going to have the best team and they would have come together the quickest and plays a great team game."
"I just think we played better as a team." said forward Jonathan Toews in an interview with Pierre McGuire of NBC. "I think we knew where we wanted to put pucks to keep plays alive. I think the first period yesterday – sometimes we were chasing pucks, finally we got possession and we gave it up a little bit too easily because we were a little too eager to give it to our linemates. So I think each guy played their own game tonight and confidence as far as creating offense is going to come more and more as we go along, but we were smart in our own zone as well. "
NEXT GAME: Finland vs. Canada, Sunday, February 16, 9:00 a.m. PT, USA Network
LAKings.com recap
IIHF game sheet
Photos of the game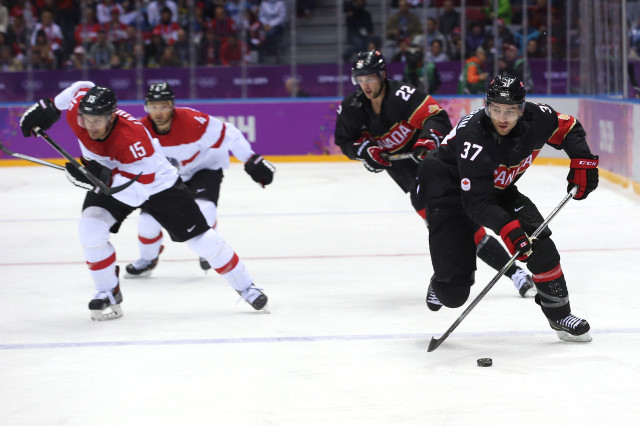 Tweets and Notes:
Carter said he tried to give game puck to Luongo for the shutout but Luongo wouldn't take it

— Helene Elliott (@helenenothelen) February 14, 2014
Jeff Carter, the Canadians' spare forward, gets a hat trick. — Greg Beacham (@gregbeacham) February 14, 2014
Drew Doughty with a long shot through Starkbaum, and Canada is ahead 5 minutes in. That's 2 Olympic goals for Dewey. — Greg Beacham (@gregbeacham) February 14, 2014
Natural hat trick for Jeff Carter, playing this period with Marleau and Toews. Looks like some chemistry developing. 5-0.

— Eric Duhatschek (@eduhatschek) February 14, 2014