Russia 5, Slovenia 2
-Re-watch the game here
BULLET POINTS: Alex Ovechkin scored on a two-on-one to open the scoring 1:17 into the game, and Evgeni Malkin doubled the lead 2:37 later, though Slovenia used a pair of Ziga Jeglic goals to enter the third period trailing 3-2 in the country's first ever Olympic hockey game. Early in the third, the Russians broke up a Slovenian 3-on-2 as Dallas Stars rookie Valeri Nichushkin drove the other direction at full speed and tucked the puck into the net, which came off its moorings. After the goal was upheld and Russia's two-goal lead was reestablished, Anton Belov scored on a shot from the point just under four minutes later to complete the scoring.
KOPITAR: Though many assumed Slovenia's only NHL-based player would rack up an immense amount of ice time, Anze Kopitar logged only 20:18 in his Olympic debut, which represented a decrease from his 2013-14 Kings average of 21:14. The center was dominant in the faceoff dot, winning 17-of-25 faceoffs and taking 25 of the team's 55 overall draws. He earned an assist on Ziga Jeglic's second goal, took one shot, and was assessed a holding penalty in the first period. With a plus-1 rating, Kopitar was the only Slovenian player to finish as a plus-player. He saw time at the point on Slovenia's power play.
VOYNOV: Russia dressed eight defenseman, and Voynov's 16:26 ranked second on the team, trailing only Yevgeni Medvedev. He was held without a point, was not assessed a penalty, generated an even rating, and took one shot in the second period.
THEIR WORDS: From Shawn P. Roarke's NHL.com feature on Slovenia's debut: "We know we are not here for the medals, we are here to represent our country and the hockey and I think we did that well [Thursday] and we are going to go from here," said Slovenian forward Ziga Jeglic, who scored both his country's goals in a 5-2 loss in the opening Group A preliminary-round game for both teams. "It was a little bit of a slow start but we can definitely be proud of this one," Anze Kopitar said.
NEXT GAME: Slovenia vs Slovakia, Saturday, February 15, 12:00 a.m. PT, MSNBC; Russia vs United States, Saturday, February 15, 4:30 a.m. PT, NBCSN
LAKings.com recap
IIHF game sheet
Photos of the game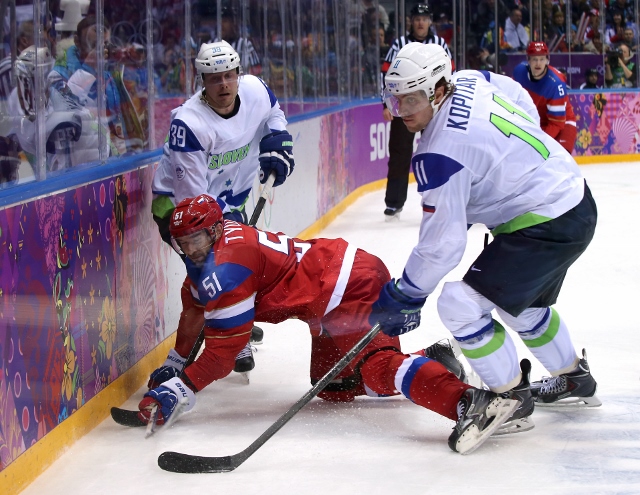 Tweets and notes:
Kopitar says he's pretty proud of his team. Says they maybe were in "awe" of Russians early but settled down

— Pierre LeBrun (@Real_ESPNLeBrun) February 13, 2014
Anže Kopitar: Četrti gol Rusov nas je malo zaustavil. A mislim, da smo lahko zelo ponosni na našo igro! pic.twitter.com/ihMWtctgA4

— Team Slovenia (@TeamSlovenia) February 13, 2014
Kopitar looks like the kid on the house team who should be playing travel.

— Nick Cotsonika (@cotsonika) February 13, 2014