Of the players on the Manchester Monarchs' roster, three were previously selected in the first round of the NHL Draft. Jeff Schultz, selected 27th overall, has played 399 career NHL games. Tanner Pearson, the last pick of the first round of the 2012 draft, also has National Hockey League experience.
Derek Forbort, selected 15th overall when the Kings hosted the 2010 NHL Draft, has embarked on his first full professional season after concluding the 2012-13 season with a 10-game regular season and playoff stint upon the conclusion of his senior year at the University of North Dakota.
The poised 6-foot-4 blueliner has been paired defensively with 6-foot-4 captain Andrew Campbell, providing plenty of long reach on the team's back end. Forbort, who has one goal, 14 points and a plus-9 rating in 51 games, spoke to Manchester Monarchs Insider about his transition to the professional lifestyle.
On his transition to professional hockey:
It's been good. It's fun playing a lot more games than we did in college, but at the same it's kind of tougher. I really enjoy it, so it's been good so far.
On his relationship with Andrew Campbell:
It's awesome. Me and him have a pretty close relationship. He's been great helping me adjust to the pro lifestyle, just teaching me little things here and there and helping me out on the ice. It's been great having him here.
On the team's message to him:
Just keep working on my consistency. Just keep being hard defensively and keep making that good first pass. I think you've got to bring it every night here, and that's just what I'm working on developing, the consistency every night.
On whether there's a mental challenge of playing a heavier schedule:
Maybe a little bit, but I mean, it's not hard to get up for games. I love playing this game, and it's what we do for a living. For me personally, it's not hard to get up for games. I mean, I love it. I look forward to the games. I've been enjoying it.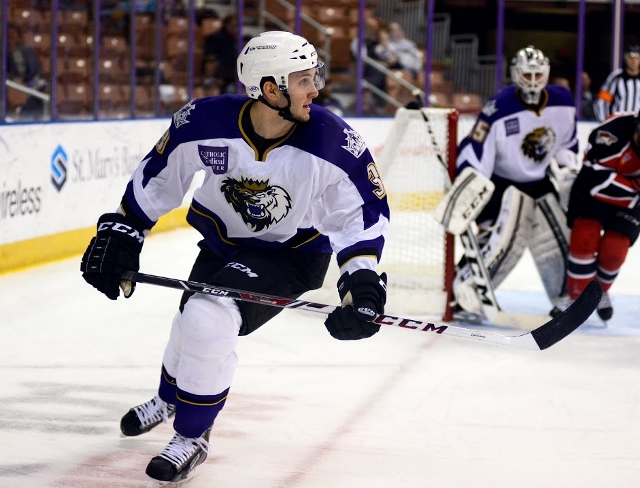 Scott Sabourin is another 1992-born Kings prospect, one of 10 currently on the Monarchs' roster. Along with Forbort, 1992-born Monarchs include Colin Miller, Zach O'Brien, Tanner Pearson, Jordan Weal, Andrew Crescenzi, Tyler Toffoli, Nick Shore and Mathias Niederberger.
After breaking through with a 50-point (30-20=50) overage season in which he compiled 142 penalty minutes, he joined the Monarchs for eight regular season and playoff games last season before taking part in development camp and a training camp that culminated with him signing a three-year entry level contract. The 6-foot-3 Ottawa native used his potent shot to score a preseason goal at Anaheim on September 17, beating Viktor Fasth on the short side with a crisp wristshot off the rush.
He's also fitting in well in the dressing room.
"You see Sabs in the locker room, you'd think he'd been around for 10 years," Campbell said. "He's loud and pretty comfortable, so we always like to get over him about that."
In 47 games, Sabourin has recorded 18 points (10-8=18), a plus-5 rating and 71 penalty minutes. He discussed his transition to the professional game with Manchester Monarchs Insider over the weekend.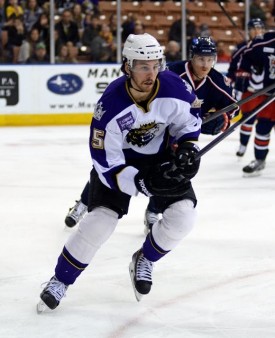 On the difference between his late-season experience and his first full professional season:
I guess the comfort level is a big thing. Coming fresh last year, you don't really know the guys, you don't know the systems or anything like that. So it's been nice having a full year here and getting to know the guys and getting to know the systems, and things have been going well.
On how his game has evolved since training camp:
I feel like I'm still progressing, still developing and I think I'm getting better every day. I think that's all you have to do. You have to bury your head and work hard and things will work out the way they should.
On Campbell's acknowledgement that he is "loud and pretty comfortable":
"I guess I'm not the quietest guy in the room. I like to joke around and have fun. I've been playing hockey since I was young, so I don't like to come in and be shy. I'm just going to be myself and hopefully I'm not stepping on too many toes, but I think it's been alright so far."
On the messages he's received from the coaching staff:
I think the biggest thing is just staying athletic. Working on my skating and just general strength, which just comes with time and with growth.
On looking to earn a pair of wins before the All-Star break:
Yeah, it's definitely huge. We have to bear down and get a couple of wins under our belt before we go home and relax for a few days. Yeah, it'll be big games.