Jordan Weal has emerged as an intriguing offensive-minded prospect, which isn't a shock at all given his junior hockey credentials. With 385 points in 282 games with the Regina Pats, Weal averaged 1.37 points per game in the less wide-open Western Hockey League but was never seen as a top-flight first round lock due to his size. He's listed at 5-foot-10, 171 pounds.
Weal is having by all accounts a fine season with the Monarchs, and his 44 points (11-33=44) leads the team at the All-Star Break. A team that has speed and skill – if not size – up front, Weal last weekend centered Brian O'Neill and Sean Backman, both of whom are 5-foot-8. The pesky line created quality opportunities off the forecheck and accounted for two goals in Sunday's 3-0 win over the Albany Devils.
Noted by Mark Morris as a player who "religiously" studies the game, prepares himself well and is able to visualize his own success, Weal's current assignment is to make better use of his linemates and distribute the puck in opportune situations. A player who has clearly been either the most or second-most skilled player on all teams he had played for prior to the professional level (he skated on a line with Jordan Eberle in Regina), he will become an even more effective player "when he can learn how to move the puck early," as Morris said. Whereas in junior hockey and prior leagues he could carry the puck coast to coast and get away with doing many things himself, he's now looking to work as part of a five-man unit, and has found some success in doing so. He's filling out and getting stronger, and his 44 points in 52 games has well eclipsed the 33 points in 62 games he recorded in his 2012-13 rookie season.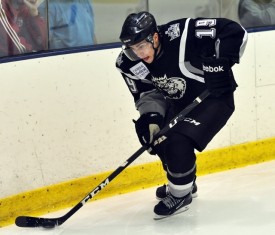 I spoke with Weal over the weekend about his progress this season, and the feeling of watching his Manchester teammates find success at the NHL level.
On building off his training camp:
I think I'm just trying to get better every day and work hard and have some fun out there. That's all you can really do and the chips will go where they may. That's all I'm trying to do. Just have to keep doing it because we're having a good year here, and hopefully we can do something continuing forward.
On Manchester's biggest rivals:
Portland, Providence and Worcester, those teams – we see them a lot. When you play a team that many times, you're going to get some animosity towards them. It's always fun when you get to play those teams. You get up for them, and hopefully it should be a good one.
On playing against Providence:
It's always close, it seems like. Both the years that I've been here, every game seems like it's a one-goal game. It's tight to the end. I think it's going to be another one like that. They're a good team – kind of built the same way as us, big in the back and small forwards. So it should be fun out there.
Whether the Kings-Sharks rivalry translates to the Manchester-Worcester rivalry:
I think it stems a little from that, yeah. They've got a gritty team over there. They really play it hard. So whenever we play Worcester, it's a battle.
On Tyler Toffoli and Martin Jones returning to give the Monarchs a full roster:
It's always good to see the guys that come back. They have a lot of stories to tell from up at the Kings and it's always good to see them. Especially Jonesy, I trained with him all summer and it's always good to see him back. He's a hell of a goaltender and hopefully we can get a couple of wins when we've got those guys down.
On getting a lift from seeing a former teammate play well at the NHL level:
Yeah, it's pretty cool. We usually see it on NHL Network the next morning and it's pretty cool when you see a guy you played with and battled with in practice go out and have success. Hopefully we can get a couple more guys called up and they can do the same thing.
On Martin Jones' run with Los Angeles this season:
You knew he had it in him. He was playing so well for us in the beginning of the year. I think it was going to happen eventually. He was going to break through and he did in a huge way. It's all credit to him. He's a hard worker and he always works on his game. So hopefully he can keep it going.
Via Manchester Monarchs TV, Weal's goal is at the 2:15 mark of Sunday's highlight package: