Los Angeles Kings (30-21-6) vs. Chicago Blackhawks (33-10-14)
Monday, February 3, 2014, 7:30 p.m. PT
STAPLES Center, Los Angeles, CA
Referees: #18 Greg Kimmerly, #16 Brian Pochmara
Linesmen: #82 Ryan Galloway, #98 John Grandt
Fox Sports West, NHL Network, KEIB 1150 AM
Los Angeles Projected Starting Goaltender – Jonathan Quick
2013-14 Season: 30 GP (30 GS) / 15-12-2 record / 2.13 GAA / .913 Sv% / 3 SHO
Career vs Chicago: 18 (17) / 6-11-1 / 2.63 / .915 / 2
Last Game vs Chicago: 3/25/13 / 59 MP / 21-25 shots / 5-4 W
2013-14, Home: 18 (18) / 10-7-1 / 2.18 / .904 / 2
Chicago Projected Starting Goaltender – Corey Crawford
2013-14 Season: 39 GP (36 GS) / 20-8-10 record / 2.40 GAA / .914 Sv% / 0 SHO
Career vs Los Angeles: 8 (8) / 5-3-0 / 2.71 / .905 / 0
Last Game vs Los Angeles: 3/25/13 / 58 MP / 31-36 shots / 4-5 L
2013-14, Away: 19 (17) / 10-4-5 / 2.35 / .922 / 0
2013-14 Los Angeles Leaders
Total Points: Anze Kopitar (16-27=43)
Goals: Jeff Carter (20-14=34)
Assists: Mike Richards (7-28=35)
Plus/Minus: Anze Kopitar (+22; 16-27=43)
Penalty Minutes: Kyle Clifford (63; 3-2=5)
Time On Ice: Drew Doughty (25:55; 7-21=28)
2013-14 Chicago Leaders
Total Points: Patrick Kane (25-35=60)
Goals: Patrick Sharp (28-27=55)
Assists: Duncan Keith (3-45=48)
Plus/Minus: Marian Hossa (+23; 23-24=47)
Penalty Minutes: Brandon Bollig (67; 6-6=12)
Time On Ice: Duncan Keith (24:35; 3-45=48)
Rankings and Statistics
Goals/Game: LAK – 29 / 2.25; CHI – 1 / 3.42
Goals Against/Game: LAK – 1 / 2.07; CHI – 14 / 2.63
Power Play: LAK – 29 / 13.9%; CHI – 5 / 22.6%
Penalty Kill: LAK – t-9 / 83.3%; CHI – t-26 / 79.6%
Shots/Game: LAK – t-8 / 31.2; CHI – 2 / 33.6
Shots Against/Game: LAK – 3 / 26.8; CHI – 4 / 27.4
Faceoffs: LAK – 1 / 53.3%; CHI – 7/ 51.7%
Save Percentage: LAK – 2 / .923; CHI – 25 / .904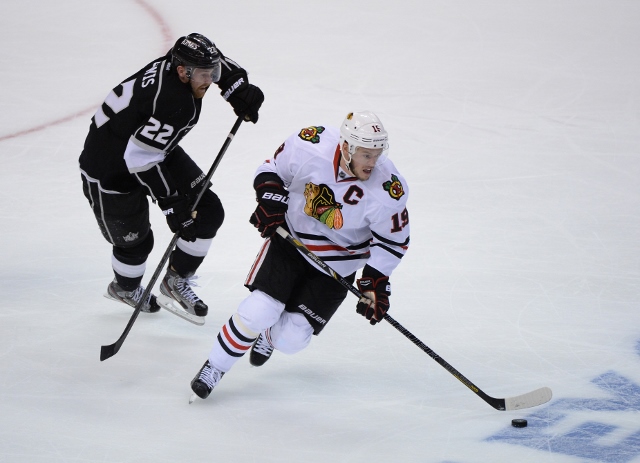 Los Angeles Projected Lines
Tyler Toffoli – Anze Kopitar – Jeff Carter
Dustin Brown – Mike Richards – Justin Williams
Dwight King – Jarret Stoll – Trevor Lewis
Kyle Clifford – Colin Fraser – Jordan Nolan
Willie Mitchell – Drew Doughty
Robyn Regehr – Slava Voynov
Jake Muzzin – Matt Greene
Jonathan Quick
Martin Jones
Level of confidence in projected lines: B+. Jonathan Quick left the ice first, so he's the projected starter. Darryl Sutter confirmed that Willie Mitchell will play with Drew Doughty. The only skater that remained on the ice for extra work was Jeff Schultz; he was joined by Alec Martinez, who is not ready to return from a hyperextended elbow. The most significant question appears to be whether Matt Frattin will reenter the lineup; if it happens, it would likely be in place of Jordan Nolan.
Notes and milestones: Los Angeles is 77-83-22 all-time against Chicago, a mark that includes a home record of 40-38-11. The Kings are 1-4-0 in the last five regular season meetings with the Blackhawks and including playoffs are 2-8-0 in the last 10 meetings overall. Today's game will conclude the season series. This will be the first game that will feature the Kings' and Blackhawks' starting goalies after the first two games pitted Ben Scrivens against Antti Raanta and Martin Jones against Raanta. … Sixteen of the 40 players playing tonight (40 %) will be going to the Olympics. Chicago will send 10 players to the Olympics (Patrick Kane – United States, Michal Roszival – Czech Republic, Michal Handzus, Marian Hossa – Slovakia, Niklas Hjalmarsson, Marcus Kruger, Johnny Oduya – Sweden, Duncan Keith, Patrick Sharp, Jonathan Toews – Canada), while the Kings will send six (Anze Kopitar – Slovenia, Slava Voynov – Russia, Jonathan Quick, Dustin Brown – United States, Drew Doughty, Jeff Carter – Canada). … The Kings limited their opponent to under 20 shots for the seventh time on Saturday but are only 2-2-3 when they do so. The Flyers' 27 attempts towards the net represented the fewest attempts by a Kings opponent this season. … In the last six games Anze Kopitar has scored on three of 21 shots, while the rest of the Kings have been held scoreless in 163 shots. … The Kings have gone 202:04 since Anze Kopitar scored late in the second period in San Jose one week ago today. … Los Angeles is 5-13-2 in its last 20 games. The Kings have held only one third period lead in the last eight games. … The Kings have allowed two or fewer goals in 31 of the last 42 games. … In his last 25 games, Mike Richards has one goal, eight points and a minus-9 rating. … In his last 10 games, Dustin Brown has no points and a minus-6 rating. … Jonathan Quick is 5-7-2 with a 1.87 goals-against average, .922 save percentage and two shutouts in his last 14 games. … Los Angeles is 17-14-3 against the Western Conference and 6-8-2 against the Central Division.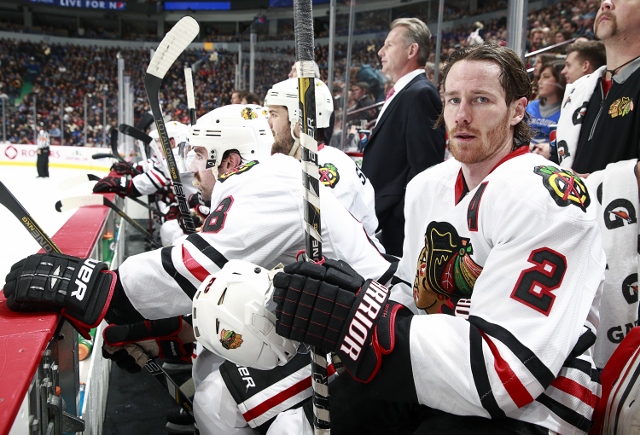 Chicago Projected Lines
Patrick Sharp – Jonathan Toews – Marian Hossa
Brandon Saad – Michal Handzus – Patrick Kane
Bryan Bickell – Andrew Shaw – Kris Versteeg
Brandon Bollig – Marcus Kruger – Ben Smith
Duncan Keith – Brent Seabrook
Johnny Oduya – Niklas Hjalmarsson
Nick Leddy – Michal Rozsival
Corey Crawford
Antti Raanta
Notes and milestones: Lines via NHL.com correspondent Curtis Zupke … Chicago is 1-2-3 in its last six games. … The Blackhawks have killed off 23 consecutive power plays over the last eight games. … Chicago has a league-high six players with 40 or more points. … Patrick Kane leads the NHL with 17 road goals; Patrick Sharp's 15 road goals places him in a three-way tie with Alex Ovechkin and Sidney Crosby for second place. With 17 goals in his last 25 games, Sharp ranks fifth in the league with 28 goals. In 28 career games against Los Angeles, he has 32 points (19-13=32). … Marian Hossa ranks fourth among active players with 457 goals. He leads the NHL with 61 takeaways. … Since rejoining the Blackhawks, Kris Versteeg has 20 points (7-13=20) in 38 games. His next goal will be the 100th of his career. … Joel Quenneville ranks third on the all-time coaching list with 693 wins, trailing Scotty Bowman (1,244 wins) and Al Arbour (782 wins). … Chicago's 195 goals scored leads the NHL. … The Blackhawks are 21-8-9 against the Western Conference and 12-0-6 against the Pacific Division.