When Robyn Regehr is honored for playing in his 1,000th National Hockey League game on Saturday afternoon, take a moment to consider the circumstances that preceded his October, 1999 NHL debut.
On July 4 of that year, Regehr was traveling home with a brother and two friends from a relative's house on Highway 11 northeast of Saskatoon, Saskatchewan when a car in the oncoming lane swerved into the car that Regehr drove and collided head-on. Two people in the other car were killed.
After having been drafted the year prior and in the preparations of attending training camp with the Calgary Flames, priorities were shifted in an instant.
"The only thing I was thinking about back then was just trying to recover as quickly as I could. It was a really short term focus I had at that point, but those were the issues that were in front of me."
Once he began to walk, there was profound confidence in the goals he had set for himself.
"I never had a doubt that I wasn't going to play hockey again. When I talked to the doctors, they said it was close – like, I almost sliced my patella tendon. If I would have severed the patella, they said I probably wouldn't have played any sport, let alone hockey again. But when I was recovering, I felt pretty good. I worked at it every day, and I had a goal, and worked towards that. It was a simple kind of mindset. And I didn't really think how long I was going to play. I just wanted a chance to play. After that, as a lot of guys say, it goes by very quickly."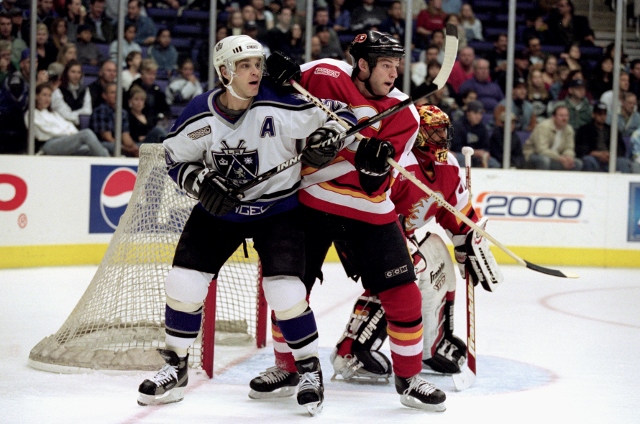 If the first 14 and a half years of his career have gone by quickly, then the recovery time between his accident and his NHL debut went by in a nanosecond. As reported in the Sports Illustrated article linked above, Regehr was skating in early September, two months after breaking both his legs. He made his American Hockey League debut in mid-October and was a permanent fixture on Calgary's blue line after making his NHL debut in a 4-3 Flames overtime win in Ottawa on October 28, 1999.
"I had been in St. John, New Brunswick on a two-week conditioning stint with the Flames farm team, and I got called up. I had gone through the pre-game skate in Ottawa and hadn't heard anything and then all of a sudden I was getting skated at the end with the extra players and Brian Sutter came to me and just said, 'Are you ready to play tonight?' I said, 'Yeah.' And then that was that. I was playing. I had a hard time getting any rest for the entire afternoon. I was up and nervous and thinking about it, excited, and played my first game in Ottawa."
Willie Mitchell is three year's Regehr's senior but has played in 229 fewer games than the rugged defensemen. He smiled and laughed at Regehr's endurance, which came after a long day of practice on Friday.
"He made it through practice today, so he's getting there," Mitchell joked.
"It's quite an accomplishment. Reg started when he was 18. He's a little bit younger than myself. An awesome accomplishment to play a thousand games in the league. It means you're doing something right. Not everyone gets to that milestone, right? A lot of guys retired this year that were close to that milestone and wanted to get there but just didn't have the opportunity to get there. He's been a durable player because over this generation's tenure there's been a couple lockouts and stuff like that, so to still get to a thousand games, it means that you played and played consistently. It's awesome. Everyone's really happy for him and excited to kind of get to share it with him."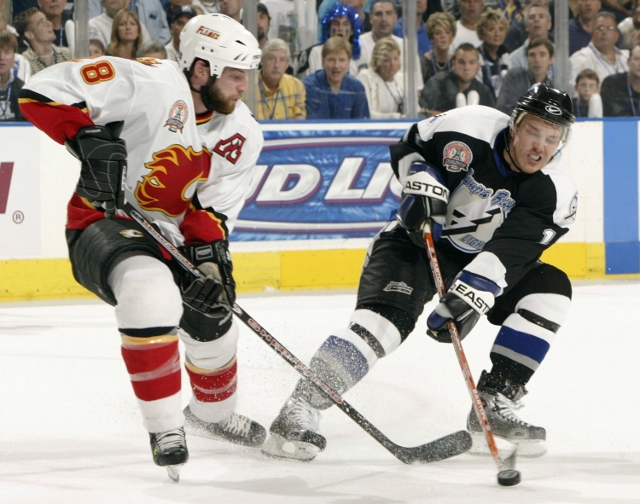 Robyn Regehr, on the speed in which he reached 1,000 NHL games:
There's progressions, and there's ups and downs, and there's all kinds of different challenges. There's different things. But the seasons seem to go by a little bit quicker as you get a little bit older, I would say in general. The first couple, everything's new, I think, new and exciting for you as a person and player. Having a chance to first of all, reach your goal of making it to the National Hockey League, and then trying to establish yourself in that position. So those are the challenges, and then as you get a little bit older, there's other ones. You want to be a part of a good, competitive team. You want to get into the playoffs. You want to then win championships, and it just kind of progresses from there. So there are always things to look towards.
Regehr, on what has changed between his days as a teenager and as a 33-year-old:
Well, there's lots. The game has changed quite a bit in that when I first started playing, the advantage was more towards the defenders, I would say, and that changed coming out of the lockout in 04-05 to where it was a little bit more challenging to defend. So you have to evolve a little bit with the different rule changes and the way the game is being played. There are always things you're working on. There are always different situations that you think you'd seen it all but you never have. It's just a constant learning experience, I think, and the players that have an open mind to that are the ones that seem to adapt the best, because it is. There are teams that play a little different way wherever you go. The east is a little bit different than the west – the conferences and things like that. You've got to keep an open mind and just continue to learn.
Regehr, whether he ever had an "I belong now" moment:
One of the moments in my career was after I played as a 16-year-old in Kamloops with the Blazers, and I was reading The Hockey News, which is a pretty popular publication, especially back in Canada. They had a "watch" – 10 players coming up, prospects, and I was one of them. I was just reading it, and that was probably the most memorable time where it hit me. I was saying, 'You know what? I can do this. I have a really good chance of doing this for a career,' and it still stands out in my mind. That was just one of them, but one of the more memorable ones.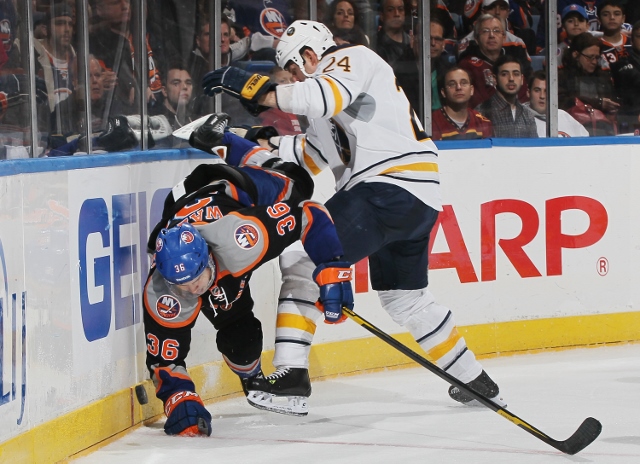 Willie Mitchell, on playing against Regehr:
I played against him and Darryl in Calgary – God, forever – when I was in my Minny days. I knew Jarome better than Robyn. Saw a lot of him. Hard nosed game. Plays hard, competes every night. A simple game. Blocked shots, gets in lanes. That's him, and you know you're going to have to compete against him. That's what he's done here, and he's done it his whole career. He's done a really, really good job of it.
Willie Mitchell, on Regehr's style of play:
Totally. I think you look at guys and certain guys have hockey bodies, I call it. They're a little bit thicker through the torso and stuff like that. I think those guys tend to be the most durable guys that you meet. It's like a Kopi – you look at him, it's not that he's terrific in shape or bulging muscles or anything like that. He's just thick through the torso, and Robyn kind of has that style as well where he's thick through there and I find for the most part guys who are like that are quite durable hockey players, just because they have better balance on the ice, and if you have better balance, you're going to be prone to less injuries, whether it's knees, et cetera. So I think it's a testament to him. Got a good gene pool there because like I said, he plays hard A lot of his minutes are hard minutes where you're blocking shots and penalty kill and stuff like that. So hopefully he stays healthy.