The Kings have four wins in their last eighteen games. I look at this stretch as two separate entities. First, there was the five-game skid that began prior to the Christmas break and leapfrogged the New Year. Though the offensive numbers took a hit at that time, the goaltending was equally as culpable. That December-January run represented the nadir of the Jones-Scrivens tandem that until that point had been playing exceptionally well. I find fewer faults in the current skid, which has developed as a byproduct of a hellacious compacted schedule, coupled with travel and significantly more challenging competition. This will be explained thoroughly in my LAKings.com feature that comes out today, but when seven of the team's 15 January games are against teams that opened January 29th on top of their divisions, and coast-to-coast travel was embedded in an 8-games-in-13-days stretch away from Staples Center, the team's not going to go 6-1-1. That's not to say that a 2-5-1 is an acceptable record during this stretch – the team certainly doesn't feel that way – but I do agree with Darryl Sutter that the current run of games has been "brutal," and that the recent power play and offensive skid is linked with the mental challenges of playing two three-in-four-night sets over the last nine days.
Though "pivotal" doesn't carry a great deal of weight in a game the Kings failed to score in, the Bisonnette-Nolan incident was an important moment that paid immediate dividends for the Coyotes, who greatly benefited from the officials' largesse early in the second period. As noted last night, there's no issue with the interference penalty assessed on Nolan. The concern is that the Kings ended up shorthanded following a situation in which Paul Bisonnette threw his gloves to the ice and attempted to initiate a fight with Nolan, who did not offer the retaliation necessary (at all?) to warrant an additional roughing minor. This fracas should have ended with four-on-four hockey. Los Angeles, which had opened the second period with sustained pressure and forechecking, and shots on goal by Trevor Lewis, Jeff Carter, Jake Muzzin and Drew Doughty 1:39 into the frame, instead was placed on a sham penalty kill. The Kings still had to kill the penalty, though – and Jonathan Quick let in his ugliest goal since rejoining the team following his injury.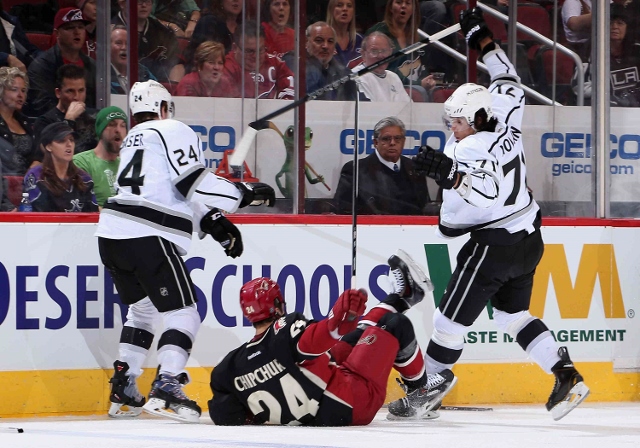 During Los Angeles' four minutes of power play time, they tied Phoenix in shots, 1-1. After hitting a post and sustaining some pressure during the man advantage on Monday, the Kings were unable to sustain much of a rhythm on the second night of the back-to-back set.
Antoine Vermette is an excellent two-way center who remains among the league's best faceoff artists and has been able to add to his two-way sense with an impressive 19-goal haul this season. His career high is 27, so it's not as if there's untapped skill that is only now being realized. But considering Vermette will cost the Coyotes only 3.75 million against the salary cap through next season, that Don Maloney was able to pry him from the Columbus Blue Jackets for a second round pick, a fourth round pick and Curtis McElhinney in 2012 represents one of the savvy moves by the Phoenix general manager in securing a Dave Tippett-type player. Vermette, who has won 56.1% of his faceoffs this season, is an excellent third-line center on a championship caliber team; on the Coyotes, he's a quality second-line center who leads the club in goals. Vermette won only 7-of-19 faceoffs on Tuesday, though there are often good battles between Vermette and Anze Kopitar, Mike Richards and Jarret Stoll.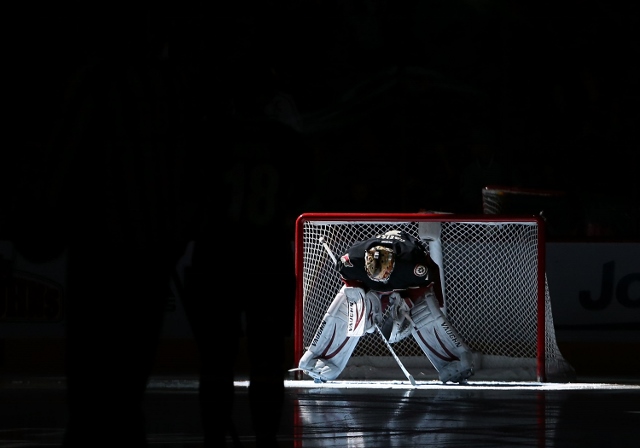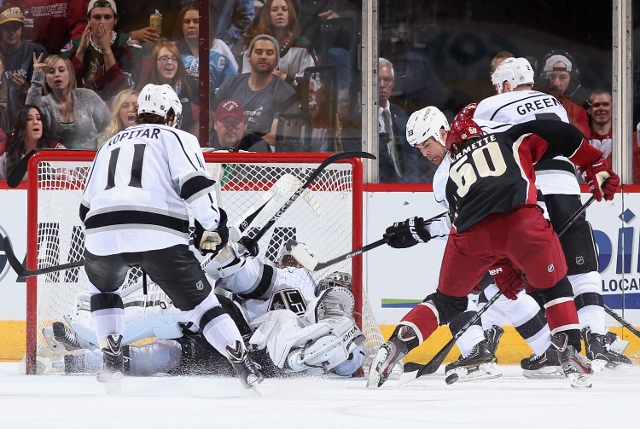 -Photos courtesy Christian Petersen / Getty Images Sport