Los Angeles Kings (30-18-6) at Phoenix Coyotes (24-18-10)
Tuesday, January 28, 2014, 7:00 p.m. MT
Jobing.com Arena, Glendale, AZ
Referees: #15 Jean Hebert, #34 Brad Meier
Linesmen: #56 Mark Wheler, #88 Mike Cvik
FOX Sports West, KEIB 1150 AM
Los Angeles Projected Starting Goaltender – Jonathan Quick
2013-14 Season: 27 GP (27 GS) / 15-9-2 record / 2.01 GAA / .918 Sv% / 3 SHO
Career vs Phoenix: 27 (27) / 13-11-3 / 2.62 / .906 / 4
Last Game vs Phoenix: 10/24/13 / 60 MP / 24-28 shots / 7-4 W
2013-14, Away: 11 (11) / 5-4-1 / 1.96 / .926 / 1
Phoenix Projected Starting Goaltender – Thomas Greiss
2013-14 Season: 12 GP (8 GS) / 6-3-1 record / 2.21 GAA / .929 Sv% / 1 SHO
Career vs Los Angeles: 4 (0) / 1-2-0 / 2.17 / .902 / 0
Last Game vs Los Angeles: 10/24/13 / 39 MP / 20-22 shots / 4-7 L
2013-14, Home: 5 (3) / 3-1-0 / 2.27 / .927 / 1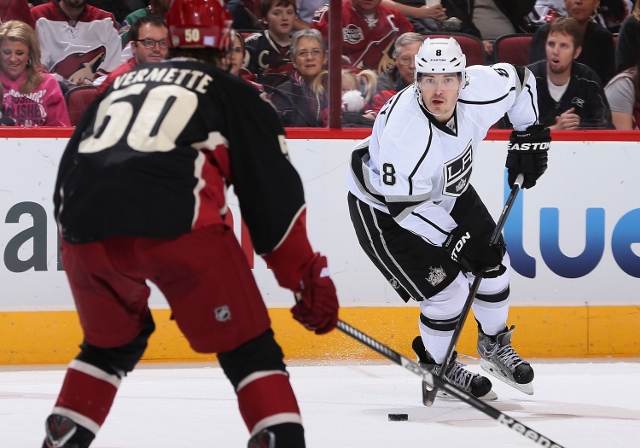 2013-14 Los Angeles Leaders
Total Points: Anze Kopitar (15-27=42)
Goals: Jeff Carter (20-14=34)
Assists: Mike Richards (7-28=35)
Plus/Minus: Anze Kopitar (+23; 15-27=42)
Penalty Minutes: Kyle Clifford (63; 3-2=5)
Time On Ice: Drew Doughty (26:00; 7-20=27)
2013-14 Phoenix Leaders
Total Points: Mike Ribeiro (13-24=37)
Goals: Antoine Vermette (18-12=30)
Assists: Keith Yandle (6-28=34)
Plus/Minus: Derek Morris (+7; 5-12=17); Rob Klinkhammer (+7; 9-8=17)
Penalty Minutes: Martin Hanzel (63; 14-21=35)
Time On Ice: Olive Ekman-Larsson (25:31; 6-20=26)
Rankings and Statistics
Goals/Game: LAK – 26 / 2.35; PHX – 11 / 2.83
Goals Against/Game: LAK – 1 / 2.02; PHX – 25 / 3.00
Power Play: LAK – 27 / 14.0%; PHX – t-9 / 20.0%
Penalty Kill: LAK – t-5 / 84.6%; PHX – 22 / 79.6%
Shots/Game: LAK – 8 / 31.2; PHX – 6/ 31.8
Shots Against/Game: LAK – t-3 / 27.1; PHX – t-25 / 33.2
Faceoffs: LAK – 3 / 53.1%; PHX – 4 / 52.2%
Save Percentage: LAK – 2 / .925; PHX – t-21 / .907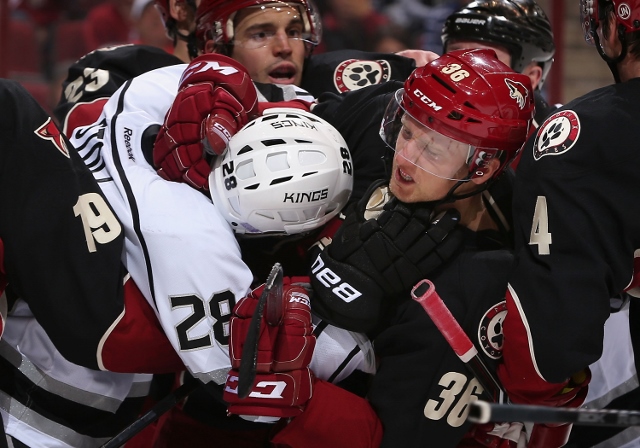 Los Angeles Projected Lines
Dwight King – Anze Kopitar – Jeff Carter
Dustin Brown – Mike Richards – Justin Williams
Kyle Clifford – Jarret Stoll – Trevor Lewis
Jordan Nolan – Colin Fraser – Tyler Toffoli
Jake Muzzin – Drew Doughty
Robyn Regehr – Slava Voynov
Willie Mitchell – Matt Greene
Jonathan Quick
Martin Jones
Level of confidence in projected lines: C+. Darryl Sutter indicated that Jonathan Quick is likely to start both games of the back-to-back. Don't expect any defensive changes following Sutter's praise of Matt Greene, Willie Mitchell and Robyn Regehr. Up front, there is a chance Tyler Toffoli could be replaced with Matt Frattin, though I'm leaning towards the same alignment used in last night's game.
Notes and milestones: Los Angeles is 79-94-32 all-time against the Phoenix franchise, a record that includes an away mark of 35-53-16. The Kings are 1-3-2 in the last six regular season meetings at Jobing.com Arena since October 29, 2011. The teams will meet at Staples Center on March 17 and April 2. … Los Angeles is 4-4-0 in the second game of back-to-back sets, having lost the last three. … The Kings are 11-5-1 against the Pacific Division. … Since returning from injury, Jonathan Quick is 5-4-2 with a 1.53 GAA, .938 Sv% and two shutouts. … Jeff Carter has 22 points in the last 23 games (13-9=22). … Jake Muzzin has five points (2-3=5) and a plus-7 rating in eight career games against the Coyotes. … The Kings have scored more than two goals four times in the last 18 games. In the last nine games, they have scored 15 goals. … The Kings are in a 3-for-36 stretch on the power play and a 37-for-41 stretch on the penalty kill. Los Angeles has been unable to score a goal in 16 consecutive power plays since Jeff Carter's third period goal in Boston on January 20. … Dwight King's hat trick against Phoenix on October 24 was the first hat trick of his career and the only one recorded by the Kings this season. … Robyn Regehr will play in his 998th career game tonight. … By coaching the 1,012th game of his career tonight, Darryl Sutter will tie Terry Murray for 19th place on the list of all-time games coached.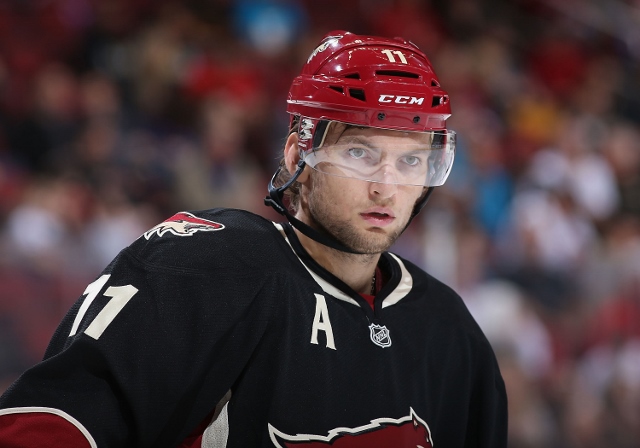 Phoenix Projected Lines
Lauri Korpikoski – Antoine Vermette – Mikkel Boedker
Shane Doan – Martin Hanzal – Radim Vrbata
Rob Klinkhammer – Mike Ribeiro – David Moss
Paul Bissonnette – Kyle Chipchura – Jeff Halpern
Oliver Ekman-Larsson – Zbynek Michalek
Keith Yandle – Derek Morris
David Schlemko – Connor Murphy
Thomas Greiss
Mike Smith

Notes and milestones: Phoenix lines via NHL.com correspondent Jerry Brown … After going 1-1-1 in a three-game Western Canada swing, the Coyotes open up a five-game home stand tonight. After Los Angeles, Phoenix will face Buffalo, Pittsburgh, Dallas and Chicago. … Shane Doan has 499 career assists and is vying to become the 18th active player to reach 500 assists. This will be the 95th time that Doan has faced Los Angeles in his career. His 74 points (36-38-74) are the most against any team; he has eight goals in his last eight games against the Kings. … Mike Ribeiro has a four-game point streak (2-3=5). His next goal will be the 200th of his career. … The Coyotes have allowed 15 goals over a recent 1-2-1 stretch. Phoenix is 4-8-1 in January. … The Coyotes have one power play goal in 10 of their last 11 games, going 10-39 (25.6%) over that span. … After going 48 games without a shorthanded goal, Phoenix has three – all from Antoine Vermette – in the last four games. Vermette, who hasn't scored a regular season goal against the Kings as a member of the Coyotes, ranks sixth amongst active players with 21 career shorthanded goals. … Lauri Korpikoski, who leads Phoenix with 10 points (3-7=10) in January, hasn't scored in 22 regular season games against Los Angeles. … Keith Yandle has recorded a minus-8 rating since the U.S. Olympic team was announced. … The Coyotes have killed of 11 consecutive power plays and are 32-37 on the penalty kill over the last eight games. … Zbynek Michalek leads Phoenix with 93 blocked shots. … Vermette (363 consecutive games played) and Yandle (355 consecutive games played) rank third and fourth on the league's active consecutive games played list. Because Vermette's streak began while he was a member of the Columbus Blue Jackets, Yandle's 355 consecutive games played represents the longest streak in franchise history. … Five Coyotes will participate in the 2014 Winter Olympics: Oliver Ekman-Larsson (Sweden), Martin Hanzal (Czech Republic), Lauri Korpikoski (Finland), Zbynek Michalek (Czech Republic) and Mike Smith (Canada).