YOUR PREGAME READING John Hoven does a good job of keeping tabs on Kings prospects, and his latest work at LAKings.com is a feature on 2013 fourth round draft pick Hudson Fasching, who made a name for himself at the recent World Junior Championships and now has 20 points (8-12=20) through his first 23 NCAA games at the University of Minnesota.
Said Kings Director of Amateur scouting Mark Yannetti:
"He needed to define himself," Yannetti continued. "I mean defining himself as playing well. That's a big thing for me. It's what you're seeing this year. He's defined himself. You look at Hudson Fasching, and you see exactly what his role is. You know that he can play that role the way you want it played. He defines himself. He's a heavy presence. He may not go in and run guys, but he goes in and hits, and when he hits, he's heavy.
Read more: Youngest Kings' Prospect Taking Big Steps Forward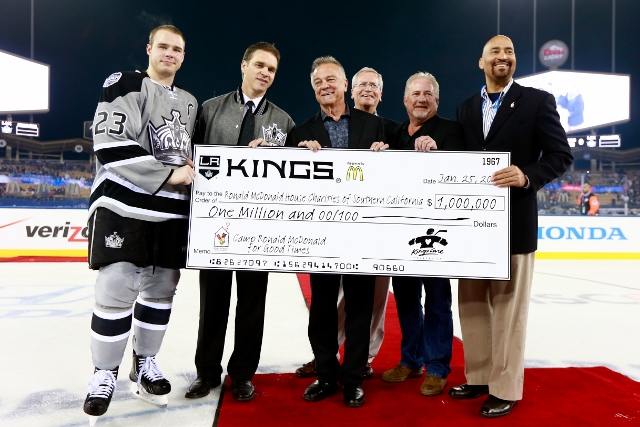 DOIN' GOOD The Kings made a one million dollar donation to the Ronald McDonald House Charities of Southern California following the Stadium Series game on Saturday.
The $1 million commitment will benefit Camp Ronald McDonald for Good Times, a campsite located in the San Jacinto Mountains. The donation will specifically go to help with the construction of the camp's Dining Hall/Activity Center, which will enable the facility to expand its oncology camp programs for children with cancer and their families.
The release: Kings Donating $1 Million to Camp Ronald McDonald For Good Times Check Presentation
ANOTHER OLYMPIAN In addition to the six players heading to Sochi late next week, there's also Head Equipment Manager Darren Granger, who will represent Canada for the first time on the Olympic stage.
Outside of his NHL duties, the Brandon, Manitoba native has represented Canada at the 2010, 2008, 2006 and 1999 World Championships in addition to the 1996 World Cup and the 1992 World Junior Championships. He is a tenured professional who has earned the respect of those whom he works with and those in opposing locker rooms around the circuit.

"It's great for him," Jeff Carter said. "He's got a great reputation around the league. It's nice when those guys get recognized and get a chance to do this stuff, because a lot of people don't realize how much time and effort hey put into this behind the scenes. First ones here, last ones to leave – it's not an easy job, so it's nice to see them get recognized like that."
Read more: Five-Ringed Granger

WAYNE'S WORLD Wayne Gretzky's impact is being felt in the collegiate, junior and professional ranks, and in honor of the outdoor game attended by 54,099 hockey fans at Dodger Stadium, here's a look at the growth of the sport within warmer weather climates.
"We used to go by this set of tennis courts and I remember we were stopped at a stop light this one time and I said to my wife 'You know, back home kids would be playing land hockey or ball hockey on these tennis courts,' and we didn't think much of it. Two years later I went the same tennis courts and there was a sign saying 'No Ball Hockey Allowed,'" Gretzky recalled anecdotally. "I remember thinking 'Wow, we've come a long way.'"
Read more: Culture Shift