Los Angeles Kings (29-18-6) at San Jose Sharks (34-12-6)
Monday, January 27, 2014, 7:00 p.m. PT
SAP Center, San Jose, CA
Referees: #28 Chris Lee, #47 Trevor Hanson
Linesmen: #79 Kiel Murchison, #55 Shane Heyer
NBCSN, KEIB 1150 AM
Los Angeles Projected Starting Goaltender – Jonathan Quick
2013-14 Season: 26 GP (26 GS) / 14-9-2 record / 2.09 GAA / .915 Sv% / 2 SHO
Career vs San Jose: 20 (20) / 10-4-5 / 2.57 / .908 / 2
Last Game vs San Jose: 10/30/2013 / 63 MP / 17-20 shots / 4-3 OTW
2013-14, Away: 10 (10) / 4-4-1 / 2.16 / .920 / 0
San Jose Projected Starting Goaltender – Alex Stalock
2013-14 Season: 12 GP (8 GS) / 7-2-0 record / 1.62 GAA / .942 Sv% / 2 SHO
Career vs Los Angeles: 1 (0) / 0-0-0 / 2.29 / .833 / 0
Last Game vs Los Angeles: 3/16/13 / 27 MP / 5-6 shots / 2-5 L
2013-14, Home: 3 (2) / 2-0-0 / 0.76 / .977 / 1
2013-14 Los Angeles Leaders
Total Points: Anze Kopitar (14-27=41)
Goals: Jeff Carter (20-13=33)
Assists: Mike Richards (7-28=35)
Plus/Minus: Anze Kopitar (+22; 14-27=41)
Penalty Minutes: Kyle Clifford (63; 3-2=5)
Time On Ice: Drew Doughty (26:00; 7-20=27)

2013-14 San Jose Leaders
Total Points: Joe Thornton (8-47=55)
Goals: Joe Pavelski (28-25=53)
Assists: Joe Thornton (8-47=55)
Plus/Minus: Brent Burns (+22; 14-15=29)
Penalty Minutes: Andrew Desjardins (70; 2-9=11)
Time On Ice: Justin Braun (21:23; 3-11=14)
Rankings and Statistics
Goals/Game: LAK – 26 / 2.38; SJS – 5 / 3.02
Goals Against/Game: LAK – 1 / 2.06; SJS – 4 / 2.31
Power Play: LAK – 27 / 14.4%; SJS – 14 / 18.8%
Penalty Kill: LAK – 6 / 84.4%; SJS – 8 / 83.5%
Shots/Game: LAK – 8 / 31.4; SJS – 1/ 35.0
Shots Against/Game: LAK – t-3 / 27.1; SJS – t-7 / 28.0
Faceoffs: LAK – 3 / 53.1%; SJS – 1 / 53.5%
Save Percentage: LAK – 2 / .924; SJS – 4 / .918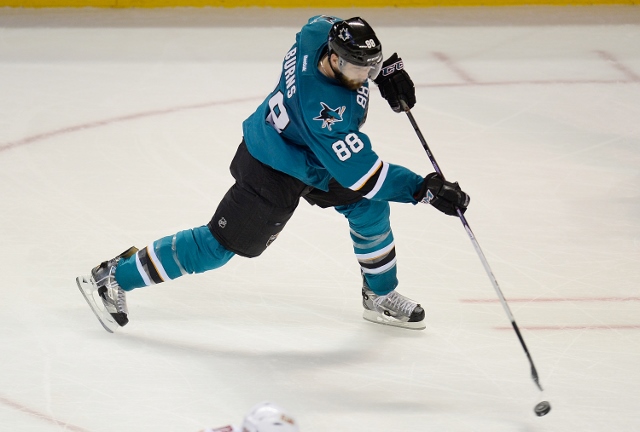 Los Angeles Projected Lineup
Dwight King – Anze Kopitar – Jeff Carter
Dustin Brown – Mike Richards – Justin Williams
Matt Frattin – Jarret Stoll – Trevor Lewis
Kyle Clifford – Colin Fraser – Jordan Nolan
Jake Muzzin – Drew Doughty
Robyn Regehr – Slava Voynov
Willie Mitchell – Matt Greene
Jonathan Quick
Martin Jones
Level of confidence in projected lines: C-. Jonathan Quick will start, and the defensive pairings above should hold up. The Kings' top two lines should be accurate. No players remained on the ice for extra work, and the team didn't hold traditional line rushes, just groupings of three players at a time taking turns up and down the ice during a brief morning skate. Because there were few repetitions, I'm not confident of the third and fourth line groupings. It did appear as though Tyler Toffoli took at least one turn with a pair of defensemen, which would indicate he was being used as an extra.
Notes and milestones: The Kings are 56-54-19 all-time against the Sharks, which includes a 20-32-12 all-time record in the Bay Area. Though Los Angeles has earned points in nine of the last 10 head-to-head matches (5-1-4), they've lost seven straight regular season games (0-3-4) in San Jose, dating back to April 4, 2011. The last time the Kings won a road game in the series was Game 5 of the 2011 Western Conference Quarterfinals on April 23, 2011. The last time the Kings won a regular season game in San Jose was December 27, 2010. Including playoffs, the home team has won 22 of the last 23 games in the series. The Kings have lost eight consecutive one-goal games in San Jose (12/23/12 1-2 SOL; 4/7/12 2-3 OTL; 3/14/13 3-4 L; 4/16/13 2-3 SOL; 5/18/13 1-2 OTL; 5/21/13 1-2 L; 5/26/13 1-2 L; 11/27/13 2-3 SOL), with five of those games going to overtime or a shootout. … The Kings have scored more than two goals four times in the last 17 games. In the last eight games, they have scored 14 goals. … Though Los Angeles has allowed only 29 first period goals, they've allowed two first period goals in three of the last four games. … The Kings are in a 3-for-31 stretch on the power play and a 31-for-35 stretch on the penalty kill. … Jeff Carter has 21 points in the last 22 games (13-8=21) … Jonathan Quick is 4-4-2 with a 1.69 GAA, .932 Sv% and one shutout in his last 10 games. … Robyn Regehr will play in his 997th career NHL game tonight.
San Jose Projected Lines
Matt Nieto – Joe Thornton – Joe Pavelski
Tommy Wingels – Patrick Marleau – Brent Burns
Bracken Kearns – Andrew Desjardins – Tyler Kennedy
Eriah Hayes – John McCarthy – Mike Brown
Marc-Edouard Vlasic – Jason Demers
Brad Stuart – Justin Braun
Matt Irwin – Dan Boyle
Alex Stalock
Antti Niemi
Notes and milestones: Lines via NHL.com correspondent Eric Gilmore. … Raffi Torres (knee), Adam Burish (back), Logan Couture (hand), Scott Hannan (head) and Tomas Hertl (knee) are on injured reserve. … With 348 consecutive games played, Patrick Marleau currently owns the fifth longest consecutive games played streak in the National Hockey League. … Tonight Todd McLellan will move six games shy of tying Darryl Sutter's franchise record of games coached. Sutter coached 434 games with San Jose between 1997 and 2002. … Four Sharks will participate in the Winter Olympics: Patrick Marleau (Canada), Marc-Edouard Vlasic (Canada), Joe Pavelski (United States) and Antti Niemi (Finland). … Joe Pavelsi has scored a goal in 14 of his last 22 games (19-7=26). He will carry a five-game point streak into tonight's game (7-3=10). … Joe Thornton has recorded 16 assists in the last 17 games and leads the NHL with 47 assists. … San Jose leads the league in first period goals scored (56) and is tied for the fewest goals allowed in the first period (28).