The current wave of outdoor games can be traced back to the success of The Cold War, the October, 2001 game between the University of Michigan and Michigan State University played in front of 74,544 fans at Spartan Stadium in East Lansing that ended in a 3-3 tie, courtesy of a Jim Slater home crowd-exciting goal with 47 seconds. Other eventual National Hockey League players that participated in the stadium game included Mike Cammalleri, Mike Komisarek, David Moss and Eric Nystrom for Michigan and Duncan Keith, John-Michael Liles, Adam Hall and Ryan Miller for Michigan State.
The Heritage Classic series was subsequently introduced (and played in sub-zero temperatures) at Edmonton's Commonwealth Stadium in 2003. That game was followed by an Ohio State-Wisconsin game – the Frozen Tundra Holiday Classic – at Lambeau Field in 2006, and eventually the January 1, 2008 debut of the Winter Classic at Ralph Wilson Stadium in Buffalo.
If you're thinking of reaching for a sweater, think again to the September 27, 1991 outdoor game played between the Los Angeles Kings and New York Rangers at a temporary rink constructed in the parking lot of Caesar's Palace in Las Vegas, Nevada. Game-time temperature was 85 degrees.
"We loved it in Vegas," Luc Robitaille said.
"And it was certainly something. We were looking forward to playing that game. When we played the game I remember there was such a vibe in the stands. I think there were 10-thousand seats and every one of them was filled up and it was loud and it was a fun game to play."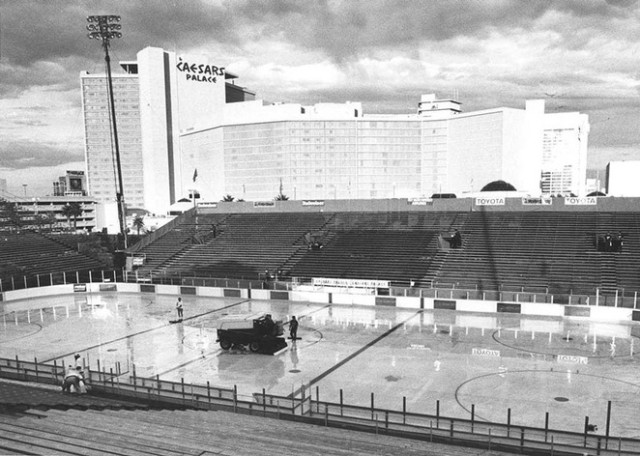 The Kings won 5-2 on a rink that barely held up when an afternoon tarp mishap melted portions of the ice and necessitated some MacGyver-like adjustments.
"I do remember coming in early and seeing that they had a tarp about 20 feet above the ice," Robitaille recalled. "I think they had little clinics during the day and what happened was around four o' clock, the guys who were working Caesar's Palace – they weren't like NHL ice guys – they came and they dropped the tarps on the ice. Those were black and it was this kind of weather. That's what happened, it started to melt it a little bit, so everybody panicked."
"And they had two systems to freeze the ice, so they kind of turned them up- both of them. I think we started the game maybe 20 minutes late or something because of that."
As a logistical disaster was narrowly averted, the players took a liking to both the ice surface and the surroundings, which were unique in a period in which the team adhered to a "have hockey, will travel" mantra.
"It wasn't the Forum. We played at the Forum, it was great [compared to The Forum]," Robitaille said. "For us in those days, we used to play because of Wayne. That's what people forget, we used to do a tour. We played at the baseball stadium in St. Petersburg, in Tampa. We played in Miami, we played in Houston, Dallas, we played in Phoenix and all those arenas never had ice. So we were used to bad ice. By the time we got to Vegas, we were like, 'This is great! It's the same as everywhere else we go.'"
And then came the locusts. It wasn't the ice surface that proved to be the biggest challenge – it was that the ice attracted and trapped a swarm of insects that the players had no choice but to skate over.
"The bugs would literally go where it was white and do two jumps and then they'd freeze," Robitaille remembered."
It was a process of trial and error, and while the event does elicit a laugh to this day, the outdoor game in Las Vegas was a precursor to a wildly successful set of games that have helped grow the NHL's brand while allowing fans in colder climates to experience the sport in a massive and unique setting.
In under three hours, fans in a warmer climate will have that same opportunity.
"It worked and it's a lot warmer there than it is here," Robitaille said of the Caesar's Palace exhibition.
"Let me tell you, when we asked Gary Bettman and John Collins if we could do the game, we said, 'Hey, it worked in Vegas at 91, I'm sure you can make it work today.'"