John Ondrasik stood along the perimeter of the outdoor rink at Dodger Stadium rink, 24 hours from Five for Fighting's performance during the second intermission of Saturday's Kings-Ducks Stadium Series game.
There was an echo that reverberated through the cavernous stadium during sound check that necessitated an added preparedness, and the well renowned and traveled singer-songwriter reworked several of the numbers in 100 Years. These added variables did nothing to blanket the excitement of combining several of his loves – music, baseball, and Los Angeles Kings hockey.
"I was one of those 8,000 people in the stands in the purple and gold, losing 7-3 with the Pumper Nicholl and Luc and Jimmy Carson and Dave Taylor," Ondrasik said. "As a sports fan, it really doesn't get better than this. I feel very fortunate to be able to do it."
He's also a lifelong Dodger fan. Speaking as the Kings took the ice for practice, the Los Angeles native remembered attending a Dodger game as a seven-year-old and watching his father catch a homerun in the right field pavilion.
The history he recalls inside the iconic stadium isn't a mesh-up solely comprised from games and events he attended. During the soundcheck there was a reference to the Beatles' August 28, 1966 performance at Chavez Ravine.
"My guys were talking about that, because with the delay and everything, it's hard to hear anything. Of course, all they heard was 40,000 screaming girls, so they couldn't hear anything," Ondrasik said.
"There's a lot of history here. Funny story – I remember coming to see Elton John play here, and one of the people I actually got to shake hands with backstage with was a Mr. Wayne Gretzky. It was the first time I ever met Mr. Gretzky. Really, I think this game is a testament to him."
Back to the present. This will be Five for Fighting's second large-scale NHL performance after having performed at the 2011 Heritage Classic between the Calgary Flames and Montreal Canadiens at Calgary's McMahon Stadium.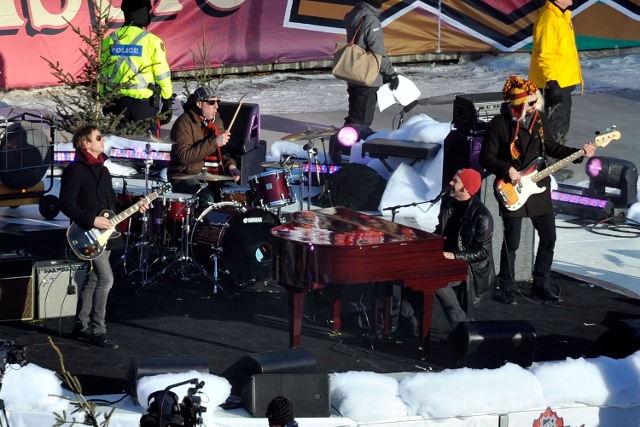 At 2:30 on Friday, Five for Fighting concluded its soundcheck as Ondrasik left the stage and walked in front of the Dodger dugout, continuing to soak in the spectacle. That's when Darryl Sutter summoned him down into the dugout and through the tunnel towards where the Kings have set up team operations.
"As a fan, he's the best interview in sports. He's so sarcastic, and he's so honest," Ondrasik said of his appreciation of the Kings' coach. They spoke for 20 minutes as players drifted in and out of the clubhouse, awed and amazed by the large-scale event as he was.
"The stories they tell, and they're so humble and love the game, it kind of makes you in a cynical world feel good,"
"It's surreal. To see the Dodgers locker room filled up with Kings jerseys, it's once-in-a-lifetime. It's amazing."
John Ondrasik, on the soundcheck:
Well, you know, I still have a job to do. You'll see tomorrow, for the first time in my life I had to change a few numbers on 100 Years, so I'm trying to make sure I've got those right. And whenever you play these big arenas, there's always a crazy delay. So it's kind of not the ideal setting for bands, but on the other hand, as I said, I wouldn't want to be anywhere else, and it sounds great, and we're doing two songs, and I can't wait for my family and friends to be here, and I just hope we have the lead at the end of the second period so they'll be in a good mood.
Ondrasik, on whether he ever played hockey:
I played a little bit. Out of college I taught myself to skate, but I was never like a player. I was never very good. But as a piano player, it's kind of tough to play hopckey because your wrists are always in danger.
Ondrasik, on any similarities between artists and athletes:
I think there's the balance of having success and being in the public eye and kind of the celebrity aspect, which I think both share. And I think especially for hockey players and entertainers, a lot of this happens to very young kids. You can be 18, 19, 20 and be a star in professional sports or be a rockstar, and that's hard to handle for young kids sometimes. So I think you share that. Of course, every athlete wants to be a musician, and every musician wants to be an athlete. But at the end of the day, it's very similar. It's still; about work ethic. It's about being humble, and recognizing that it's not all about you. So I think you kind of share those things. But I have such great respect for these guys, and the reason, frankly, I do so much with the NHL is hockey players are great people. They're humble. They're usually small town kids, and I just enjoy being around them, the people in the game.