Los Angeles Kings (29-17-6) vs Anaheim Ducks (38-10-5)
Saturday, January 25, 2014, 6:30 p.m. PT
Dodger Stadium, Los Angeles, CA
Referees: #23 Brad Watson, #28 Chris Lee
Linesmen: #91 Don Henderson, #55 Shane Heyer
NBC Sports Network, KLAC 570 AM, KEIB 1150 AM
FOX Sports West pre-game coverage begins at 5:30 p.m.; post-game coverage begins immediately following the game
Los Angeles Projected Starting Goaltender – Jonathan Quick
2013-14 Season: 25 GP (25 GS) / 14-8-2 record / 2.09 GAA / .916 Sv% / 2 SHO
Career vs Anaheim: 23 GP (23 GS) / 13-6-2 / 2.41 / .907 / 1
Last Game vs Anaheim: 1/23/14 / 59 MP / 19-21 shots / 1-2 L
2013-14, Away: 15 (15) / 10-4-1 / 2.05 / .913 / 2
Anaheim Projected Starting Goaltender – Jonas Hiller
2013-14 Season: 34 GP (34 GS) / 23-6-4 record / 2.41 GAA / .912 Sv% / 3 SHO
Career vs Los Angeles: 20 (18 ) / 8-8-3 / 2.43 / .923 / 2
Last Game vs Los Angeles: 12/3/13 / 65 MP / 26/28 shots + 8/9 SO / 2-3 SOL
2013-14, Home: 16 (16) / 9-5-2 / 2.89 / .890 / 0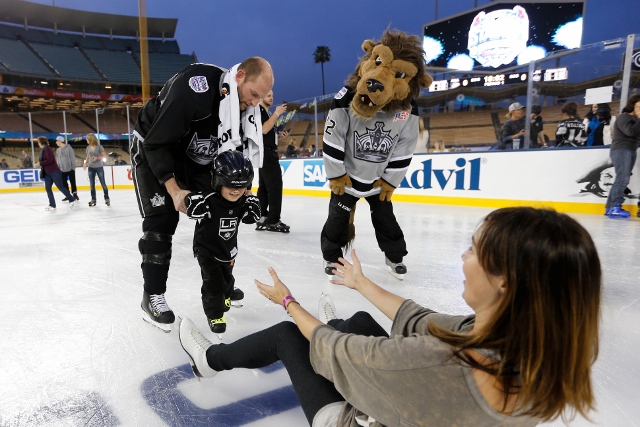 2013-14 Los Angeles Leaders
Total Points: Anze Kopitar (14-27=41)
Goals: Jeff Carter (20-13=33)
Assists: Anze Kopitar (14-27=41)
Plus/Minus: Anze Kopitar (+23; 14-27=41)
Penalty Minutes: Kyle Clifford (58; 3-2=5)
Time On Ice: Drew Doughty (25:58; 7-20=27)
2013-14 Anaheim Leaders
Total Points: Ryan Getzlaf (25-34=59)
Goals: Corey Perry (27-29=56)
Assists: Ryan Getzlaf (25-34=59)
Plus/Minus: Corey Perry (+24; 27-29=56)
Penalty Minutes: Tim Jackman (84; 2-1=3)
Time On Ice: Cam Fowler (23:56; 6-23=29)
Rankings and Statistics
Goals/Game: LAK – 25 / 2.42; ANA – 3 / 3.34
Goals Against/Game: LAK – 1 / 2.04; ANA – t-6 / 2.38
Power Play: LAK – 25 / 14.7%; ANA – 14 / 19.0%
Penalty Kill: LAK – t-6 / 84.2%; ANA – 14 / 82.3%
Shots/Game: LAK – t-8 / 31.3; ANA – 7 / 31.7
Shots Against/Game: LAK – t-3 / 27.2; ANA – t-5 / 27.8
Faceoffs: LAK – 3 / 53.1%; ANA – 21 / 49.0%
Save Percentage: LAK – 2 / .925; ANA – 10 / .915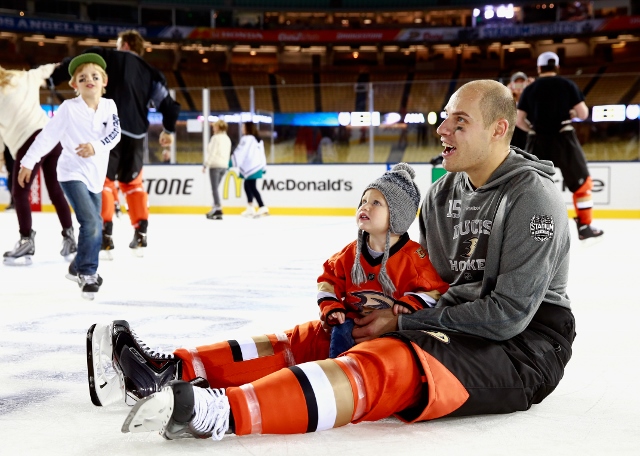 Los Angeles Projected Lines
Dwight King – Anze Kopitar – Trevor Lewis
Matt Frattin – Mike Richards – Jeff Carter
Dustin Brown – Jarret Stoll – Justin Williams
Kyle Clifford – Colin Fraser – Jordan Nolan
Jake Muzzin – Drew Doughty
Willie Mitchell – Slava Voynov
Robyn Regehr – Alec Martinez
Jonathan Quick
Martin Jones

Level of confidence in projected lines: B-. Matt Greene and Jeff Schultz remained on the ice for extra work after the morning skate, so they're likely out tonight. The biggest lineup question revolves around whether Tyler Toffoli will draw into tonight's game. One spot in which he could be inserted is the right wing on Colin Fraser's line. The fourth line was a minus-1 on Thursday, and Sutter has previously hinted at changes to the fourth line and third defensive pairing when making game-to-game adjustments. A counterpoint is that he has also avoided putting younger players in situations in which they're not earning consistent minutes. Don't be surprised if all forwards on the active roster take part in warm-ups.
Notes and milestones: The Kings are 53-41-20 all-time against the Ducks, a record that includes a 32-15-9 record at home. Los Angeles is 6-2-1 against Anaheim in the nine games since Darryl Sutter took over as head coach. … The Kings are 10-4-1 against the Pacific Division. … In 42 career games against Anaheim, Anze Kopitar has 44 points (16-28=44). … Trevor Lewis has assists in back-to-back games and four points (2-2=4) in the last five. … No King has recorded more than one point in the two-game season series to this point. … Los Angeles has allowed two goals or fewer in 29 of the last 37 games. They have scored more than two goals four times in the last 16 games. … Drew Doughty has 13 points (2-11=13) and a plus-13 rating over the last 23 games. … Mike Richards will play his 150th consecutive game tonight. Justin Williams, who will play in his 183rd consecutive game tonight, holds the club's active record. The all-time club record is 330 consecutive games, set by Anze Kopitar betweein March 21, 2007 and March 26, 2011. … The Kings have limited their opponents to 27 first period goals this season.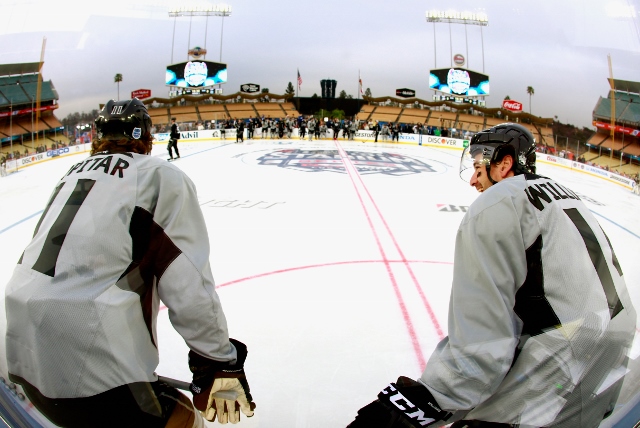 Anaheim Projected Lines
Dustin Penner – Ryan Getzlaf – Corey Perry
Patrick Maroon – Mathieu Perreault – Teemu Selanne
Andrew Cogliano – Saku Koivu – Jakob Silfverberg
Matt Beleskey – Nick Bonino – Tim Jackman
Hampus Lindholm – Francois Beauchemin
Cam Fowler – Ben Lovejoy
Bryan Allen – Mark Fistric
Jonas Hiller
Frederik Andersen
Notes and milestones: Viktor Fasth (lower body), Luca Sbisa (hand) and Sheldon Souray (wrist) are injured. … Anaheim is 16-6-1 when the opponent scores first, 14-1-2 against the Pacific Division, 20-2-5 in one-goal games, and have outscored opponents 73-42 in second periods this season. … With three points (1-2=3), Corey Perry leads all scorers in the season series. … The Ducks are 9-2-0 in their las 11 road games. With a 17-9-3 road record, they lead the NHL in road points (37) and wins. … Jonas Hiller is 14-2-0 in his last 16 appearances. … With 511 consecutive games played since debuting in the NHL, Andrew Cogliano is the fifth player in NHL history and the first since Doug Jarvis (NHL record 964 consecutive GP between 1975-76 & 1987-88) to play 500 consecutive games from the start of his NHL career. He has 99 career goals. None of his 16 goals this season have come on the power play. With 682 career goals, Teemu Selanne ranks 11th on the NHL's all-time goal registry, eight goals behind #10 Mario Lemieux. With 1,447 points, he ranks 15th on the league's all-time points list, 20 points behind #14 Stan Mikita. With 255 career power play goals, he ranks third on the league's all-time power play goals list, 10 PPG behind #2 Brett Hull. He ranks fourth with 110 game-winning goals, eight behind #3 Phil Esposito and 26th in games played, four behind #25 Scott Mellanby. He has 118 points (52-66=118) in 104 games against Los Angeles. Selanne, 43 years old, is the oldest NHL player. He will represent Finland in the Olympics for the sixth time, having begun his Olympic career in the 1992 Albertville Games. He is the all-time leading Olympic scorer having tallied 37 points (20-17=37) in 31 games. … Ducks selected to participate in the Sochi Olympic Games include Selanne (Finland), Ryan Getzlaf (Canada), Corey Perry (Canada), Jakob Silfverberg (Sweden), Cam Fowler (United States) and Jonas Hiller (Switzerland). Defenseman Sami Vatanen, currently playing with AHL-Norfolk, will also play for Finland.