The Los Angeles Kings were consumed by the familiar Duck Trap, as has happened to many Honda Center visitors this season. The Kings scored the game's first goal before the Ducks responded with a superior second period and came from behind to win a one-goal game at home against a Pacific Division team. This followed a familiar script for the home team, albeit with less scoring. Anaheim has now scored 31 more goals than its opponents in the middle 20 minutes this season, and the disjointed, whistle-filled special teams extravaganza ultimately led to a pair of goals against following a first period in which Los Angeles did a fine job of possessing the puck, generating several quality if unspectacular opportunities and severely curtailing any sustained Ducks pressure. The Kings were the better five-on-five team, but the entire game isn't played in five-on-five situations, and when a team with offensive firepower like Anaheim is afforded five power plays, they'll eventually figure out how to score. The difference in this game was that Anaheim was eventually able to take advantage of the opportunities presented.
The pivotal moments in Thursday's loss took place in the beginning of the second period, when the Kings were awarded consecutive power plays and an opportunity to take a two goal lead. Los Angeles won three early offensive zone faceoffs during the first power play and sustained some quality pressure, even if they didn't generate any Grade-A scoring chances; on the second power play there wasn't much to write home about. The period eventually devolved into Whistlefest 2014, and after consecutive minor penalties were assessed to Trevor Lewis, Willie Mitchell and Jarret Stoll, the Ducks eventually were able to tie the game when Dustin Penner's second opportunity at putting back a rebound of a Nick Bonino post hit skipped past Jonathan Quick. In one game, Penner equaled his entire power play goal haul from 117 regular season games with the Kings.
After promising performances in St. Louis and Detroit, the Kings' fourth line was outplayed by the Ducks' fourth line and surrendered Pat Maroon's game-winning goal. One role of the fourth line is to outplay the other team's fourth line, and that wasn't the case on Thursday. Kyle Clifford and Jordan Nolan recorded 7:01 of ice time, while Colin Fraser earned 8:44. The style of the game and the top-heavy allotment of the Kings minutes meant that Anze Kopitar was on the ice for 23:41. The two teams' styles of play aren't worlds apart from each other, but as Darryl Sutter alluded to when saying "it's hard to tell who their third and fourth lines are," he's alluding to Anaheim's spread out offense. Nick Bonino, who skates with Maroon and Tim Jackman, has 16 goals and 39 points. Daniel Winnik, who has 19 assists, was scratched. There are plenty of productive depth options at Bruce Boudreau's disposal.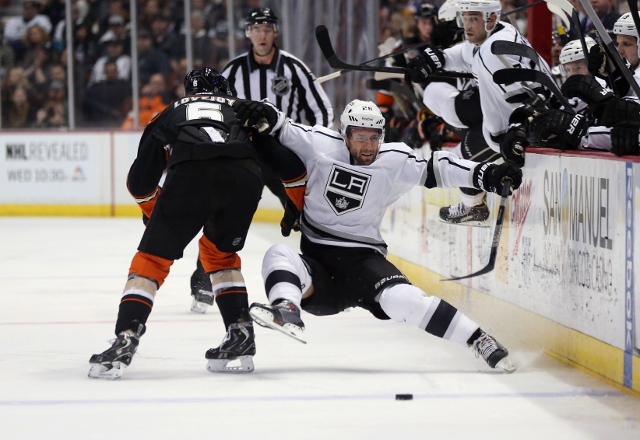 The King-Kopitar-Lewis line was effective and helped to spread out Los Angeles' forward alignment against a team with excellent depth. The trio also accounted for the only Kings goal as Dwight King, after hitting Trevor Lewis in stride for a contested breakaway, eventually offered a puck through the slot that Lewis eventually shuffled over towards a net-crashing Kopitar, who buried for his first goal of 2014. Lewis is starting to show some signs of production – he has two goals and four points in his last five games – and King did a lot of things that don't necessarily get recognized in the scoresheet. He was tying up sticks, winning battles along the boards and using his size to protect the puck in the offensive zone, even if he was the only Kings skater not to have attempted a shot. It was the type of performance by King that offers a defense of why he had been a quality option to play alongside Kopitar and Jeff Carter.