Los Angeles Kings (29-16-6) at Anaheim Ducks (37-10-5)
Thursday, January 23, 2014, 7:00 p.m. PT
Honda Center, Anaheim, CA
Referees: #27 Eric Furlatt, #19 Gord Dwyer
Linesmen: #78 Brian Mach, #91 Don Henderson
FOX Sports West, KEIB 1150 AM
Kings Weekly to follow tonight's game
Los Angeles Projected Starting Goaltender – Jonathan Quick
2013-14 Season: 24 GP (24 GS) / 14-7-2 record / 2.09 GAA / .916 Sv% / 2 SHO
Career vs Anaheim: First appearance
Last Game vs Anaheim: First appearance
2013-14, Away: 9 (9) / 4-3-1 / 2.17 / .921 / 0
Anaheim Projected Starting Goaltender – Frederik Andersen
2013-14 Season: 15 GP (13 GS) / 12-2-0 record / 1.93 GAA / .931 Sv% / 0 SHO
Career vs Los Angeles: First appearance
Last Game vs Los Angeles: First appearance
2013-14, Home: 6 (4) / 5-0-0 / 1.19 / .960 / 0
2013-14 Los Angeles Leaders
Total Points: Anze Kopitar (13-27=40)
Goals: Jeff Carter (20-13=33)
Assists: Anze Kopitar (13-27=40)
Plus/Minus: Anze Kopitar (+22; 13-27=40)
Penalty Minutes: Kyle Clifford (58; 3-2=5)
Time On Ice: Drew Doughty (25:56; 7-20=27)
2013-14 Anaheim Leaders
Total Points: Ryan Getzlaf (25-34=59)
Goals: Corey Perry (27-28=55)
Assists: Ryan Getzlaf (25-34=59)
Plus/Minus: Corey Perry (+24; 27-28=55), Hampus Lindholm (+24; 5-12=17), Francois Beauchemin (+24; 1-9=10)
Penalty Minutes: Tim Jackman (84; 2-1=3)
Time On Ice: Cam Fowler (23:56; 6-23=29)
Rankings and Statistics
Goals/Game: LAK – 23 / 2.45; ANA – 3 / 3.36
Goals Against/Game: LAK – 1 / 2.04; ANA – t-7 / 2.40
Power Play: LAK – 23 / 15.0%; ANA – 15 / 19.0%
Penalty Kill: LAK – 5 / 84.3%; ANA – 14 / 81.9%
Shots/Game: LAK – 8 / 31.3; ANA – t-5 / 31.9
Shots Against/Game: LAK – t-3 / 27.4; ANA – 7 / 27.8
Faceoffs: LAK – t-2 / 53.0%; ANA – 21 / 49.1%
Save Percentage: LAK – t-1 / .926; ANA – t-12 / .913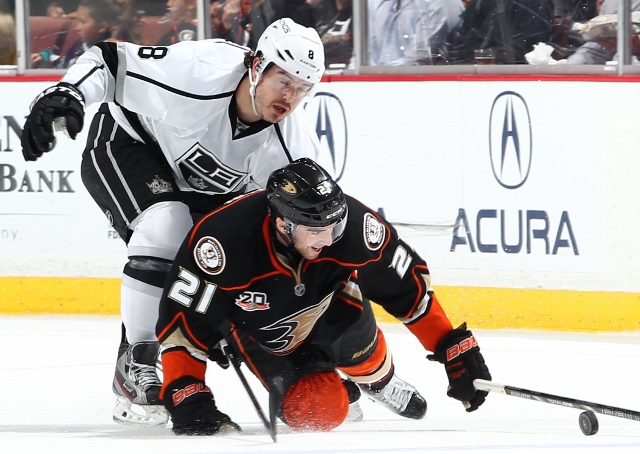 Los Angeles Projected Lines
Dwight King – Anze Kopitar – Trevor Lewis
Matt Frattin – Mike Richards – Jeff Carter
Dustin Brown – Jarret Stoll – Justin Williams
Kyle Clifford – Colin Fraser – Tyler Toffoli
Jake Muzzin – Drew Doughty
Willie Mitchell – Slava Voynov
Robyn Regehr – Alec Martinez
Jonathan Quick
Martin Jones
Level of confidence in projected lines: D. I said in a comment during this morning's line rushes post that I'd project a different set of forward lines this afternoon – and, lo, I give you this morning's combination. Perhaps more accurately, I should have said "Yes, these were the lines that were grouped together this morning, but I don't expect them to remain consistent for the entirety of the game." Don't be surprised to see several shifts of Brown-Kopitar-Williams after there were glimpses of the reunion throughout the road trip. King-Stoll-Lewis is also a possibility. Jordan Nolan could also replace Tyler Toffoli in the starting lineup.
Notes and milestones: The Kings are 53-40-20 all-time against the Ducks, a record that includes a mark of 21-25-11 all-time in Anaheim. Los Angeles is 6-1-1 in the last eight meetings, beginning with Darryl Sutter's first game as head coach on December 22, 2011. … The Kings are 10-3-1 against the Pacific Division. … Jeff Carter has goals in four straight games and points in five straight and seven of eight. Carter now has 21 points (13-8-21) in the last 20 games and 42 shots on goal in the last eight games. With 49 goals since the start of the 2012-13 season, he ranks third over that time frame, behind Alex Ovechkin (66) and John Tavares (51). Carter missed 10 games due to injury this season. … In the teams' last meeting, Los Angeles recorded 51 shots on goal and attempted 103 total shots, 24 more than in any other Kings game this season. … The Kings have as many regulation losses (eight) in the last 14 games as they recorded in the first 37 games. … Mike Richards has seven points (1-7=7) in the last seven games. His 28 assists are the most he has recorded in one season since totaling 43 with Philadelphia in 2010-11. His career high is 50, set in 2008-09. In 16 career games against Anaheim, he has 17 points (7-10=17). … Anze Kopitar hasn't scored since New Year's Eve. He has six assists and a plus-1 rating through the first 10 games of 2014. In 41 career games against Anaheim, he has 43 points (15-28=43).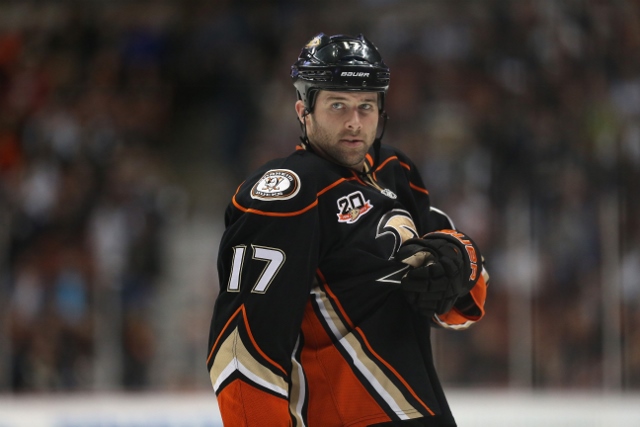 Anaheim Projected Lines
Dustin Penner – Ryan Getzlaf – Corey Perry
Patrick Maroon – Mathieu Perreault – Teemu Selanne
Kyle Palmieri – Saku Koivu – Andrew Cogliano
Matt Beleskey – Nick Bonino – Tim Jackman
Hampus Lindholm – Francois Beauchemin
Cam Fowler – Ben Lovejoy
Bryan Allen – Mark Fistric
Frederik Andersen
Jonas Hiller
Notes and milestones: Lines via NHL.com correspondent Curtis Zupke. … Viktor Fasth (lower body), Luca Sbisa (hand) and Sheldon Souray (wrist) are injured. Daniel Winnik and Jakob Silfverberg are expected to be scratched. … Anaheim is 13-1-2 against the Pacific Division and 20-1-2 at home. … The Ducks have outscored their opponents 71-42 in second periods this season. … Anaheim has scored the most goals (175) and allowed the fewest goals (125) through 52 games in club history. … The Ducks are averaging a league-best 4.00 goals per game in January. … Anaheim has 10 comeback wins in the last 22 games, four of those from two-goal deficits. The Ducks are a league-best 15-6-1 when their opponent scores first. … With 682 career goals, Teemu Selanne ranks 11th on the NHL's all-time goal registry, eight goals behind #10 Mario Lemieux. With 1,447 points, he ranks 15th on the league's all-time points list, 20 points behind #14 Stan Mikita. With 255 career power play goals, he ranks third on the league's all-time power play goals list, 10 PPG behind #2 Brett Hull. He ranks fourth with 110 game-winning goals, eight behind #3 Phil Esposito and 26th in games played, four behind #25 Scott Mellanby. He has 118 points (52-66=118) in 103 games against Los Angeles. Selanne, 43 years old, is the oldest NHL player. He will represent Finland in the Olympics for the sixth time, having begun his Olympic career in the 1992 Albertville Games. He is the all-time leading Olympic scorer having tallied 37 points (20-17=37) in 31 games. … Andrew Cogliano is the fifth player in NHL history and the first since Doug Jarvis (NHL record 964 consecutive GP between 1975-76 & 1987-88) to play 500 consecutive games from the start of his NHL career. He has 99 career goals. None of his 16 goals this season have come on the power play. … With a league-best 19-2-5 record in one-goal games, the Ducks have three more one-goal wins than any other NHL team. … Anaheim is 15-48 on the power play (31.2) over the last 11 games, a rate aided by a 6-11 performance against Vancouver on January 15. … Hampus Lindholm, who turned 20 on Monday, leads all rookies with a plus-24 rating.