Eighteen seconds after having clawed back from a two-goal deficit on Jeff Carter's power play equalizer, the red hot Brad Marchand scored his second goal of the game and sixth goal in the last four in leading the Boston Bruins to a 3-2 win over the Los Angeles Kings Monday afternoon at TD Garden. Though the Kings raised their efforts over the final 40 minutes of the game, a poor special teams performance over the first 20 minutes dug them a hole that was kept manageable by an outstanding performance in net by Jonathan Quick. He was the team's best penalty killer while lunging to his left to stop Zdeno Chara with a tremendous pad save early in the second period, and his right pad denial of Reilly Smith, who found time and space alone in front, midway through the second period kept the Kings in position to tie the score. Between the one-against-four shorthanded goal that the Kings allowed, and the breakdown that led to Marchand's game winner, Los Angeles surrendered more than their general share of scoring chances. There is also something disconcerting that four of the Kings' last 10 goals scored have been followed within 3:01 by an opponent's game-tying or game-winning goal.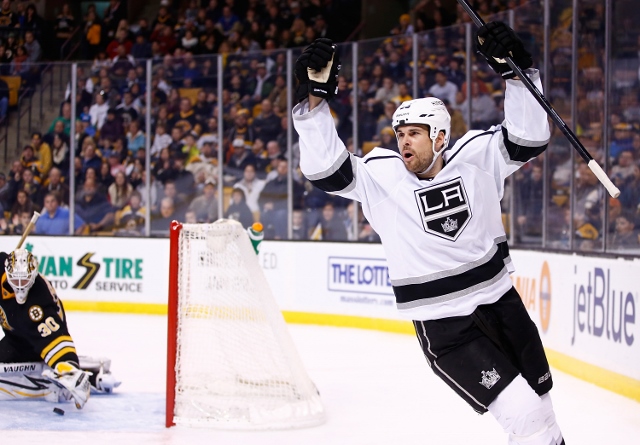 Los Angeles' power play has led to key third period goals in every game on this road trip. Though the power play didn't score in the opener at St. Louis, Trevor Lewis' greasy game-winner came four seconds after after Ryan Reaves' penalty expired. Jeff Carter scored a go-ahead goal on the man advantage late in Saturday's game at Detroit, and on Monday Drew Doughty patiently crept towards the zone before finding Mike Richards with speed for a zone entry right before a four-on-three turned into a five-on-four. His width pass to Kopitar was one-touched to Doughty, who corralled the puck before putting it right in the middle of Carter's wheelhouse. He didn't allow Chad Johnson enough time to move laterally and become square to his shot as he blasted Doughty's feed off the inside of the post and in. All four players in the offensive zone touched the puck within four seconds of each other. As Darryl Sutter has noted, timeliness of power play goals is more important than the overall number of power play goals, and because of the oddities of Saturday's conclusion, the Kings are 1-1-1 instead of 2-1-0 on this four-game swing.
I read this during Monday's game…
Nolan has been pretty much the perfect 4th liner this season

— Rudy Kelly (@rudykelly) January 20, 2014
…and I tend to agree with it. Nolan is still looking to remove the semi-frequent turnover from his game, though to his credit he has done a much better job of protecting the puck and leaning on his north-south ability this year than he did a year ago. In each of the first two games of the road trip I wrote about the quality minutes Colin Fraser's line has produced, and how Jordan Nolan's heavy game was leading to the opposition taking penalties. Monday's game continued that trend. Clifford drew 13:03 of ice time, Fraser drew 12:06 and Nolan 10:33 – an indication that Sutter was satisfied with their play, allowing them to absorb minutes from others, even if it's not a good sign that two players on the team's fourth line played more minutes than Dustin Brown. As for Nolan, his hard, clean hit on Torey Krug in the first period led to a bout with Milan Lucic and a Kings power play. For reasons unbeknownst to anyone, Lucic, who must have traveled 80 feet to engage Nolan following the hit, did not receive a two, a five and a 10 for instigating. In Rule 46.11, "distance traveled" is the first criteria listed in the definition of Instigating, and Lucic traveled from well off the screen to fight Nolan.