Good morning, Columbus, and good morning, final game of an eastern road swing. The word on the street is that there's a large body of very cold air headed our way. The main headline on the Columbus Dispatch's website reads "Snow delaying, canceling classes; frigid air coming." Though the snow is expected to hit hardest in the southern parts of Ohio, apparently this is happening: "While the snow is expected to end by around noon today, wind gusts to 30 mph will usher in subzero temperatures later in the day."
For those weather skeptics, yes, I can confirm it is snowing outside.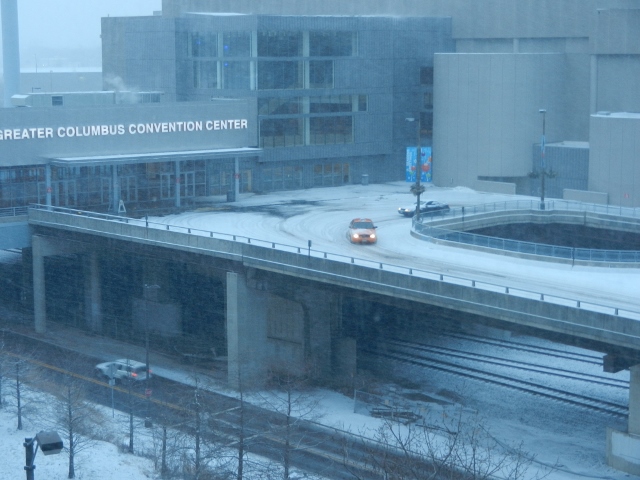 Those aren't the large snowflakes that fall gently and make it enjoyable to be outside in a serene winterscape. Those are wind-blown stinging pellets of frozen ice. Hooray!
It remains to be seen whether the Kings will hold a full morning skate on the second day of a back-to-back, but because yesterday's afternoon game resulted in a 9:00 p.m. arrival at Port Columbus International Airport – hello, black ice at the bottom of the airport stairs – the exhaustive bite of playing two games in 24 hours should be softened. The Columbus Blue Jackets, winners of six straight games and now proud owners of a plus-3 goal differential, have been scoring in droves. They've potted at least three goals in each game along the streak. LAKI will be at beautiful Nationwide Arena for both morning skates, so expect regular game day coverage.