Los Angeles Kings (29-15-6) vs. Columbus Blue Jackets (24-20-4)
Tuesday, January 21, 2014, 7:00 p.m. ET
Nationwide Arena, Columbus, OH
Referees: #14 Dennis LaRue, #26 Rob Martell
Linesmen: #54 Greg Devorski, #89 Steve Miller
FOX Sports West, KEIB 1150 AM
Los Angeles Projected Starting Goaltender – Martin Jones
2013-14 Season: 11 GP (11 GS) / 8-3-0 record / 1.41 GAA / .950 Sv% / 3 SHO
Career vs Columbus: First appearance
Last Game vs Columbus: First appearance
2013-14, Away: 6 (6) / 4-2-0 / 1.43 / .956 / 1
Columbus Projected Starting Goaltender – Sergei Bobrovsky
2013-14 Season: 28 GP (28 GS) / 15-11-2 record / 2.53 GAA / .916 Sv% / 2 SHO
Career vs Los Angeles: 3 (3) / 0-3-0 / 1.70 / .929 / 0
Last Game vs Los Angeles: 4/18/13 / 59 MP / 21-23 shots / 1-2 L
2013-14, Home: 13 (13) / 8-5-0 / 2.13 / .927 / 1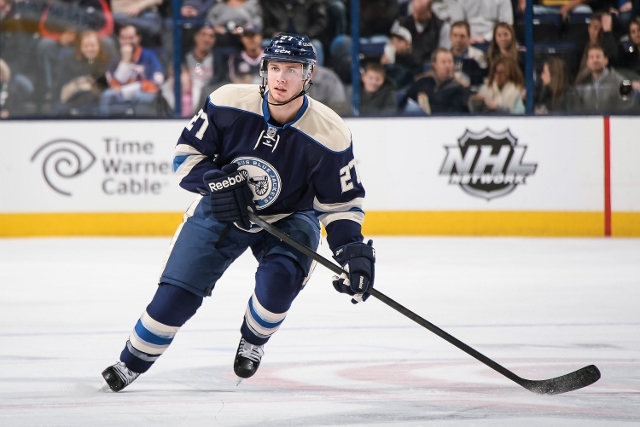 2013-14 Los Angeles Leaders
Total Points: Anze Kopitar (13-27=40)
Goals: Jeff Carter (19-13=32)
Assists: Anze Kopitar (13-27=40)
Plus/Minus: Anze Kopitar (+22; 13-27=40)
Penalty Minutes: Kyle Clifford (58; 3-2=5)
Time On Ice: Drew Doughty (25:55; 7-20=27)
2013-14 Columbus Leaders
Total Points: Ryan Johansen (18-18=36)
Goals: Ryan Johansen (18-18=36)
Assists: James Wisniewski (4-24=28)
Plus/Minus: Nikita Nikitin (+12; 2-11=13)
Penalty Minutes: Brandon Dubinsky (78; 10-22=32)
Time On Ice: Jack Johnson (23:35; 2-14=16)
Rankings and Statistics
Goals/Game: LAK – 23 / 2.44; CBJ – 11 / 2.79
Goals Against/Game: LAK – 1 / 1.98; CBJ – t-18 / 2.79
Power Play: LAK – 23 / 15.2%; CBJ – 13 / 19.0%
Penalty Kill: LAK – 6 / 84.5%; CBJ – t-20 / 79.9%
Shots/Game: LAK – t-8 / 31.4; CBJ – 24 / 28.2
Shots Against/Game: LAK – 3 / 27.2; CBJ – 21 / 30.7
Faceoffs: LAK – 2 / 53.1%; CBJ – t-14 / 50.9%
Save Percentage: LAK – 1 / .927; CBJ – t-19 / .909
Los Angeles Projected Lineup
Dustin Brown – Anze Kopitar – Jeff Carter
Matt Frattin – Mike Richards – Justin Williams
Dwight King – Jarret Stoll – Trevor Lewis
Kyle Clifford – Colin Fraser – Jordan Nolan
Jake Muzzin – Drew Doughty
Robyn Regehr – Slava Voynov
Willie Mitchell – Alec Martinez
Martin Jones
Jonathan Quick
Level of confidence in projected lines: C-. Fifteen skaters took part in an optional morning skate, so it wasn't possible to ascertain which forwards would be in the lineup, and which forwards would be out. Defensively, there was little continuity in the defensive pairings yesterday. With the exception of Martinez-Doughty, all four left-shooting defenseman saw at least one shift with each of the right-shooting defensemen, and Mitchell and Regehr even saw an even strength shift together. Martin Jones left the ice before Jonathan Quick, so he's your projected starter.
Notes and milestones: Los Angeles is 26-17-4 all-time against Columbus, a record that includes an 11-9-3 mark on the road. The Kings have won three straight games against the Blue Jackets and five of the last six at Nationwide Arena, dating back to January 28, 2010. … Los Angeles is 13-4-3 against the Eastern Conference and 5-1-1 against the Metropolitan Division. … The Kings are finishing up the eighth of 14 back-to-back sets. They're 4-3-0 on the second half. … Jeff Carter has 20 points (12-8=20) in the last 19 games and 38 shots on goal in the last seven games. With 48 goals since the start of the 2012-13 season, he ranks third on that list behind Alex Ovechkin (66) and John Tavares (51). Carter missed 10 games due to injury this season. He has goals in three straight games and points in four straight and six of seven. … Since returning from injured reserve, Jonathan Quick is 4-2-2 with a 1.60 GAA, .938 Sv% and a shutout, having stopped 195 of 208 shots. … Los Angeles has outshot opponents 275-208 over the last eight games for a shot advantage of 34-26 per game. … Anze Kopitar has been a minus player in consecutive regular season games for the first time since February 15 and 17, 2013. He hasn't been a minus-player in three consecutive games since he drew a -1, -2, -2 and -1 from November 19 to 26, 2011. … The Kings are 3-8 on the power play over the last two games. Prior to this stretch they had three power play goals over their last nine games. … Anze Kopitar has points in five straight games against the Blue Jackets and has 27 points (13-14=27) in 25 career games against Columbus. One of his two career hat tricks came at Nationwide Arena on March 11, 2011.
Columbus Projected Lines
Nick Foligno – Ryan Johansen – RJ Umberger
Matt Calvert – Brandon Dubinsky – Cam Atkinson
Boone Jenner – Artem Anisimov – Nathan Horton
Mark Letestu – Derek MacKenzie – Corey Tropp
Fedor Tyutin – Jack Johnson
Ryan Murray – James Wisniewski
Nikita Nikitin – David Savard
Sergei Bobrovsky
Curtis McElhinney
Notes and milestones: Lines via Craig Merz of NHL.com's At the Rink blog … The Blue Jackets are expected to be without Marian Gaborik (collarbone), Jared Boll (foot), Jack Skille (upper body) and Blake Comeau (knee). … Columbus has tied a franchise record with six straight wins. They have outscored the opposition 25-12 during the streak and have scored three or more goals in each game. Since dropping to 13th place in the Eastern Conference on November 27, the Blue Jackets have gone 15-7-1 and are in the east's final playoff spot. Six teams are within five points of Columbus. … The Blue Jackets' power play has five goals in its last 12 opportunities, allowing them to jump from 22nd in the NHL to 12th. … Sergei Bobrovski has been in fine form after missing 12 games with a groin injury and has won five games of the team's six-game winning streak, posting a 1.74 goals-against average and shutting out Carolina over that span. … Columbus is 7-1-0 in the eight games since Nathan Horton rejoined the team following shoulder surgery. The forward will play in his 600th NHL game tonight. … Leading scorer Ryan Johansen has faced Los Angeles five times in his career and is yet to earn a point. … After posting nine points in his first 40 NHL games, defenseman Ryan Murray has six assists in his last eight games. Selected with the second overall pick in the 2012 NHL Draft – one selection after Nail Yakupov – the 20-year-old has earned at least 20 minutes of ice time in 12 of the last 16 games. … Mark Letestu has earned points in a career-best five straight games (4-2=6). He scored only one goal in his first 41 games this season.