Los Angeles Kings (29-14-6) vs. Boston Bruins (30-15-3)
Monday, January 20, 2014, 3:00 p.m. ET
TD Garden, Boston, MA
Referees: #28 Chris Lee, #18 Greg Kimmerly
Linesmen: #93 Brian Murphy, #70 Derek Nansen
FOX Sports West, KEIB 1150 AM
Los Angeles Projected Starting Goaltender – Jonathan Quick
2013-14 Season: 23 GP (23 GS) / 14-6-2 record / 2.05 GAA / .918 Sv% / 2 SHO
Career vs Boston: 8 (8) / 6-2-0 / 2.17 / .921 / 1
Last Game vs Boston: 1/9/14 / 60 MP / 20-22 / 4-2 W
2013-14, Away: 8 (8) / 4-2-1 / 2.06 / .926 / 0
Boston Projected Starting Goaltender – Tuukka Rask*
2013-14 Season: 38 GP (38 GS) / 22-12-3 record / 2.11 GAA / .929 Sv% / 5 SHO
Career vs Los Angeles: 2 (2) / 1-1-0 / 2.20 / .949 / 1
Last Game vs Los Angeles: 1/9/14 / 22 MP / 15-18 shots / 2-4 L
2013-14, Home: 21 (21) / 14-5-2 / 1.75 / .940 / 3
*Boston is playing the second game of a back-to-back set, and without a morning skate, it is difficult to gauge the Bruins' starting goaltender prior to Claude Julien's 1:50 p.m. chat with the media. Of the Bruins' seven previous back-to-back sets, Rask has appeared in both games three times and has alternated starts with Chad Johnson four times. Rask was pulled after 20 minutes in a 4-3 loss at Ottawa on December 28, the second game of a back-to-back in which he had posted a 33-save shutout over Ottawa the night before. The Finnish Olympian stopped 35-of-37 shots in a 3-2 shootout loss at Chicago yesterday afternoon.
2013-14 Los Angeles Leaders
Total Points: Anze Kopitar (13-26=39)
Goals: Jeff Carter (18-13=31)
Assists: Anze Kopitar (13-26=39)
Plus/Minus: Anze Kopitar (+23; 13-26=39)
Penalty Minutes: Kyle Clifford (58; 3-2=5)
Time On Ice: Drew Doughty (25:52; 7-19=26)
2013-14 Boston Leaders
Total Points: David Krejci (10-28=38)
Goals: Reilly Smith (15-20=35)
Assists: David Krejci (10-28=38)
Plus/Minus: Patrice Bergeron (+20; 12-18=30), Johnny Boychuk (+20; 2-12=14)
Penalty Minutes: Adam McQuaid (69; 1-5=6)
Time On Ice: Zdeno Chara (25:08; 9-10=19)
Rankings and Statistics
Goals/Game: LAK – t-22 / 2.45; BOS – 7 / 2.85
Goals Against/Game: LAK – 1 / 1.96; BOS – 2 / 2.17
Power Play: LAK – 24 / 15.0%; BOS – t-12 / 18.9%
Penalty Kill: LAK – 6 / 84.7%; BOS – 11 / 83.0%
Shots/Game: LAK – 8 / 31.6; BOS – 11 / 30.9
Shots Against/Game: LAK – t-3 / 27.3; BOS – 14 / 29.4
Faceoffs: LAK – 2 / 52.9%; BOS – 4 / 52.4%
Save Percentage: LAK – 1 / .928; BOS – 2 / .926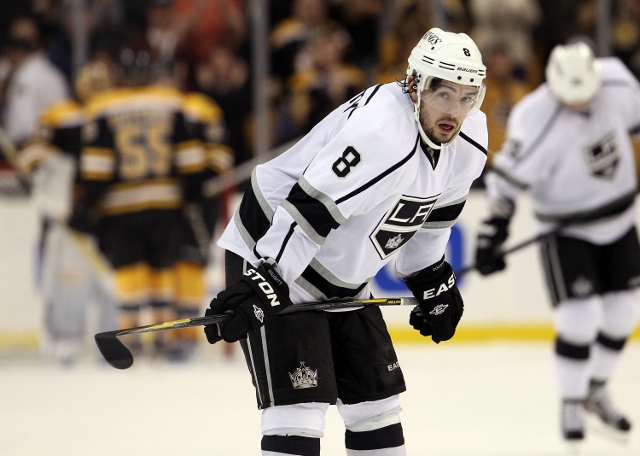 Los Angeles Projected Lines
Dustin Brown – Anze Kopitar – Jeff Carter
Matt Frattin – Mike Richards – Justin Williams
Dwight King – Jarret Stoll – Trevor Lewis
Kyle Clifford – Colin Fraser – Jordan Nolan
Jake Muzzin – Drew Doughty
Robyn Regehr – Slava Voynov
Willie Mitchell – Alec Martinez
Jonathan Quick
Martin Jones
Level of confidence in projected lines: A-. There was no morning skate today, so the above alignment is based on Saturday's game in Detroit, and that Linden Vey and Tanner Pearson remained on the ice for extra work with Martin Jones.
Notes and milestones: Los Angeles is 39-79-14 all-time against Boston, a record that includes a 15-45-6 mark on the road. The Kings are 6-2-0 in the last eight games overall against the Bruins and have won four of the last five in Boston, dating back to January 12, 2006. This is L.A.'s first visit to the TD Garden since Tuukka Rask stopped all 41 shots in a 3-0 Bruins shutout on December 13, 2011 in the first of four games coached by then-Interim Head Coach and current Assistant Coach John Stevens. … Los Angeles is 13-3-3 against the Eastern Conference and 8-2-2 against the Atlantic Division. … The Kings have killed off 22 of the last 23 power plays. … Since returning from injured reserve, Jonathan Quick is 4-1-2 with a 1.40 GAA, .946 Sv% and a shutout, having stopped 175 of 185 shots. … Jeff Carter has 19 points (11-8=19) in the last 18 games and 34 shots on goal in the last six games. With 47 goals since the start of the 2012-13 season, he ranks third on that list behind Alex Ovechkin (66) and John Tavares (50). Carter missed 10 games due to injury this season. He has goals in two straight games and points in three straight and five of six. … Though the Kings rank second in the NHL in faceoff percentage, they have won a combined 38.7% of faceoffs over the last three games. … Jarret Stoll won 18-of-23 faceoffs in the team's matchup on January 11. … Los Angeles has outshot opponments 252-185 over the last seven games for a shot advantage of 36-26 per game. … By playing today, Drew Doughty will tie Bob Murdoch for 10th place on the club's all-time games played list by a defenseman with 414 GP. He is one assist behind Larry Murphy (155 A) for sixth place on the club's assist list by a defenseman.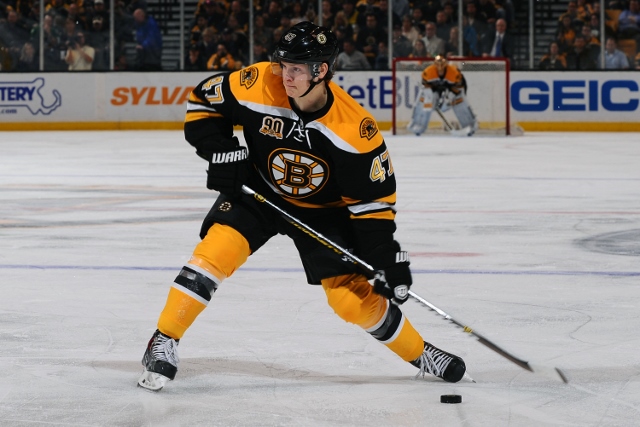 Boston Projected Lineup
Milan Lucic – David Krejci – Jarome Iginla
Brad Marchand – Patrice Bergeron – Reilly Smith
Carl Soderberg – Ryan Spooner – Loui Eriksson
Shawn Thornton – Gregory Campbell – Daniel Paille
Zdeno Chara – Torey Krug
Matt Bartkowski – Johnny Boychuk
Zach Trotman – Kevan Miller
Tuukka Rask
Chad Johnson
Notes and milestones: Boston's injuries include Dennis Seidenberg (knee), Marc Savard (upper body), Chris Kelly (leg) and Dougie Hamilton (upper body). Adam McQuaid suffered an undisclosed injury in yesterday's game against the Chicago Blackhawks and is unlikely to play. Righthanded defenseman Zach Trotman has been recalled on an emergency basis; the Indiana native has appeared in one NHL game in his career. The 6-foot-4, 202 pound 2010 seventh round pick has 11 points (4-7=11) in 32 games with AHL-Providence. … The Bruins have outscored opponents 56-35 in third periods this season. … Boston is 5-2-0 in the second game of back-to-back sets. … The Bruins' power play is 1-for-23 in the last eight games, with Milan Lucic recording the lone goal. … Zdeno Chara has one goal in 17 career games against Los Angeles. … Jarome Iginla needs one goal to tie Maurice "Rocket" Richard for 28th place on the all-time goal list with 544 career goals. He has not scored in his last seven games. Iginla won the Rocket Richard Trophy with 52 goals in 2001-02 and shared the trophy with Rick Nash and Ilya Kovalchuk by scoring 41 goals in 2003-04. In 63 career games against the Kings, he has 60 points (29-31=60). Should he score today, Los Angeles would become the sixth team he has scored at least 30 goals against in his career. … Brad Marchand has eight goals in his last 16 games and has scored in each of the last two games. With three shorthanded goals, he is tied with Tomas Plekanec and Cal Clutterbuck for the NHL lead. … Claude Julien will coach his 742nd game today, which ties him for 40th place all-time with the first coach in Kings history, Red Kelly. … Boston is 5-1-1 in afternoon games, 10-4-3 against the Western Conference and 6-3-0 against the Pacific Division. … Five Bruins will represent their countries at the 2014 Winter Olympics: Patrice Bergeron (Canada), Zdeno Chara (Slovakia), Loui Eriksson (Sweden), David Krejci (Czech Republic) and Tuukka Rask (Finland). Chara, who will captain Team Slovakia, will serve as the Slovakian flag bearer at the Opening Ceremonies and will miss Boston's February 8 home game against Ottawa and potentially the February 6 game at St. Louis.