They blew it.
It was interesting to walk into the locker room last night, where the team appeared to have already moved on from the most bizarre non-stoppage I've ever seen. I recall walking into that very same locker room following Jonathan Ericsson's game-winning goal with four seconds remaining last February and encountering a much more somber mood in which it appeared the team had not yet finished reflecting on the final seconds of that back-breaking goal. The team, by the way, won 11-of-14 after that 3-2 regulation loss. Darryl Sutter's park-and-ride approach is, as always, going to be key after bizarre losses, as it is following game the Kings win.
This was a senior officiating crew. Rob Martell – who was the least tenured member of the on-ice crew even though he officiated his first game in 1996, was the only official without culpability, as his responsibility was to focus on whether the puck crossed the goal line, and not on any peripheral events. The other referee, Dan O'Halloran, worked his first game in 1995 and has Stanley Cup Final and Olympic Games experience. The linesmen were Mike Cvik, who officiated his first game in 1987 and has Olympic Games and All-Star Game experience, and Don Henderson, whose tenure dates back to 1995. He has officiated over 1,000 NHL games. The linesmen were able to confer with the referees and offer their own view, but it didn't matter – they all missed it. There's no sense in dissecting this any further. It was a mistake. Let's move on.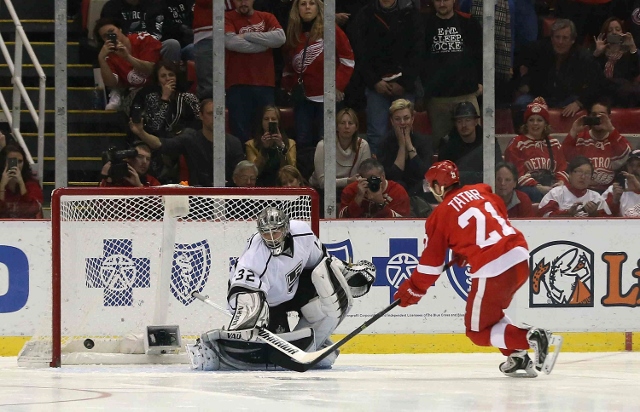 The Kings did not protect leads well against the Red Wings this year. On January 11, Drew Doughty opened the scoring with a power play goal. Riley Sheahan answered 3:01 later. Last night, Mike Richards scored a power play goal, and it took the Red Wings 41 seconds to equalize on a Henrik Zetterberg goal. While it's unfair to reference Kronwall's goal that came less than two minutes after Jeff Carter's late go-ahead tally, Dwight King was still whistled for a penalty with 1:45 remaining, which put Detroit in position to possess the puck with extensive offensive zone time while on a power play. After the Kings took a second period lead, the Red Wings were the better team for the remainder of the period. Also: Los Angeles was outscored 4-0 by Detroit at even strength in the two-game season series.
For the second straight night, a penalty drawn by Jordan Nolan led to a power play in which the Kings scored a third period go-ahead goal. The Colin Fraser line may not have had as positive an impact in the game as it did against St. Louis, but it produced a tangible benefit. Remember the preseason – I'm looking at you, Frozen Fury – when Nolan was making big hits in virtually every game, leading to a bevy of penalties taken by the opposition? Though last night's infraction was a holding penalty drawn on Niklas Kronwall and not a retaliation penalty following a large hit of his, he has been able to do draw several important penalties recently.