Nolan, on his line's recent performance:
I think we've been good. When we get out there we provide some energy for the team, we put on some good O-zone pressure, and I think we've been really solid in our own end there. So I think we've been doing well.
Nolan, on the lines' physical play:
I think we've been playing our system really well. We've been turning lots of pucks over these past few games. We've been drawing penalties. I mean for a fourth line, that's what you want them to do and provide some energy for the team there. Last night we got that last penalty for the team – they got the big goal for us. So I think if we're doing things like that we're going to stay positive. When we get out there just try and bury one.
Nolan, on the team's park-and-ride mentality:
There's a lot of games. We play tomorrow and we play again the next night, so we're not going to harp on that one for too long. Obviously it's a little disappointing, but we still have a lot of games left and a lot of points to grab. So I don't think we're going to worry too much about that one – probably laugh about it later on.
Nolan, on the Boston Bruins having Western Conference characteristics:
They play well as a team. They play their systems good. There is a reason they're at the top of the standings every season and they're definitely a Western Conference type of team. But we match up well against them. It should be a fun game.
Nolan, on attending Boston Bruins games while he was in Manchester:
I went to one game. Dwight's brother was playing, so we went down there and watched him and he got us some free tickets. So that was nice to see. [Reporter: Did you guys go to Patriots games?] We did go to one Patriots game. So we're looking forward to watching that one later today and hopefully they can pull it off.
Nolan, on returning to New England:
Yeah, I think so. We definitely all enjoyed our time there. We had some good memories down in Manchester and we came here for a few occasions and had some fun in Boston too. So I think just being area here and hearing people talk is definitely bringing some memories back.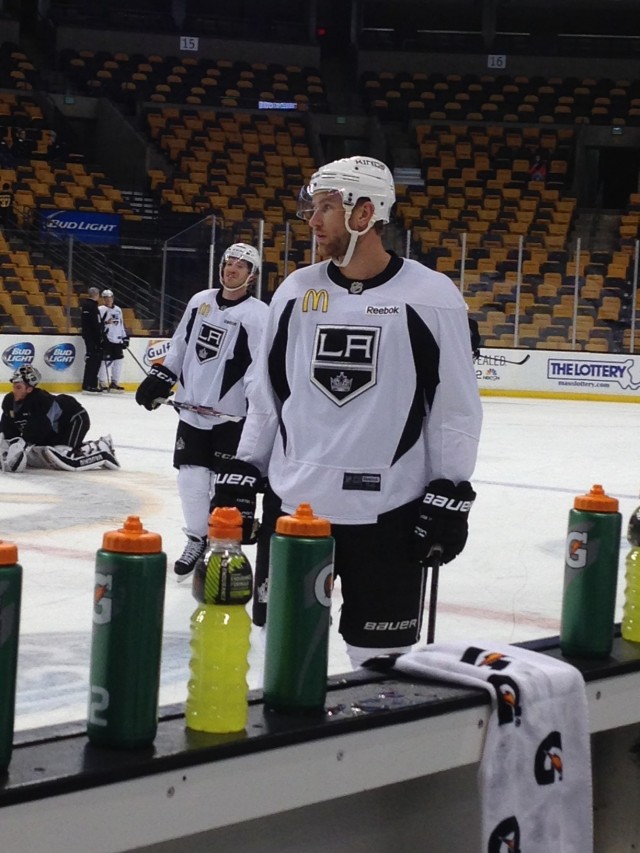 Slava Voynov, on the team moving on from yesterday's loss:
I don't know. It makes me smile. I don't know why. I feel like we won the game, but I never saw anything like that before, never. Not in Junior, in Russia – never. I don't know, it's pretty surreal.
Voynov, on returning to New England:
We [stayed] in a hotel right in front of the park – me and Loktionov. We would all the time go to dinner and then walk around here. So it's a good memory about this city. I feel close to Manch.
Voynov, on the Boston Bruins:
They're a physical team with good guys who can make plays and skilled guys who can score goals. So this team plays very well in the Eastern Conference. We'll just keep playing our game, and that's it.
Voynov, on if he will watch the football games today:
I don't really like football. [Reporter: What other sports do you like?] I like soccer and tennis.