Los Angeles Kings (29-14-5) vs. Detroit Red Wings (20-17-10)
Saturday, January 11, 2014, 7:00 p.m. ET
Joe Louis Arena, Detroit, MI
Referees: #26 Rob Martell, #13 Dan O'Halloran
Linesmen: #88 Mike Cvik, #91 Don Henderson
FOX Sports West, KEIB 1150 AM
Los Angeles Projected Starting Goaltender – Jonathan Quick
2013-14 Season: 22 GP (22 GS) / 14-6-1 record / 2.06 GAA / .916 Sv% / 2 SHO
Career vs Detroit: 18 (18) / 6-12-0 / 3.14 / .900 / 1
Last Game vs Detroit: 1/11/14 / 58 MP / 23-26 / 3-1 L
2013-14, Away: 7 (7) / 4-2-0 / 2.10 / .923 / 0
Detroit Projected Starting Goaltender – Jimmy Howard
2013-14 Season: 25 GP (25 GS) / 8-11-8 record / 2.61 GAA / .916 Sv% / 2 SHO
Career vs Los Angeles: 14 (14) / 8-6-0 / 2.56 / .919 / 0
Last Game vs Los Angeles: 1/11/14 / 60 MP / 44-45 / 3-1 W
2013-14, Home: 14 (14) / 2-5-7 / 2.69 / .906 / 1
2013-14 Los Angeles Leaders
Total Points: Anze Kopitar (13-26=39)
Goals: Jeff Carter (17-13=30)
Assists: Anze Kopitar (13-26=39)
Plus/Minus: Anze Kopitar (+24; 13-26=39)
Penalty Minutes: Kyle Clifford (58; 3-2=5)
Time On Ice: Drew Doughty (25:50; 7-18=25)
2013-14 Detroit Red Wings Leaders
Total Points: Henrik Zetterberg (14-22=36)
Goals: Pavel Datsyuk (15-17=32)*
Assists: Nicklas Kronwall (4-24=28)
Plus/Minus: Henrik Zetterberg (+13; 14-22=36)
Penalty Minutes: Kyle Quincey (60; 2-6=8)
Time On Ice: Nicklas Kronwall (24:05; 4-24=28)
*among active players, Henrik Zetterberg leads the team with 14 goals.
Rankings and Statistics
Goals/Game: LAK – 22 / 2.46; DET – 21 / 2.49
Goals Against/Game: LAK – 1 / 1.96; DET – 14 / 2.57
Power Play: LAK – 26 / 14.2%; DET – 22 / 16.5%
Penalty Kill: LAK – 7 / 85.0%; DET – 6 / 85.3%
Shots/Game: LAK – 8 / 31.5; DET – 16 / 29.9
Shots Against/Game: LAK – 4 / 27.2; DET – 15 / 29.6
Faceoffs: LAK – 2 / 53.4%; DET – 15 / 50.3%
Save Percentage: LAK – 1 / .928; DET – t-14 / .913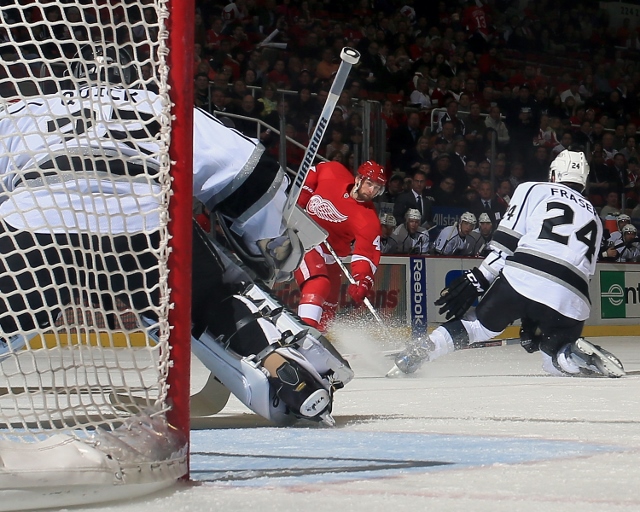 Los Angeles Projected Lines:
Dustin Brown – Anze Kopitar – Jeff Carter
Matt Frattin – Mike Richards – Justin Williams
Dwight King – Jarret Stoll – Trevor Lewis
Kyle Clifford – Colin Fraser – Jordan Nolan
Jake Muzzin – Drew Doughty
Robyn Regehr – Slava Voynov
Willie Mitchell – Alec Martinez
Jonathan Quick
Martin Jones
Level of confidence in projected lines: A-. The morning skate was optional, and the team didn't hold line rushes. Linden Vey and Tanner Pearson remained on the ice for extra work, so they're likely out. There could be adjustments as the game progresses, but don't expect any change from the groupings that remained mostly constant in the 4-1 win at St. Louis two nights ago.
Notes and milestones: Los Angeles is 81-79-31 all-time against Detroit, a record that includes a 34-45-16 mark at Joe Louis Arena. The Kings have lost four straight road games in the series since a 2-1 win on March 9, 2011. … L.A. is 13-3-2 against the Eastern Conference and 8-2-1 against the Atlantic Division. … Los Angeles' penalty kill has killed off 20 consecutive power plays, facing a total of 33 shots over that 36:52 span. The last player to notch a power play goal against the Kings was Vancouver's Ryan Kesler, who opened the scoring in a 3-1 Los Angeles win on January 4. … The Kings' power play has two goals on its last 33 chances. … With 97 goals allowed, Los Angeles is the only team in the NHL that has given up fewer than 100 goals. … Trevor Lewis' shorthanded goal against St. Louis was the Kings' fifth of the season on the season after connecting for just two in 2013. … Since returning from injured reserve, Jonathan Quick is 4-1-1 with a 1.32 GAA, .947 Sv% and a shutout, having stopped 142 of 150 shots. He is 5-7-0 in head-to-head games against Olympic teammate Jimmy Howard. … Jeff Carter has 18 points (10-8=18) in the last 17 games and 33 shots on goal in the last five games. With 46 goals since the start of the 2012-13 season, he is tied with Chris Kunitz and Patrick Kane for the third most goals in hockey over that span, trailing only Alex Ovechkin (66) and John Tavares (49). Carter missed 10 games due to injury this season. … Of the five power play goals to come from Los Angeles defensemen, Drew Doughty has four and Jake Muzzin has one. … Jake Muzzin will play in his 100th NHL game tonight. … Jarret Stoll will play in his 400th game with the Kings tonight.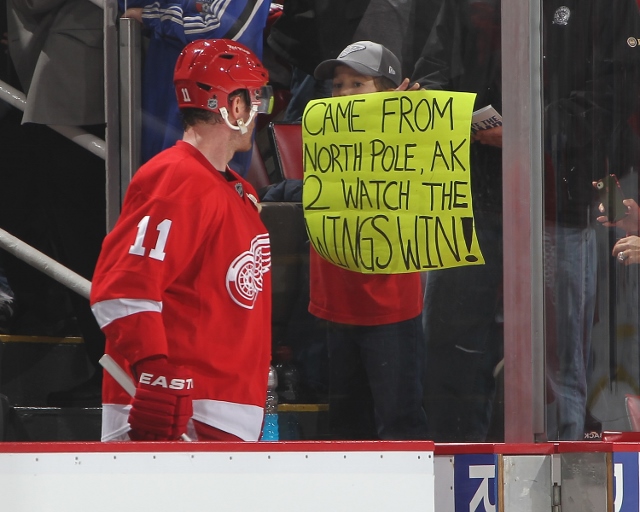 Detroit Projected Lines
Gustav Nyquist – Henrik Zetterberg – Justin Abdelkader
Tomas Jurco – Riley Sheahan – Todd Bertuzzi
Tomas Tatar – Cory Emmerton – Drew Miller
Daniel Cleary – Luke Glendening – Patrick Eaves
Niklas Kronwall – Brendan Smith
Kyle Quincey – Danny DeKeyser
Brian Lashoff – Jakub Kindl
Jimmy Howard
Petr Mrazek
Notes and milestones: Lineup via Winging It in Motown … Detroit will be without Pavel Datsyuk (lower body), Johan Franzen (head), Darren Helm (groin), Jonas Gustavsson (groin), Jonathan Ericsson (ribs), Stephen Weiss (hernia) and Daniel Alfredsson (back). … The Red Wings are 7-8-3 against the Western Conference and 5-5-1 against the Pacific Division. … Detroit is tied with St. Louis and Chicago with an NHL-best 10 Olympians. They are: Daniel Alfredsson (Sweden), Pavel Datsyuk (Russia), Jonathan Ericsson (Sweden), Johan Franzen (Sweden), Jonas Gustavsson (Sweden), Jimmy Howard (United States), Tomas Jurco (Slovakia), Niklas Kronwall (Sweden), Tomas Tatar (Slovakia), Henrik Zetterberg (Sweden). Head coach Mike Babcock will coach Canada. … Only Drew Miller and Kyle Quincey have played in all 47 games for the Red Wings. … Detroit has seven players that have scored at least seven goals, and the only one who dressed in the team's 1-0 loss to New York on Thursday was Henrik Zetterberg. … Zetterberg has been held without a point in his last four games. In 37 lifetime games against the Kings, he has 33 points (16-17=33). … Justin Abdelkader will play in his 300th NHL game tonight.